It's a running joke in our house that we will wait for the next hand-me-down TV that someone wants to get rid of.
It has become a tradition.
In fact, we haven't purchased a new TV in over ten years. I'll let that sink in a moment.
Ten. Years.
It has been a really, really long time, and it is not for any other reason than we have been given perfectly good televisions that were better than our previous set.
Our hand-me-downs have always felt like upgrades, and for that we've been thankful.
We have also never really been tempted by the new models that have been released. It has been a fine line of receiving something that is new enough, and waiting for the newest model to come out next year. As you can see, the waiting game has not really gone as planned, because we're still using the same second hand TVs.
Fun fact: our only flat screen TV was gifted to us by family.
You might think that as a blogger and architect I would have always had the newest and best electronics and gadgets. Sadly, that isn't always the case. Gotta love those stereotypes!
I don't know about you, but I might just put my foot down and really consider buying my family a new TV this year.
Why? A very interesting looking TV has caught my eye, one that is making it extremely difficult to look away and be satisfied with our very traditional (and ancient) boob tube.
What TV is it? Good question. It's the latest LG OLED TV, formally known as the 55EC9300, or if I'm trying to impress you like I've been impressed, it's the LG 55-Inch 1080p 3D Curved OLED TV. Because of this, I've decided to write a list of reasons my family needs this new TV. AKA, why I would love this new TV.
Honey, Here's Why We I Need this New TV: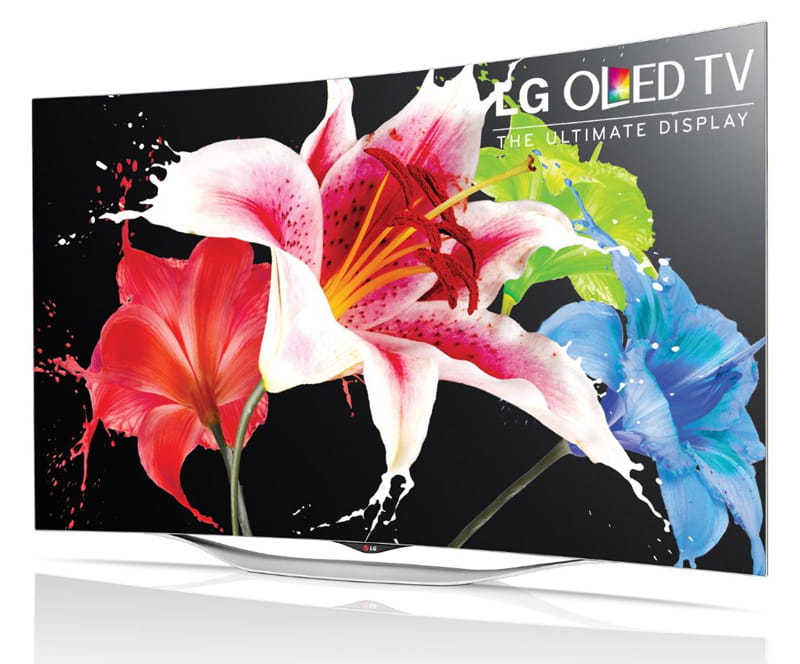 It would be a great addition to my workout routine. This LG OLED TV not only sports many high-tech features, but includes one of the most basic ones for someone like me. YouTube. I can play my favorite music playlists while working out, and enjoy an amazingly powerful sound to keep me motivated and on track with my goals.
I can catch up on all of my favorite shows with the built-in Amazon Prime video. Who am I kidding? I'll re-watch all of the shows I haven't seen in a very long time.
It lets me customize the way I want things to be. If I don't like that YouTube is first on the list I'll change it! The Launcher Bar gives me all the power I could ever need in a television. Control is very important when it comes to the TV. Boundaries have been set, everyone in my house knows this. Don't mess with Mom's settings…on anything!
It's super thin and has an amazingly fast refresh rate. Images are seamless and clear and the picture is so lifelike you feel like you could reach out and touch what is on the screen.
The curved screen helps immerse you in your viewing experience in a way no flat screen can. I rarely get downtime, when I do, I want to be transported!
I work hard.
Now, you may ask why I would end my list with such a brief reason. It's because it doesn't need explaining.
I would like to elaborate, though.
Everyone in my house works hard.
My kids work hard, they are bright students who make me proud every day. They deserve a new TV.
My husband works hard, he is the best person I could have ever been paired with, and an amazing father. He deserves a new TV.
Hard workers. That's exactly what we are.
We should definitely be spoiled with some top notch entertainment.
What is your favorite feature of this TV?
Note: This is a sponsored conversation with LG
Join our newsletter!
Subscribe to get updates and great stuff via email including subscriber-only goodies like free printables and giveaways.