When back-to-school rolls around we always evaluate what worked and what didn't work for us last year, and one of the things we noticed that needed to change was our homework routine. Dragging a laptop to the kitchen table just became tedious and annoying and our old laptop just seemed to cause more problems that it solved. Plus the printer was not even on the same floor as the laptop. And now, almost everything they do for school is on the computer or requires the computer, especially with my son in middle school.
It will mean a little bit of furniture moving, but a great solution for this problem is to setup a family homework station with a schedule for who gets to use it when. It doesn't have to be fancy, but it should be located in a quiet area with enough space for them to lay out a book and write if need be. It should have sharpened pencils, pens, paper, notebooks, paper clips, a stapler, and any other typical items they might need while doing their homework.
Oh and you need to equip it with a family-friendly computer & printer.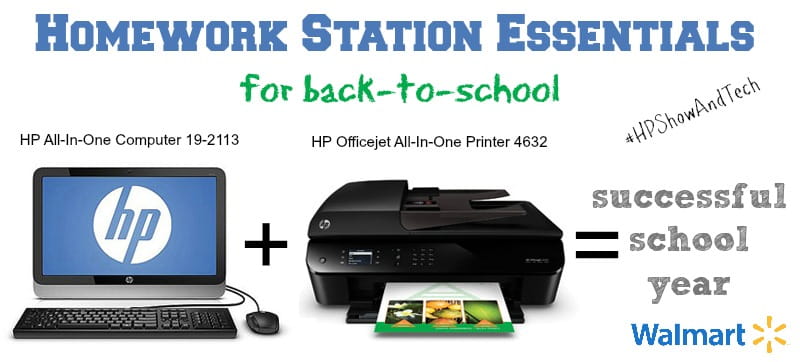 And if you do it right, it can also serve as a great place for mom and dad to pay bills or look up recipes when the kids aren't using it.
HP All-In-One Computer 19-2113
This All-In-One from HP is the perfect computer for family sharing. It doesn't take up a whole lot of space, looks great and is packed full of great features you need for back-to-school.
The 4GB of memory can handle homework tasks and even the multi-tasking that can come with my son's middle school level work. The 500 GB hard drive can easily store a whole year's worth of documents, photos and more. It has Wi-Fi built-in which is critical because our router is downstairs. It also has a nice big 19.45″ screen with HD graphics so anything they do will look great on the screen. The HP 19 also has a built-in webcam, memory card reader, DVD burner and a headphone jack in case they have multimedia to review but want to keep it to themselves.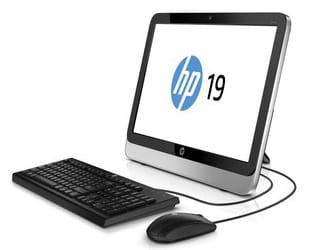 With Microsoft Windows 8 installed, the HP 19 is a great solution for homework and all of your shared family needs including homework. At only $349 at Walmart the HP 19 is super affordable for any budget!
HP Officejet All-In-One Printer 4632
The HP Officejet All-In-One 4632 printer is a must-have for a homework station. It prints quickly, has wireless networking capabilities, can copy, fax and scan, making it a versatile tool for reports and projects. And if for some reason they forget to print their homework, you can actually print it from anywhere, even from your smartphone while you sit on the couch, or from the car if you have to run back home to get it before dropping them off at school.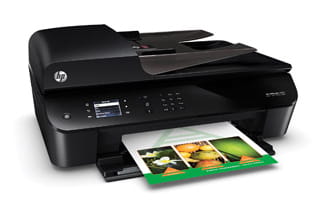 The HP OJ 4632 will also be a great tool for scanning in important school documents so I no longer have a pile of stray papers on my counters and at only $99 at Walmart, it won't break your budget.
Start the back-to-school season right with an affordable, reliable homework station from Walmart & HP!
For more information about the HP products shown above, and the whole line of HP products perfect for all of your back-to-school needs, check out HP Show & Tech. Not only will you see the whole affordable line of HP products that Walmart has to offer, but you can also watch product live, interactive product demos right from the comfort of your own home.
What features of either of these 2 HP products are most important for your family's back-to-school needs? Do you have a homework station setup in your home?
————————————————————————————————————–
HP Show N Tech partnered with bloggers such as me for their program. As part of this program, I received compensation for my time. They did not tell me what to purchase or what to say about any product mentioned in these posts. HP and Walmart believes that consumers and bloggers are free to form their own opinions and share them in their own words. HP and Walmart policies align with WOMMA Ethics Code, FTC guidelines and social media engagement recommendations.
Join our newsletter!
Subscribe to get updates and great stuff via email including subscriber-only goodies like free printables and giveaways.

Post sponsored by HP/Walmart but all opinions are my own. Please see below for additional disclosure.