Edited: I was not a member of Homeschool Spanish Academy's affiliate program, when this post was written. This was an unbiased review by a happy customer. I am now a member of their affiliate program and will receive compensation if you signup for classes through my link at the bottom of the page.
Last summer, my daughter spent two weeks on a guided tour of Italy. For the most part, the kids went to lunch in small groups, without their Italian guide. One day, they found themselves trying to order from a waitress who did not speak English. She did speak Spanish though. Thankfully, my daughter had just completed her fourth year of Spanish a month earlier. She was able to order the group's lunch, in Spanish to the Italian waitress. I really wish I could have seen three American teenagers trying to order Italian food in Spanish. I believe that our choice for homeschool high school Spanish was the key to this feat.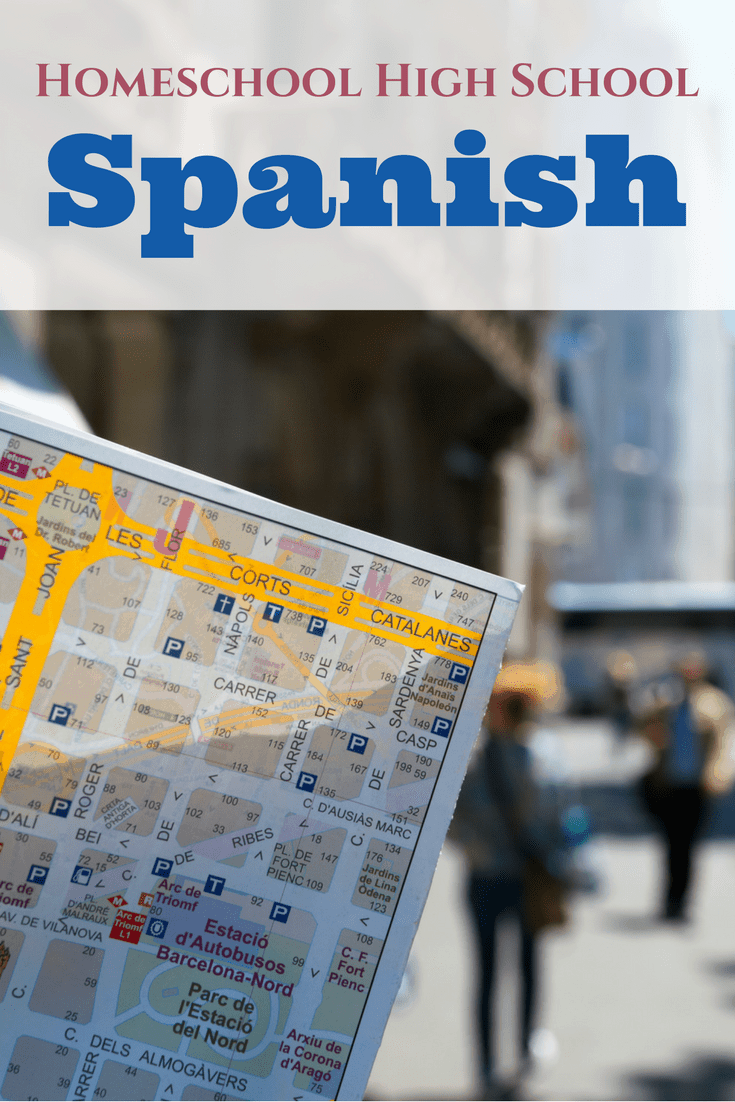 High School Spanish
I certainly can't take credit for teaching her Spanish; I took French in high school, and there was no way I was going near Spanish. But, I will take credit for finding Homeschool Spanish Academy for us to use. Founded in 2009, HSA connects homeschool students to teachers in Guatemala through one on one tutoring sessions on Skype. How cool is that?
My daughter took three years of high school Spanish with the accredited Homeschool Spanish Academy, and really enjoyed it. At first, she was very shy and quiet during her sessions – it's pretty personal talking one on one with a stranger. I barely heard her speaking. But, by her third year, she was comfortable not only speaking to her teacher, but speaking in Spanish. I would often hear them laughing during class. All of the teachers are native speakers, and certified in teaching Spanish as a second language. Fifty minutes of one on one conversation will definitely increase your fluency. There's no hiding in a class of twenty, and praying that you are not called on. Not that I know anyone who would do that.
How it works
Using HSA is really simple. After creating your account, you purchase a package of classes. Classes are offered in either a 30 class bundle (one semester) or 60 class (full year) bundle, with 25 or 50 minute sessions. That works out to about 2 classes a week per semester. High school students should do the 50 minute sessions; 25 minutes would be great for younger kids.
Next, your student will need a Skype account, if they do not have one already. Then you can begin to schedule your sessions with specific teachers. HSA lists session times and available teachers. (They had about 30 teachers that we could choose from, and they were all very pleasant.) You simply drag and drop the sessions you want onto your class list. You can schedule a single class or the whole semester at one time. Scheduling usually took me about 1/2 hour for the whole semester. The first year, we gave priority to session day and time, over teacher preference. Eventually, she found a favorite teacher, and having a session with Marleny (she was awesome!) became the priority. We would move our schedule around to accommodate Spanish. Expert tip – if you have a favorite teacher, schedule your entire semester's sessions as early as you can at the beginning of the semester. Teachers' schedules can fill up fast.
When it's time for a Spanish session, the teacher will call your student's Skype address. The class is done in Spanish as much as possible, and includes written homework (handled through Google Docs), quizzes and exams. You can easily view report cards throughout the semester.
We missed a few sessions because of illness or internet issues, and HSA was really great at giving us credit for the missed class, or allowing us to reschedule.
Costs
At first glance, HSA can seem expensive. Sixty 50-minute classes will cost about $560. But, that's for a whole year of one on one tutoring. It works out to about $9 per class, which is actually cheaper than most private lessons or tutoring sessions. Another factor to consider – it's one less class that you have to plan, teach, grade, and drive someone to. What is your time worth? As the parent, you're pretty much hands off with this class, and there is a definite value in that!
There are a few ways to reduce the cost of HSA. HSLDA (Home School Legal Defense Association) members receive a 10% discount. HSA also has a referral program that will give you $10 credit for each person that joins through your referral. Finally, two students can participate in the same session, which can save a couple dollars per student per session. Pair two of your kids or grab a friend and split the cost.
HSA offers a free 25 minute trial session. Click on the ad below and give it a try.
As I mentioned at the top of this post, this post was written before I became a member of HSA's affiliate program. I was  just a very happy customer and homeschool mom that wanted to help other moms. I couldn't even take advantage of their referral program – my middle child is studying French, and my youngest is learning Italian. Sigh. ?
I'm curious –  has anyone else used Homeschool Spanish Academy for their homeschool high school Spanish classes? If you're looking for more economical (as in free!) options, my next post will have lots of resources for learning Spanish.