Are you thinking about homeschooling high school? What are the homeschool high school requirements? Now that our oldest has graduated from high school and will be attending college in the fall, I can give a huge sigh of relief. Huge. We did it. We successfully homeschooled high school.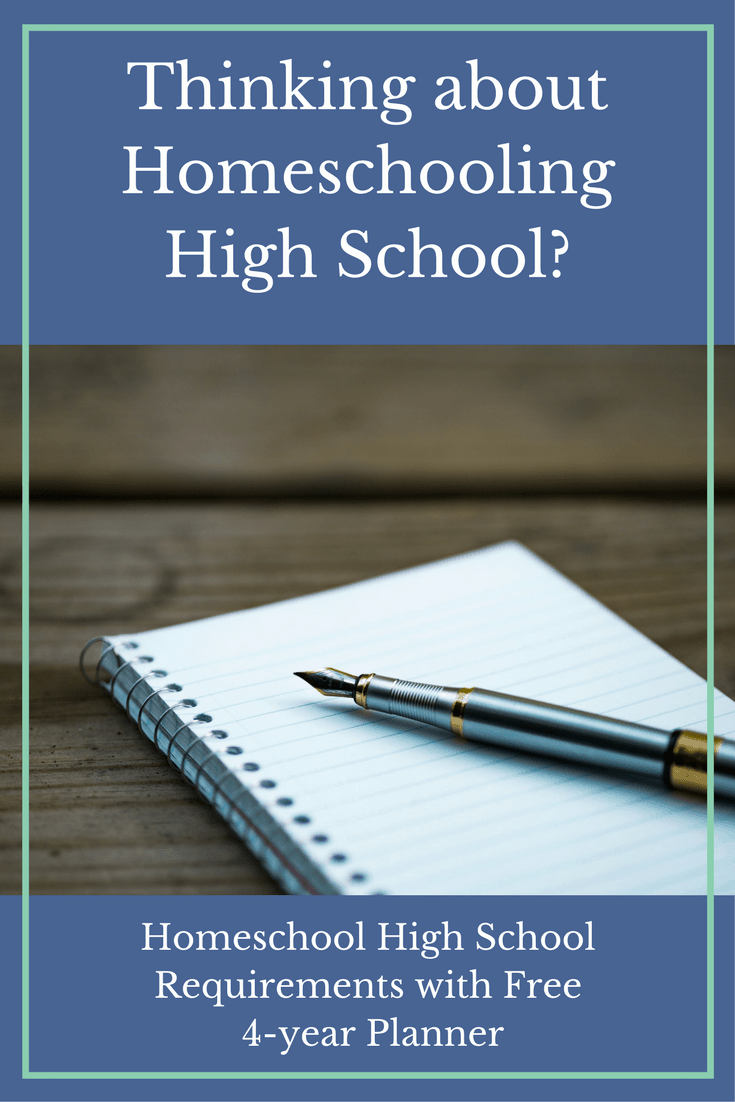 The idea of teaching high school is overwhelming. Trust me – I've been there. Suddenly, you're in a swirling vortex of indecision and self-doubt. Where do you start? What do you NEED to cover? I can't possibly teach that! It's been 25 years since I studied that!! I can't prepare her for college. Geometry? Physics?? Where's the wine???
We use a phrase in our house all the time: How do you eat an elephant? One bite at a time. That's how you should approach homeschooling high school. The very first bite is the most important: planning and research to determine the course requirements. It's the foundation of everything you will do for the next four years.
Research
For us, planning began about the midpoint of 8th grade. We knew she would be going to college, so we wanted to ensure that she had a challenging, college-prep education. Begin by researching your states' rules and regulations regarding homeschooling. HSLDA (Home School Legal Defense Association) is a great place to start. My advice is based on our particular state's requirements, so please use common sense and do your own research. Our state defines homeschooling as a private school, which has very little governmental oversight. We are allowed to define our graduation requirements, amount of work required, scope of classes, and instructor credentials. However, I wanted to be sure that our scope and level of work was on par with her peers. Eventually, she would be competing with these peers, not only on college applications, but in college as well. I researched several high schools in our area, both small and large, public and private, to determine the minimum credits required for graduation. Most schools have an online version of their student manuals which you can see. Next, I checked out the admission pages for a few universities, just to see what their recommended high school credits looked like.
Four Year Plan
I developed an outline for our homeschool high school requirements from this research. For the most part, a college bound student should have:
That really simplified what we needed to do. Each year, she would need to have English, Math, Foreign Language, Science, History, PE and at least one elective. However, we have so much freedom in how we fulfill those required classes. For instance, a typical high school science path is biology, chemistry, physics, and a second year of science (usually an AP class). Our oldest was interested in astronomy, so she took Astronomy 101 as dual credit at the local community college during her junior year. Not only did she meet her high school science requirement, she earned college credit. Double prizes!
Back to that little ✷. Many universities will have a minimum requirement of two years of high school foreign language and recommend four years for admissions. However, a university might have a college graduation requirement of two years of foreign language. If you didn't complete them in high school, then you will have to do them in college. Why pay college tuition costs for something that you can do in high school? Just go ahead and do them in high school.
Yearly Plan
Once I knew that we needed four years each of the five main academic subjects (English, Math, Foreign Language, Lab Science, and Social Science), I could then develop a college preparatory four year plan. Similar to most high schools, a possible sequence would be:
A few things to note:
Algebra was completed over the course of two years (7th and 8th grade)
Spanish I was completed in 8th grade
PE, although required all four years, is not included in this plan.
Developing a four year plan allows you to see the big picture and determine if you are covering all the subjects you need. Have you missed anything? How will you fill those Elective spots? (You don't really need to decide all four years' worth at this point, but you know that you have a place for them.) Most importantly, you won't be reinventing the wheel every year and scrambling to figure out what your high schooler needs to do this year. Just look at your four year plan, and begin to plan that year's scope for each subject.
Here's a free homeschool high school requirements planner for you to use:
Homeschool high school course planner
See the other posts in this blog series: