There are so many choices for homeschool high school math curriculum. You can use a wide variety of online resources, but if you're old school (like me) and want to use a textbook, I have some suggestions for you.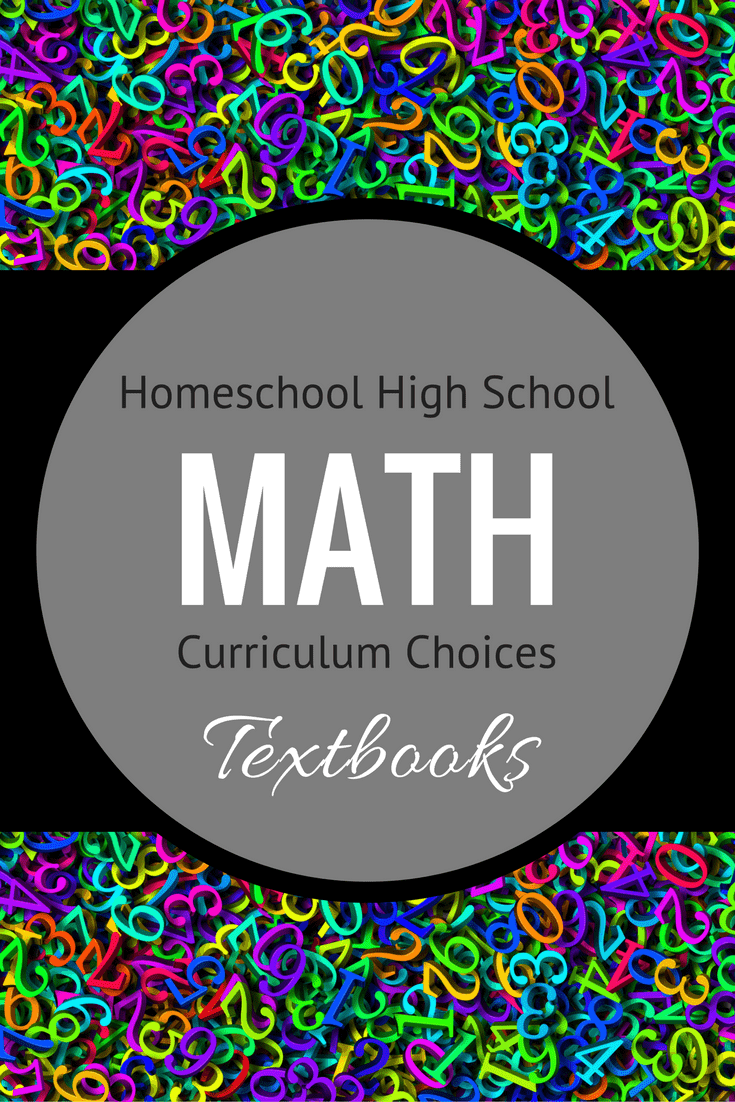 All of our kids used Singapore Primary Math, which I highly recommend, for elementary school math. Singapore Primary ends with sixth grade, but most eighth graders take Algebra or Pre-Algebra, so I felt comfortable in beginning Algebra in seventh grade. We took it slowly and completed the course over 7th and 8th grade. Thankfully, Singapore provided a strong foundation, and it's been pretty easy.
Soapbox Moment
Many schools in our area do not teach elementary kids to memorize the times tables. Whether you homeschooled or your kids have been in public school, before they move on to upper math, they must have those facts memorized. I know it's a pain, and as homeschoolers we often shun that "traditional school mentality" associated with memorization, but it makes upper math and science so much easier. Working a math problem is considerably slower if you have to stop and grab a calculator for every single calculation in a problem. The time per problem just tripled. And, with math, the quicker it is finished, the better. I can't tell you how many times I've said, "You can't do math while you're crying," to a frustrated kid who has been working on math for 45 minutes and is only on the third problem. Learn those math facts. Period. Soapbox Moment over.
Back to curriculum choices. I've indicated the grade my kids have completed each level. Obviously, you can adjust the grades to fit your homeschool and these are just suggestions. That's the great thing about homeschooling.
Homeschool High School Math Curriculum Textbooks
Algebra (7-8th grade)
Do you remember how impossibly hard it is to read a math book? Theorem, Corollary,  Axiom, Proper Rational Equation, Inversely Proportional. Did your eyes just roll back in your head? Mine did. I get Algebra. I just don't get math books. Harold Jacob's Elementary Algebra is not like that. Sure, he has all those terms, but the text is actually readable. Each lesson begins with a real life example of the concept in action, usually in a cartoon. He builds from there, leading the student step by step until they see the final principle of the lesson. The exercises work in the same manner. I've been really happy with this choice.
Geometry (9th grade)
We continued with Harold Jacob's math series, and used Geometry. It follows the same format as his Algebra book, beginning with a cartoon to illustrate a real life example. (Bonus points: Amazon has used hardback copies under $10 ! At that price you could afford to buy the teachers guide as well.) He begins with a chapter on logic because that's a fundamental part of geometry. I have to admit, though, that was the worst section for me. Not sure what that says about me.
Advanced Algebra & Trigonometry (10th grade)
Ron Larson's Algebra & Trigonometry is a great curriculum choice. I like that the book starts with a "Pre-Requisites" chapter to make sure the student is ready to take on the work. The book does a really good job of showing how the math is applied in real life – because you know you are going to get the "When am I ever going to use this?" argument. It's nice to be able to point to an example, rather than stammering out something vaguely coherent.
Math Review  (11th grade)
We did junior year math a little differently than most. Math was our oldest's weakest subject, and we were concerned she would not do as well on that section of the ACT. We spent the majority of 11th grade reviewing, re-learning, and strengthening her math skills. It worked; she now has a solid math foundation and she got a much higher score on the ACT than if we had just moved on to the next math course. Finally, she was not "behind" – she still had all the math classes a typical college prep student is expected to have.
Statistics (12th grade)
Most kids take Calculus as their final high school math course. Let's just say Calculus and I don't get along. It was one of those subjects, that no matter how hard I worked, it still made zero sense. As far as teaching it? That would have been a disaster.
Since we knew our oldest would not be going into science or engineering, we decided that she would take Statistics for her final math course. Additionally, as a psychology major, statistics just made more sense. In the fall, she completed Khan Academy's High School Statistics course, with the intention that it would be a pre-req to taking Statistics at the community college. While the course is great, I don't think there's enough work there to count it as a complete, full year, high school course. It only required about a half an hour a week of work. But, it did exactly what we hoped. She's doing excellent in her Statistics 101 class.
Additional Textbook Resources
While I don't have first hand knowledge of the curriculum choices below, I have heard good things about them.
Each lesson in this algebra series starts with a humorous story about Fred, a five year old math professor. The program teaches high school math in a way that many students find engaging and enjoyable.
A continuation of the series, this one covers geometry and trigonometry.
There are my homeschool high school math curriculum textbook recommendations. Did I miss your favorite? Is there a textbook you just hated? I'd love to hear from you.
If you're not up to teaching high school math, that's ok! There are so many alternatives, from self-directed courses, to MOOC's, to community college classes. My next post Homeschool High School Math – Free Resources has lots of online options.