Last week, my daughter was working on her To Kill a Mockingbird essay for literature class. She texted me, "I've decided the Ewells are the worst people in all of literature." I responded with, "Even worse than Daisy & Tom (The Great Gatsby)?" She answered, "YES". I love that my teenager can get so wrapped up in the characters of a book. For us, homeschool high school English equals literature. Books. Books. Books. Books make me happy, and sharing them with kids makes me even happier. If you are looking for homeschool high school English curriculum resources, I have some suggestions.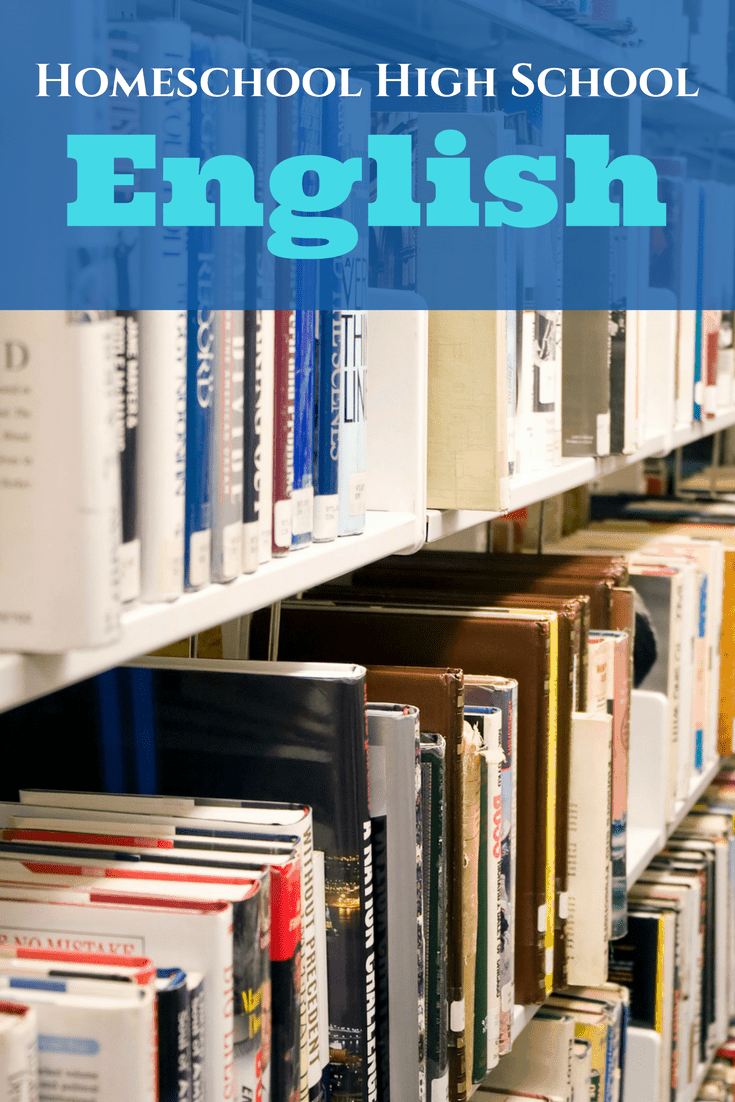 I teach high school literature at our homeschool co-op, and it's my favorite time of the day. I run the class very casually, more like a book club. Honestly, I cannot tolerate worksheets, reading comprehension quizzes or doing some kind of seek-and-find for literary devices. How can I expect the students to? Sure, we cover them, and they know what they are, but authors don't write books so students can dissect them and identify elements. They write books to entertain, challenge, and enlighten. I read the books along with the students, and we talk about them. What did they like? What didn't they? How would you feel if  you knew someone with those attitudes? Did this book change you? With that in mind, here are several resources that help me teach literature.
Homeschool High School English Textbooks
Windows to the World – I recommend this book with a huge caveat: it has a very Christian worldview, and secular homeschoolers will struggle with certain sections. However, the author does a good job of using short stories to introduce students to literary analysis and essay writing. The book teaches students how to annotate a reading, identify plot structure and literary devices, find the theme, and identify symbols. Students will be able to recognize these elements, but it is not the central focus of their literature studies. I modified this to use with my older high school students, but think it would be best for an 8th or 9th grader as an introduction.
Excellence in Literature (EIL) – Our homeschool co-op uses this curriculum for high school literature. Written directly to the student, the student can complete this course on their own. However, you'll still need to grade the assignments, and it's always good to talk about great literature with your kids. The curriculum offers five textbooks (Introduction, Literature & Composition, American, British, and World Literature). The entire curriculum follows the same format: an introduction to the literary work, information about the genre, and tons of links to related topics (music from the time period of the book, for example). I like this curriculum because students have three writing assignments per book – two shorter research based assignments, and a longer, analytical essay. You can swap out texts based on the student and her interests, and the curriculum provides the framework to make that possible. I do this regularly, and I just apply the normal assignments to the new book.
Literature is probably the easiest high school class to save money on. You can buy the textbooks above, or you can use the resources I've listed below and your library card for a free course.
Free Homeschool High School English Resources
Learning Guides
Sometimes, you just really need help in understanding literature. What appears to be a simple story, is so often, a metaphor for something much deeper. Or, you need help identifying the theme. Or, you're just plain lost and have no idea what the book is even about! Learning Guides are a great help for all of these; be sure your student reads the actual book and doesn't just read the guide!
Homeschool High School English – Essay Writing
Purdue Online Writing Lab: MLA Formatting and Style Guide (Purdue OWL) – Never heard of MLA? Neither had I until I started teaching high school classes at our co-op. MLA is the citation style required on most college essays in the humanities. It defines the paper's format, quote citations, and works cited (what we old folks called a bibliography). As preparation for college, Excellence in Literature requires student work to be in MLA format. EIL includes information in their textbooks, and also offers A Handbook for Writers as a standalone text. But, since the book is often somewhere else, I rely on Purdue OWL to help me check MLA standards.
Homeschool High School English Additional Resources
I hope you can find some useful homeschool high school English resources in this post! Do you have anything you would add to this list? I'd love to hear from you.
SaveSave
SaveSave
SaveSave
Join our newsletter!
Subscribe to get updates and great stuff via email including subscriber-only goodies like free printables and giveaways.