This shop is part of a social shopper marketing insight campaign with Pollinate Media Group® and Rubbermaid, but all my opinions are my own. #pmedia #RMDishRack  
https://my-disclosur.es/OBsstV
Around here we are always looking for ways to reduce, reuse and recycle.
My husband is a mobile warrior most days for his business, which means he spends a lot of time at gas stations and convenience stores during the course of the day to stay hydrated. He has a favorite drink of choice, an organic iced tea brand, but at $1.99 each, they add up fast.
So he had an idea.
He started saving the bottles from his iced tea and brought them home until he had a small collection of them. We removed the labels, and he now makes his own iced tea at home and brings it with him in a cooler when he is on the road. This saves us a significant amount of money each month!
But one of the challenges with these bottles has been how to clean them. I defiantly kept trying to wash them in the dishwasher only to remove them to find grit and gunk caked to the inside. So then I had to wash them by hand and scrub out the gunk.
I finally stopped putting them in the dishwasher, and have been washing them by hand, but then drying them was a problem. A kitchen dish cloth is only so useful. The bottles are hard to balance and tend to fall over, and if they do manage to stay upright, they don't dry all the way because there is no air flow.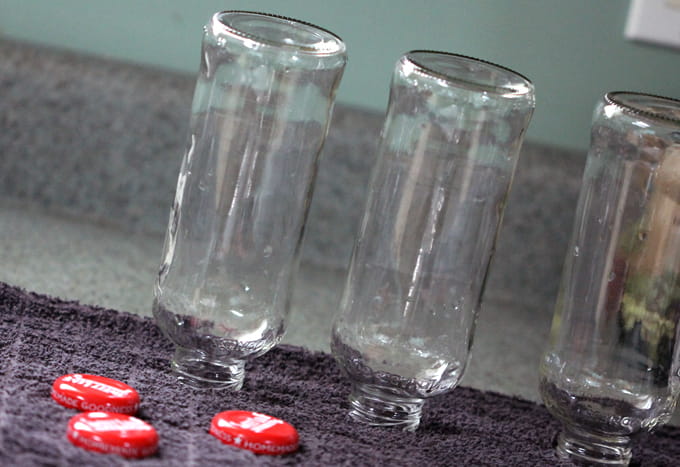 Then I was left with a soggy gross towel and who knows what kind of germs and stuff that harbors, but I continued to use it anyway. Having a dishwasher, I never thought I had a need for a dish rack.
I was wrong.
It sounds hokey to say that a dish rack changed my life, but it really did.
Shopping for the Rubbermaid Dish Rack
I love shopping at Target, although I do suspect that they pipe something into the air there because I ALWAYS leave with way more than I went in for. I suppose it could be the great deals they have too.
The Rubbermaid Dish Rack was easy to find in Target, I love shopping in that section of the store, there are all kinds of great household organizational tools. I also picked up the Rubbermaid Universal Drainboard to go with my Dish Rack.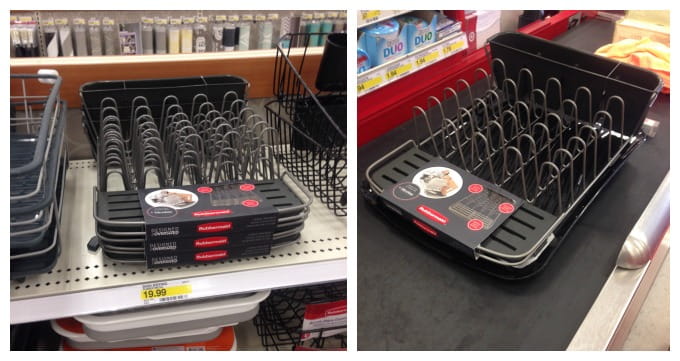 One way you can save at Target is with Target Cartwheel which is a great new way to save money. Target Cartwheel lets you choose what you want to save on, can be redeemed in-store right from the app and Cartwheel deals stack with other Target discounts such as coupons, sales and Red Card discounts.
Before I headed out to Target, I added the 15% off Rubbermaid Deluxe Drainer Cartwheel offer to my account. Redeeming it is so easy, simply show the bar code on your app to the cashier and they will scan it in right from your smartphone. Instant savings!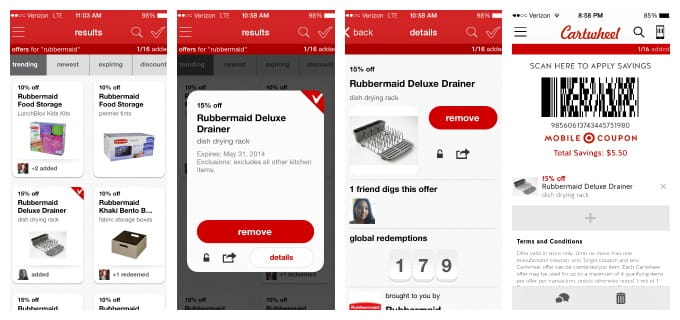 Revolutionary Features of the Rubbermaid Dish Rack
Large drainer – 13.4 " H x 17.2 " W x 4.6 " D
Designed for oversized items
No side walls to fit more and larger items
Extra large utensil cup with dividers
Resists mold & mildew with Microban
Spacious tray for delicate items
Wider rows
Easier to customize for your lifestyle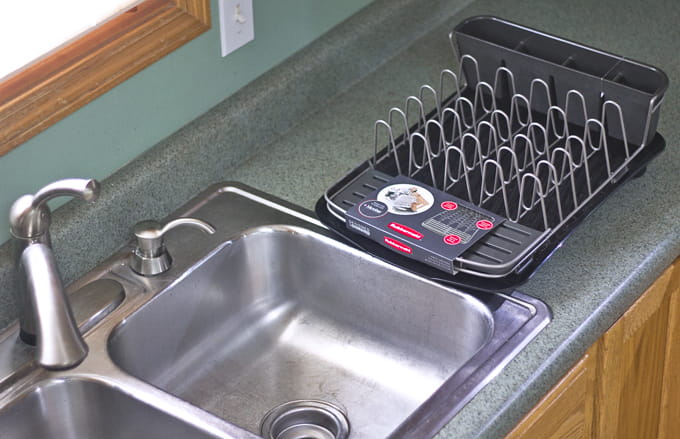 I really like this dish rack. It was something I didn't know I needed until I had it. The larger size works great and I absolutely love that it resists mold & mildew. The wider rows mean I can fit just about anything in it and the utensil tray is huge!
I would love to see some individual tines to make our bottles fit a little more securely, but they do stay on the rack fine as is. I also would love to see a deeper section to the utensil bin for longer spoons and spatulas and stuff.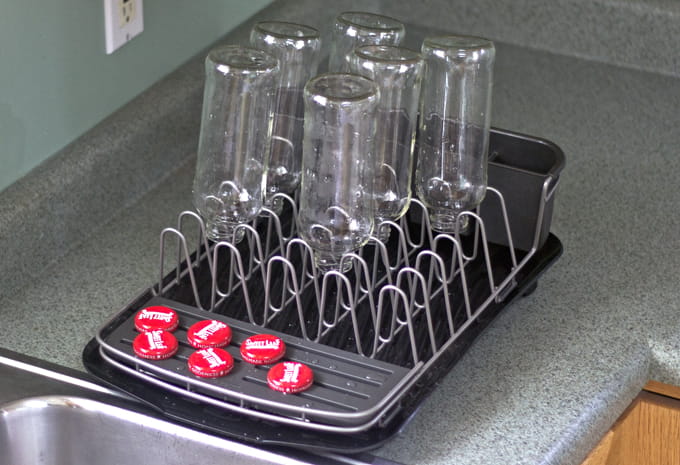 Overall, the Rubbermaid Deluxe Drainer is far and above better than other dish racks I have used in the past. Not only has it provided a way to make drying our recycled bottles easier, I no longer need to be afraid of damaging my delicate wedding champagne glasses in the dishwasher. I can wash them by hand and dry them on the dish rack. Also, my husband said our knife handles were ruined long ago by the dishwasher and suggested we get a new set.
So I get to go shopping!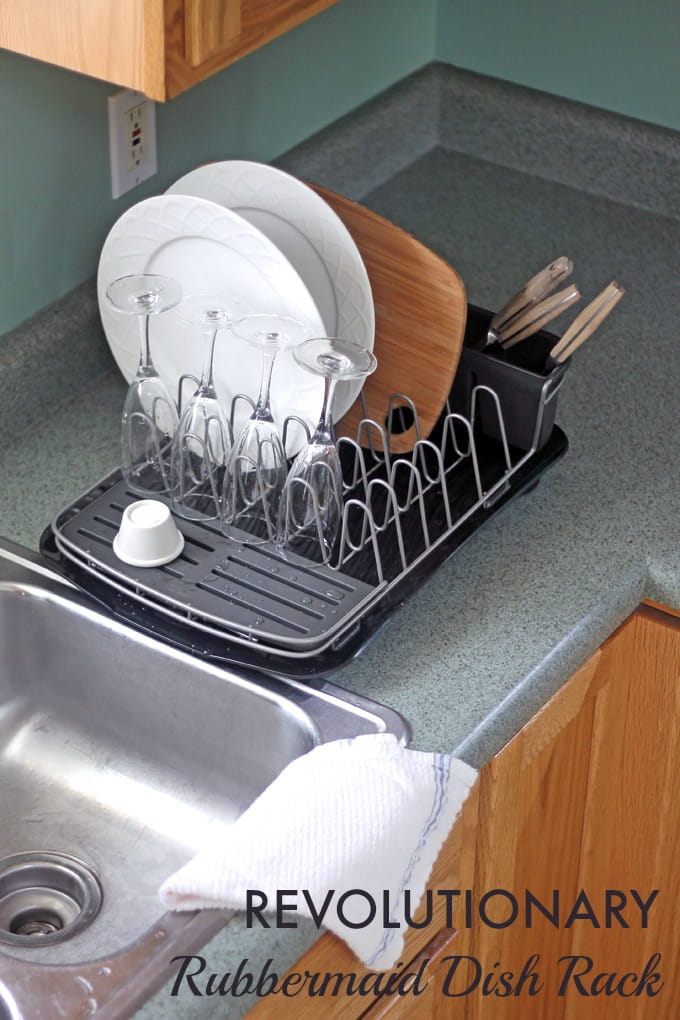 My bamboo cutting board is also safe from the dishwasher and will dry easily now. Plus, sometimes I have too many dishes for the dishwasher and need to do some by hand. Because I would never, ever stuff the dishwasher too full only to have to rewash a bunch of things the next day.
Nope.
Not me.
And now I never have to be that person.
Make Your Own Bottled Iced Tea at Home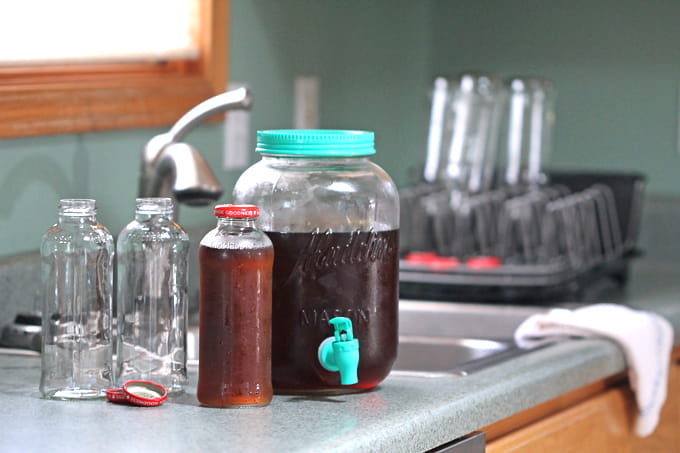 What you need:
6-8 glass tea bottles with lids
Glass sun tea pot
Your favorite tea bags
Rubbermaid Dish Rack
How to make:
Remove the labels from the bottles (how to remove labels without chemicals)
Thoroughly wash the bottles
Dry bottles on dish rack
Fill sun tea pot with water and add tea bags (I use 3 large bags or 8-12 small bags)
Let tea pot sit in sun for 6 or so hours depending upon how how it is outside
Remove tea bags from pot
Pour tea into bottles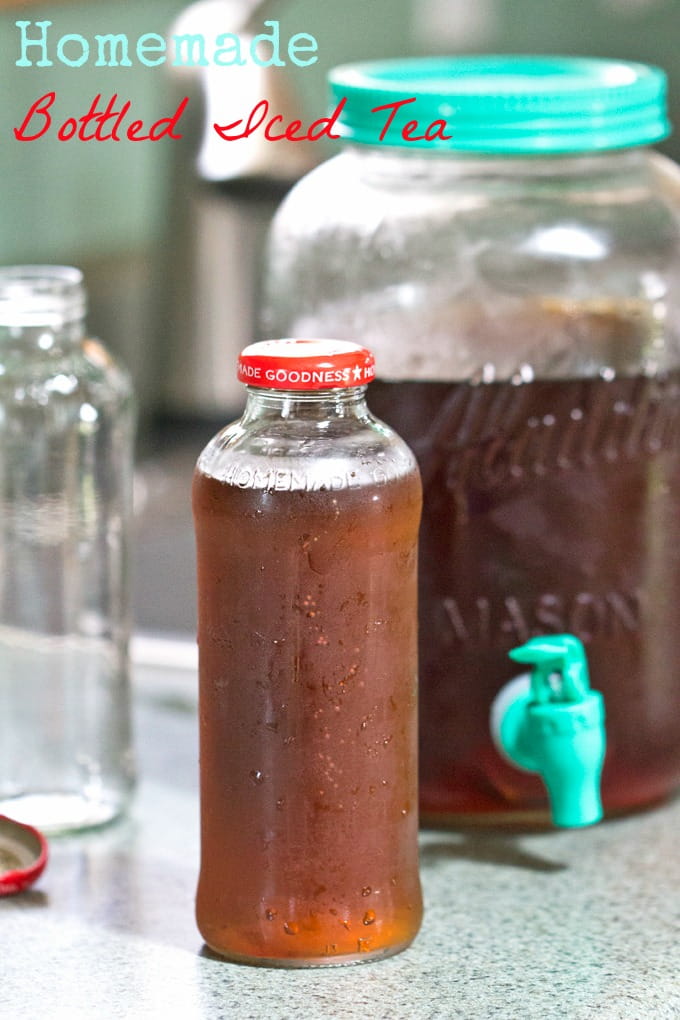 Do you have delicate or oversized items that the Rubbermaid Dish Rack would be perfect for?