I love, love, love McDonald's Mocha Frappe drinks.
LOVE THEM.
But, they have HUGE calories in them and I'm cheap.
Today I had a craving for one but didn't want the calories nor did I feel like dragging 2 kids out to go get one because then one $3 frappe turns into a $15 lunch.
So I happened to notice a little recipe booklet that Truvia had sent me in the mail and I spotted a recipe for iced coffee.  Hmmm.  Maybe I can make my own frappe.  I had some leftover coffee from breakfast so I decided to give it a shot.
It turned out really good.  Certainly not McDonald's good, but definitely a worthy substitute and at like 1/5 of the calories or even less.
This recipe based upon my calculations is 2 Weight Watchers PointsPlus values FOR THE WHOLE THING!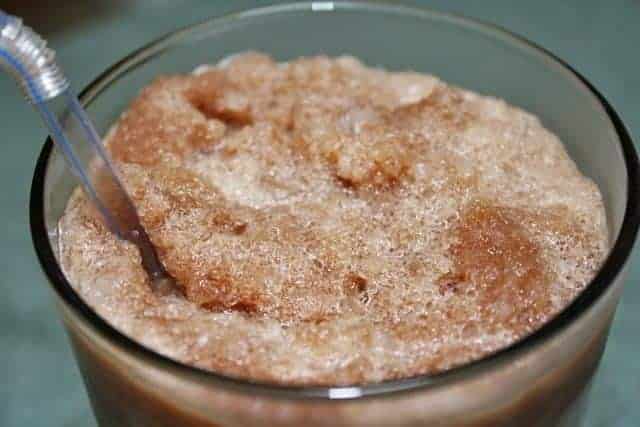 Print
Homemade mocha frappe recipe (Weight Watchers friendly)
Author: Kim Grabinski
Prep Time: 5 mins
Total Time: 5 mins
Yield: 1
---
Description
McDonalds mocha frappe recipe for Weight Watchers followers or those who simply want a healthier option. 2 Weight Watchers PointsPlus values for the entire thing, though it could easily serve 2.
---
Ingredients
8 oz. cold brewed coffee
1/2 cup skim, or light soymilk
1/2 teaspoon vanilla extract
1-2 tbsp Truvia natural sweetener
2 cups ice
1 tbsp cocoa powder (natural unsweetened)
---
Instructions
Add all ingredients to blender.
Pulse or use ice crushing setting to pulverize ice until all the ice is crushed.
Mix on high speed for 15-30 seconds
Serve
---
Notes
*Because we are using skim milk or soymilk, the frappe will not be as cream as McDonalds but it's still tasty and has hundreds of calories less.
*The key to crushing ice is to pulse the blades. Turn them on for just a second at a time to let the ice resettle and blast it again. Press & release until the ice is crushed.
*Note that the nutrition information will vary depending upon the type milk used. The number below are based upon using 8th Continent Light Vanilla soymilk.
*Please calculate Weight Watchers PointsPlus values for yourself to verify.
---
Nutrition
Calories: 56
Fat: .5
Carbohydrates: 16
Fiber: 2
Protein: 3
It was so easy to make and YUM-MO. I might even make another, I have some more coffee left over.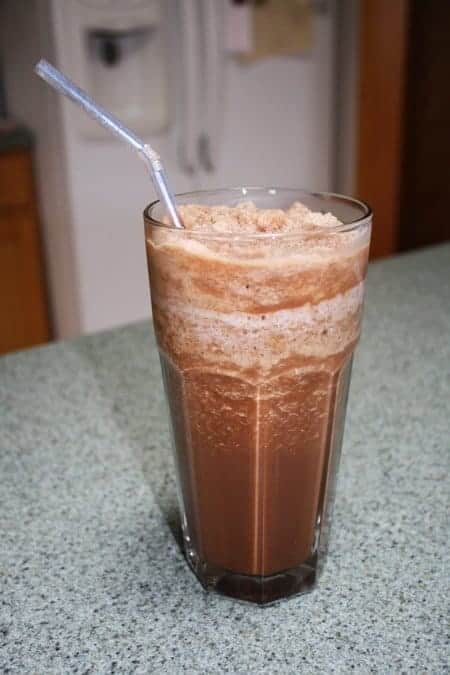 Join our newsletter!
Subscribe to get updates and great stuff via email including subscriber-only goodies like free printables and giveaways.