Did you have any idea that you could make homemade makeup? Keep reading to learn how!
It's a very rare occasion when I wear makeup.
Any makeup.
I think I've maybe worn it once since my wedding almost 14 years ago. It's just never been a priority for me. It takes time to put on. It takes time to take off. And honestly I prefer the natural look.
Plus that way there is more time to put into doing my hair.
Actually I'm kidding, I don't do my hair either.
Boy, on paper I sound like a hippie who doesn't shower.
I promise you that I do shower.
Daily.
I just don't fuss over myself when I am done.
Now, some of my avoidance of makeup comes from laziness but a big part of it comes from the fact that I don't put chemicals on my skin, but I do admit that I wouldn't mind some powder to reduce the blinding glare off my face on those rare days when I am a bit too shiny. There are mineral makeups out there that are supposed to be safer for you but I could never bring myself to spend money on something I use so rarely.
I had read about people making their own powder using essential oils but I was skeptical that it would really work.
And it didn't.
Cause I accidentally used the wrong ingredient the first time. Mental note, tapioca flour
is easily mistaken for arrowroot
but is much fluffier. Made with arrowroot it actually turned out pretty good.
Homemade Makeup – DIY Loose Face Powder
What you need to make homemade makeup:
What you do with it:
In a small bowl mix 4 tbsp arrowroot with 1 tsp cacao powder to test for color. Blend completely. Continue adding cacao powder until you reach the desired tint. I used 4 tsp and I have light skin but not pale. It seems to go on a bit lighter than it looks in the container. Next, if you want, you can add a couple of drops of peppermint essential oil*. It makes it smell really good and peppermint is good for your skin. If you have a more reddish complexion, you could try adding cinnamon for the right color as well.
You can place the powder in a small glass jar
or other container
.
A little bit goes a long way and it will go all over the place if you don't apply it right. I actually had better luck with a powder puff
instead of the brush because it allowed me to press the powder into it (I used the inside of the lid of my tin) and wipe it on rather than have it dust all over the place.
This is a great alternative to no makeup. It's not exactly the same as store-bought cosmetics but it is safe for my skin and I could even eat it if I wanted to. It doesn't last as long on my skin but it does take the shine away and evens out my complexion.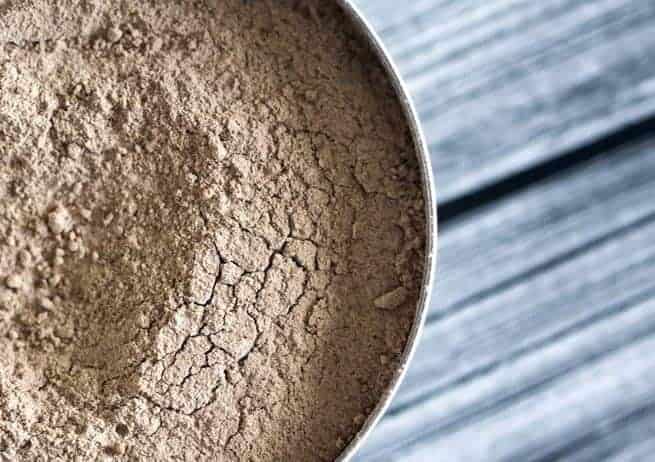 Do you wear makeup? Are you one of those who won't leave the house without it, or simply someone who wears it on special occasions?