Around here, grab-n-go foods are important. They provide us with options when we are out and about - because they feed our hunger and keep us from stopping for fast food. Grab-n-go foods are also important when we get up late and don't want to skip breakfast, and (often more importantly), my kids like them.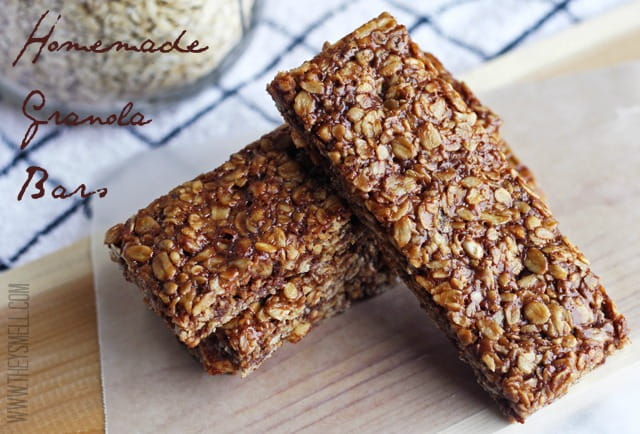 In today's food culture, organic options are available for many of our favorite convenience foods. But despite them being organic they still have ingredients in them that you just don't need. Soy fillers and other texture related additives that you don't need when you make them from scratch. Making them myself I know exactly what is in them. Exactly where the ingredients come from and without and machinery needed to get it into our hands.
I have been *talking* about making a homemade granola bars recipe for months now and after finally doing it - what the heck was I waiting for? They were so easy and taste so good. I will never, ever, ever buy store-bought bars again.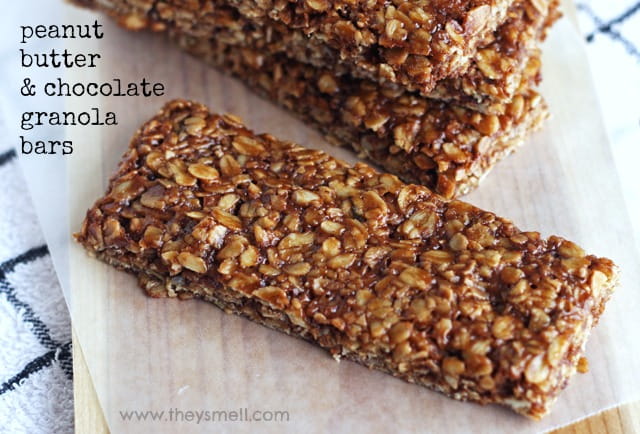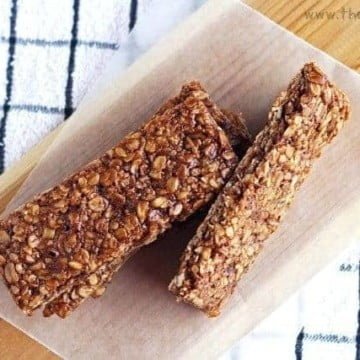 Ingredients 
4

cups

old-fashioned oats

-

organic and gluten-free are ideal

1

cup

of local raw honey

⅓

cup

coconut oil

1

cup

organic peanut butter

¼

cup

raw sunflower seeds

¼

teaspoon

sea salt

⅛

teaspoon

cinnamon

4

teaspoon

100% pure vanilla extract

½

cup

Enjoy Life mini chocolate chips or even better - cocao nibs
Instructions
Set oven to preheat at 350 degrees

Toast the oats by placing them on a baking sheet (ungreased) or in a large glass baking dish in the oven for 10 minutes and stir every 3 minutes.

While the oats are toasting, put the honey, peanut butter and the coconut oil in a large saucepan and blend/melt together over medium heat (don't burn it). Remove from heat and stir in salt, cinnamon and vanilla until dissolved.

Leave oven set at 350 degrees when oats are finished toasting.

Pour toasted oats into honey mixture. Once fully blended, add in chips or cocao nibs and sunflower seeds. Chocolate will melt.

Prepare a second baking pan (this is not absolutely necessary but the first pan will be hot) by lining it with parchment paper.

Pour mixture onto parchment paper, spread, and press down into the pan. It will spread pretty easily with a spatula.

Bake for 8-10 minutes or until slightly brown on the edges.

Remove from oven, and lift the parchment paper with the bars off the pan and place onto a cutting board.

Let cool for at least an hour and a half.

Bars will be chewy and very slightly sticky.
You can tinker with the ingredients, adding and replacing anything you want. Almonds. Raisins. Dried cranberries. Coconut. Almond butter. Chia seeds. Flax. Etc. Whatever you can come up with that you love in a granola bar.