Yeast has been used for generations to help bakers produce light, airy loaves of bread, a mainstay in many families. Whether you're a seasoned bread maker or a novice in the kitchen, this roundup of 15 homemade bread recipes with yeast is sure to inspire your next baking adventure, from classic white bread to savory rosemary focaccia and sweet brioche, there's something for everyone to enjoy.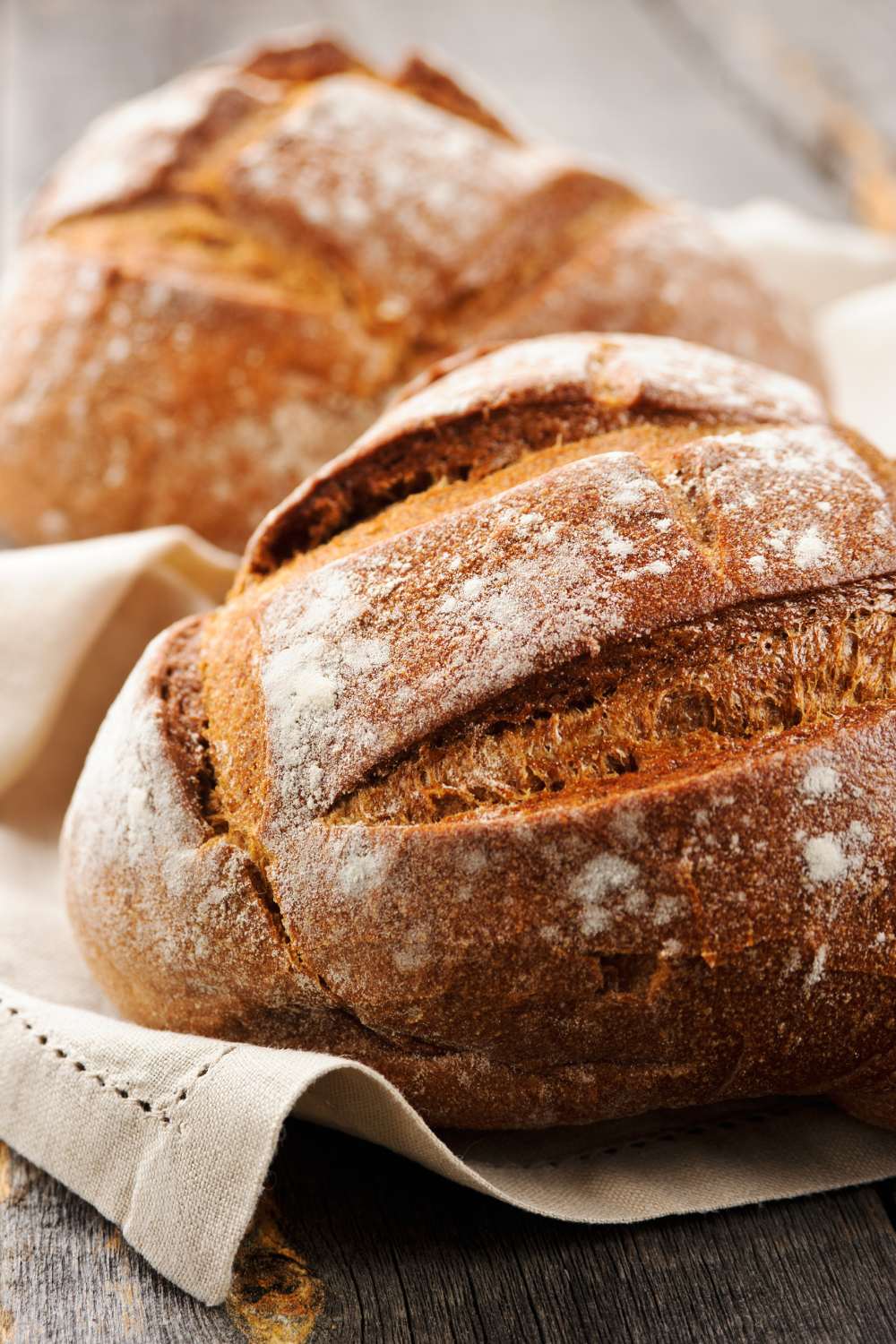 Bake your way to happiness with 15 homemade bread recipes that will make your kitchen smell heavenly:
Nothing beats the aroma of freshly baked white bread! This recipe is perfect for beginners and yields a soft, fluffy loaf that will leave you craving for more. The combination of warm water and whole milk creates the perfect environment for the dry active yeast to thrive, resulting in a perfect rise every time.
The addition of unsalted butter imparts a rich, buttery flavor and tender texture to the bread. Once baked, the golden brown crust of the bread gives way to a light and airy crumb that's perfect for sandwiches or toast. This a simple yet classic recipe that will have you reaching for another slice!
If you're looking for a recipe for a loaf of bread that's both nutritious and tasty, go no further than this Whole Wheat Bread. This bread, made with whole wheat flour, is loaded with fiber and other nutrients that will keep you feeling full for longer.
Honey and unsalted butter give the bread a deep taste without adding salt, making it ideal for spreading. The bread rises thanks to the active dry yeast, becoming soft and fluffy so it can be used for sandwiches or toasted. Try your hand at baking this simple but delicious bread; it's ideal for first-timers.
Honey Oat Bread has a sweet, soothing flavor and a tender, moist texture thanks to the mix of honey, oats, and flour. It goes well with a hot cup of tea or coffee. The active dry yeast in this recipe produces a fluffy crumb, while the unsalted butter and milk provide a savory richness.
The oats give the bread a light crunch and nutty flavor, while the honey provides just enough sweetness to bring everything together. If you've never baked before but want to fill your house with the smell of freshly baked bread, this is the bread for you. Be free to cut yourself a thick piece of that warm bread and appreciate every mouthful.
With its soft and supple texture, Homemade Cinnamon Raisin Bread is ideal for morning toasting and spreading with butter or jam, and its soothing scent is hard to beat. The dough has all-purpose flour, milk, eggs, and raisins in it, and the filling is composed of cinnamon and sugar, so it's sweet and spicy at the same time.
Additionally, you can easily adjust the ingredients in this recipe to accommodate anyone with dietary requirements. Whether you're an experienced baker or just getting your feet wet, you'll have no trouble following this recipe and making some very tasty homemade bread.
This Sourdough Bread for Beginners recipe will have you feeling like a pro baker in no time! The process may seem intimidating, but with a little patience and practice, you'll be making delicious sourdough bread at home in no time. The crusty exterior and soft, chewy interior of this bread is sure to impress anyone lucky enough to try it.
The process involves feeding your sourdough starter, mixing the dough, kneading, shaping, and allowing the dough to ferment before baking. Don't forget to cool the bread before slicing, so you can fully appreciate the tangy, delicious flavor of your homemade sourdough bread.
Get transported to a Parisian boulangerie with this French Baguette recipe! Made with all-purpose flour, water, salt, instant yeast, and a touch of honey, this bread is crusty on the outside and chewy on the inside. After mixing the ingredients, give the dough three sets of stretch and folds, then refrigerate overnight.
The next day, shape the dough into three rectangles, let rest, then stretch and fold it into cylinders. Proof the dough and score it with a sharp blade before baking. The result? Perfectly crusty and delicious baguettes that pair perfectly with butter and cheese.
The mix of Italian spice, olive oil, and brown sugar gives this Crusty Italian Bread a great savory taste with a touch of sweetness, making it the ideal accompaniment to any meal. Making the dough and letting it rise is easy if you use a stand mixer with a hook attachment.
The egg wash creates a glossy finish and a golden crust on the baked bread. To get a lovely crispy surface, add water to the oven's lowest rack. Serve hot in the oven with a pat of butter or as a side to some spaghetti.
Challah bread is a staple at Jewish holidays and is perfect for those who want a taste of something different. This recipe is a delicious combination of honey, eggs, and bread flour, creating a sweet and fluffy bread that is great for sandwiches or toast. The dough is kneaded until it is smooth and elastic, then divided into three portions to make the classic braided look.
Once it has been proofed, the bread is brushed with beaten egg and baked to a beautiful golden brown. It's best served warm but will keep well for several days if stored in an airtight container. Enjoy this bread as a special treat for brunch or afternoon tea.
This hearty Rye Bread recipe is perfect for those looking for a rich, dense loaf. Made with a combination of all-purpose flour and dark rye flour, this bread has a deep flavor and texture that's perfect for any sandwich or snack.
With the addition of caraway seeds, molasses, and butter, this recipe is a must-try for any bread lover looking for something unique. After baking to a deep brown, let the loaves cool for at least 30 minutes before slicing into the tender, chewy interior.
Enjoy homemade pumpernickel bread that rivals that served at your favorite steakhouse with this simple recipe. Rich cocoa powder gives the bread a deep, black color, and molasses give it a powerful sweetness. This bread's structure and taste are both substantial and earthy thanks to the combination of all-purpose flour and rye flour.
This bread will quickly become a family favorite, whether it's toasted with butter or used to make sandwiches. Let the bread cool until tapping it produces a hollow sound. You may store it for three days at room temperature, or you can freeze it for up to eight weeks.
This homemade potato bread recipe will have you making delicious loaves of bread in no time! The mashed potatoes give this bread a soft, fluffy texture and the crust has a satisfying crunch. For an easy, no-fuss recipe, simply mix the dry ingredients, add in the mashed potatoes, water, and oil, then knead for a few minutes.
Let the dough rise and then shape it into a beautiful loaf before baking. The result is a perfect golden-brown crust with a tender, moist crumb. Slice it up and serve it with your favorite soup or stew for a warm, comforting meal.
If you want the best cheese bread ever, stop looking because you've found it in this easy homemade version. All-purpose flour, milk, and shredded cheddar cheese come together to make a tender and savory loaf of bread. Not only that, but you may adjust the flavor to your desire by using your favorite herbs and garnishes.
Try the Parmesan, Garlic, and Herb bread, which is topped with freshly grated Parmesan cheese and chopped garlic for a delicious treat. You might also try the Cheddar & Herb bread, which is topped with a combination of fresh herbs and shredded cheddar cheese. In any case, this bread will quickly become a staple in your household.
This Rosemary Focaccia Bread is a rustic and delicious bread that is perfect for sharing with family and friends. The dough is made with warm water, sugar, and yeast, and then mixed with flour, olive oil, and salt. The dough is then left to rise twice, giving it a light and fluffy texture.
Once baked, the bread is drizzled with extra virgin olive oil and topped with fresh rosemary and flaky sea salt. The resulting bread has a crispy crust, a soft and chewy interior, and a fragrant aroma of rosemary. Serve warm for the ultimate experience.
Make your next breakfast or brunch more French with this brioche bread recipe. This bread is guaranteed to win over your visitors with its buttery aroma and soft inside. The dough's luscious texture makes it ideal for toast or sandwiches, and it's created with milk, eggs, and butter.
When the dough has been split and formed into loaves, it is left to rise until the loaves have doubled in size. After the loaves have reached a golden brown color and a hollow sound when tapped, they are done baking. Use your preferred spread or jam to create a delicious dessert.
This soft and chewy Pretzel Bread recipe is perfect for those who love the irresistible taste of classic pretzels but want to enjoy it in a new form. The bread has a beautiful golden-brown exterior and is incredibly soft on the inside.
The secret to the bread's perfect texture lies in the boiling process, where the dough is boiled in water and baking soda, giving it the characteristic chewy crust. The bread is then brushed with egg wash and sprinkled with coarse salt, making it irresistible. Whether enjoyed plain or paired with your favorite dip, this Pretzel Bread is sure to be a hit!
What Is The Best Flour To Use For Homemade Bread Recipes With Yeast?
When it comes to making homemade bread with yeast, the best flour to use is unbleached all-purpose flour or bread flour. Both types of flour have high protein content which gives bread its structure and chewiness.
Whole wheat flour can also be used but may require additional liquid and a longer rise time. Experiment with different flours to find your favorite healthy homemade bread recipe.
Can I Use Instant Yeast Instead Of Active Dry Yeast In These Recipes?
Yes, instant yeast can be used instead of active dry yeast in these recipes. The difference between the two is that instant yeast doesn't require proofing and can be mixed directly into the flour. Instant yeast can also be added directly to the dough during the mixing stage, while active dry yeast needs to be mixed with warm water first.
Use the same amount of instant yeast as active dry yeast called for in the recipe. Remember to store any unused yeast in an airtight container in the refrigerator or freezer for later use.