Have you ever seen the movie Home for the Holidays with Holly Hunter and Robert Downey Jr? It is a Thanksgiving comedy and is one of my all-time favorite holiday movies.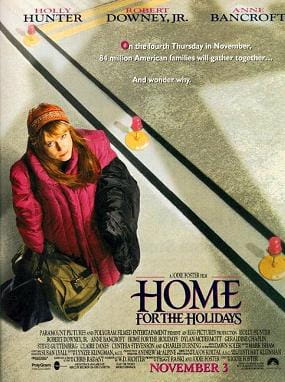 My favorite part of the movie is the relationship between Claudia Larson (Holly Hunter) and her brother Tommy Larson (Robert Downey Jr.) and the humor that ensues as they navigate their family's judgment of and impact on their lives and their personal demons.
Add to that:
A neurotic, chain-smoking mother.
A father living in the past.
Eccentric (and flatulent) Aunt Glady
Extremely conservative sister Joanne
Tommy's friend Leo Fish (Tommy is gay, Leo is not)
And you have for a pretty hysterical look at a fairly typical family.
Despite their apparent desire for Thanksgiving to be over, the moments of joy they shared in between the craziness made it all worth it.
My favorite of the bunch is Aunt Glady. She has a huge plant collection, gives away lamps, and leaves the burner running on her stove. Oh and she has a crush on her sister's husband. She also falls asleep at the dinner table and is in serious need of a gas-reducing diet.
Our family has it's share of characters, though none quite as entertaining as the Larson family. I'm sure most families have that one person who stands out as a bit unconventional.
In the case of the Larson family, aging Aunt Glady was not only the source of humor and entertainment, she also brings up some important questions that may seem odd to bring up during the holidays. But family gatherings are actually the perfect place to discuss these important, yet difficult topics. While everyone is gathered together, why not just get it out in the open and get it over with? It will actually make things easier in the long run and everyone will probably breathe a sigh of relief knowing that these questions are being addressed.
Aunt Glady was a bit forgetful. She fell asleep at odd times. Obviously age was catching up with her. She lived alone, though and I bet the Larson's never discussed who would take care of her if she couldn't take care of herself. Fox Business reports that 2/3 of American's over age 65 will need long-term care and that Getting Old is Unaffordable.
How long will Aunt Glady be able to continue to live on her own?
Who will take care of her when she is no longer able to live alone?
What about your parents, aunts, uncles or grandparents?
Who will take care of them?
Do you know if they have social security income or a pension? Do they have a living will? What kind of medical coverage do they have? Do they have long term care insurance? How long can they be independent in their own homes? There are so many things you need to know.
So, who is the weird relative in your family? Is it the same person who might need someone to help care from them sooner rather than later?
Have you ever discussed these types of topics at family gatherings?
Join our newsletter!
Subscribe to get updates and great stuff via email including subscriber-only goodies like free printables and giveaways.