Holling Clancy Holling. Imagine calling that kid on the playground. I had never heard of Holling C. Holling before we homeschooled. That makes me kind of sad; I would have loved his books as a kid. Holling C. Holling books are like a banana split of books: literature, geography, history, nature study, travelogue, and all topped with great illustrations. For homeschoolers, his books can be a spine for many subjects, or the basis for a unit study. Even if you do nothing else, you should read them, because your family will enjoy them.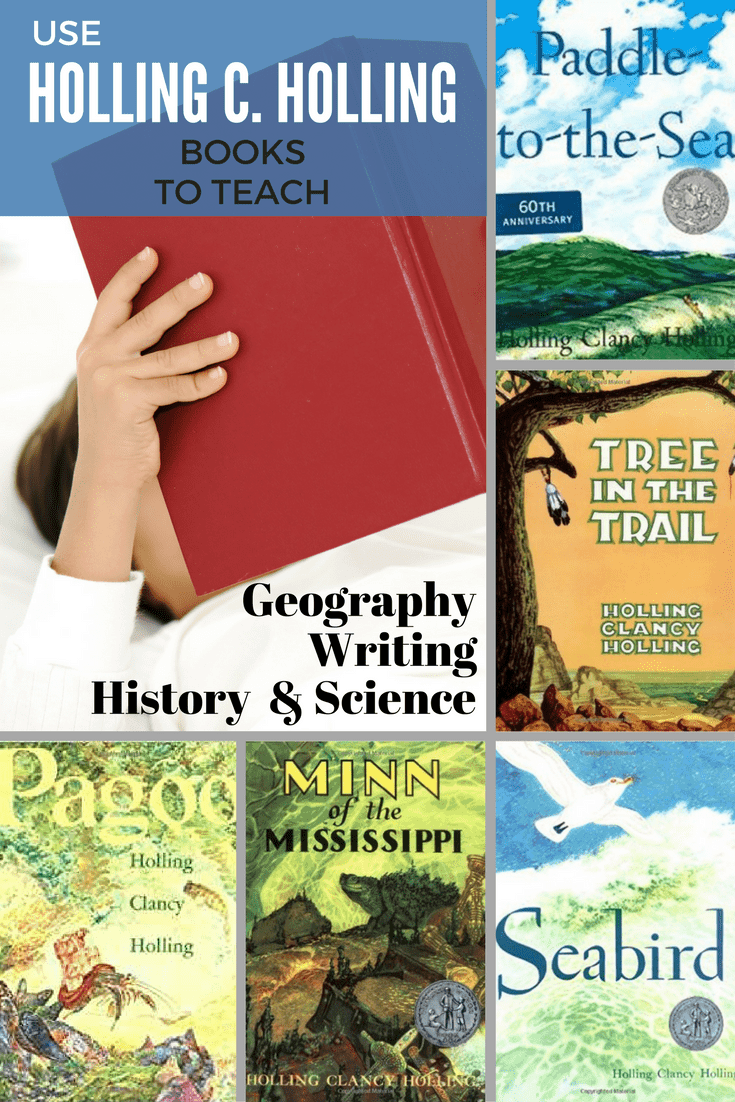 Holling C. Holling Books
These five Holling C. Holling books follow a similar theme: a central character (animal or inanimate object) travels a long distance and experiences adventures. Each two page spread also follows a similar format – one full page illustration and the opposite page has the text. The margins of the text page are filled with little illustrations, diagrams, and facts related to the story. He presents so much information, but it's not overwhelming or dry. The books are really charming. Great for read alouds for younger kids, and independent readers (upper elementary) could use it as a unit study.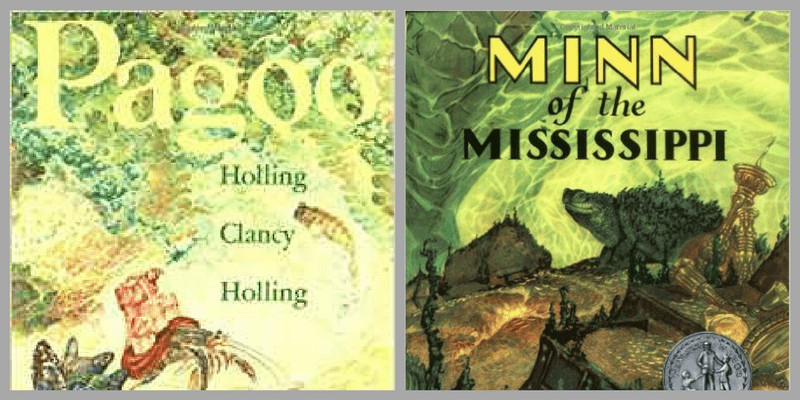 We started with Pagoo, the story of a hermit crab, because we had a bit of a hermit crab obsession going on. I ordered it on Amazon, but really didn't have an idea of how good the book would be. Pagoo follows the life of a hermit crab from birth through adulthood in a tide pool. Readers will learn so much about marine life in this book.
Similarly, Minn of the Mississippi follows the life of a snapping turtle as she travels down the entire length of the Mississippi River. The book delves into the geology and history of the river as well as the animals that inhabit it. He also explains how humans interact with and have changed the river.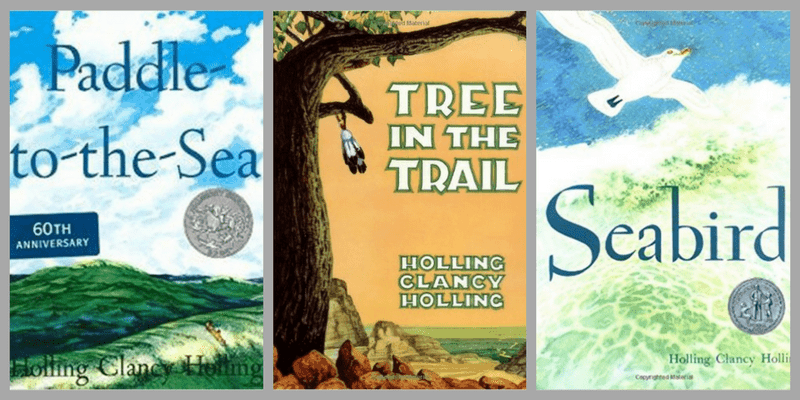 The next three books feature an inanimate object as the main character, which is an interesting change in children's literature. In Paddle to the Sea, a Native American boy carves a model sized canoe with a small figure inside. He then places Paddle on a high snowbank. When the snow melts, Paddle will be carried downhill by the water and by following the natural water routes, will eventually make it to the sea. This book explores the Great Lakes with a focus on nature and man's use of the area's natural resources (wood, iron, fish, etc.). Does Paddle make it to the sea? You'll have to read to find out!
Seabird is the story of a bird carved from walrus tusk. He accompanies each generation of a sailing family on their voyages. Each captain pilots a different style of ship, which shows the evolution of sailing vessels. The story explores seafaring and whaling – way more enjoyable than Moby Dick. 😉
The Tree in the Trail tells the story of a lonely cottonwood tree in the middle of the Great Plains, in the time before white settlers arrived. Through the tree's story, readers learn of the Native American hunters and their tribes, the early white settlers, and the Santa Fe trail. Eventually the tree "moves" and we learn what life was like in a frontier town.
Extending Holling C. Holling Books
Geography
Beautiful Feet has published Geography Through Literature, which uses four of these books (Pagoo is not a part). While I do not have personal experience with this curriculum, it does look good!
Rainbow Resource has blank maps by Beautiful Feet to go along with these Holling books, if you don't want to use their entire curriculum.
Writing
Last year, I used Institute for Excellence in Writing (IEW) Geography Based Writing Lessons with my son for his sixth grade writing. It uses these books as source material for writing assignments. We were very happy with it; it solidified the skills he learned with IEW Level A, without being boring. If you are a fan of IEW, this was a really nice extension of their curriculum.
History
Bent's Old Fort was on the Santa Fe trail (Tree in the Trail). The National Park Service's "The Santa Fe Trail Traveling Trunk" is available to rent. However, the accompanying Activity Guide (free download) offers lots of information and worksheets you could use without the trunk.
Wharves of the World, also part of the National Park Service's website, explores Derby Wharf during Salem's Golden Age of Sail (Seabird).
Science
Use Holling's books as a launchpad for science and nature studies:
Check out your local zoo, aquarium, or nature center to see the animals from the books.
Buy hermit crabs (Pagoo) at a pet store. They really are fascinating.
Research some of the topics (animals, plants, biospheres, tide pools, rivers, Great Lakes – anything your kids find interesting) in more depth, and create a nature journal.
Visit National Park Service – Mississippi National River and Recreation Area's website (Minn). The "Teacher Guides" page has lots of free resources you can use.
I hope you check out some of Holling C. Holling's books. You won't be disappointed. I'd love to hear from you – what do you think of them? Do you have a favorite?