I hate the word diet. It evokes something temporary. Something difficult. Something that you will likely fail at because most people do fail at "dieting". I have. Many times. The word diet for me means not feeling good about myself. It means feeling guilty about everything I eat. It means feeling like I HAVE to workout even when I'm sick or busy or my body just needs a break.
And there are so many "diets" out there inundating us with success stories and before and after photos. Some of them are even so extreme to limiting you to a single food. I'm sure anyone would lose weight eating only broccoli but that certainly isn't healthy or sustainable.
Honestly I think the modern meaning of the word diet is the opposite of healthy, because it is emotionally stressful and I always end up eating way too little. Which means I can't maintain it and usually gain the weight back and then some. How is it healthy to starve yourself, beat yourself up emotionally and end up heavier than you started out at?
Getting healthy should be a positive thing. Something that makes you better. But when you start out by proclaiming a negative – ie: "I'm going on a diet!" you rather set yourself up for failure. You have the mindset that it's going to be something difficult.
I believe that getting healthy doesn't start with a proclamation, it doesn't start by removing all of the "bad things". Getting healthy doesn't start by moving your body.
Getting healthy starts by getting your mind in a place that celebrates what you CAN do. What you CAN eat. How you WANT to feel.
10 Affirmations You Need to Live a Healthy Life
Before you buy new running shoes. Before you buy the latest and greatest fitness tracker. Put down the broccoli. Don't even think about calories. Before you decide to live healthier, you must get your MIND in shape first.
"I am not on a diet." – As I mentioned, the word diet is negative from the get-go. Before you even take that first bite of broccoli, the word diet sabotages your good intentions. If you need accountability, tell friends or family that you ave decided to lead a healthier lifestyle.
"I do not need food to have control over my emotions." – So many of us do what is called "emotional eating." It needs to stop. Food is not therapy. It doesn't do anything but distract you for awhile. Well, it does something else too – it actually makes you feel worse because you feel guilty and you usually choose the most unhealthy options when you participate in emotional eating.
"Feeling good is much more satisfying than food as a reward." – It's somehow ingrained in us to use food as a reward. Kids get good grades? Take them out for ice cream. Get a big promotion? Buy yourself a cake to celebrate. I admit that I fall into it too. For some reason food is the first thing that comes to mind when we think about rewarding ourselves.
"I have control over my choices, they do not control me." – This is a tough one. It's basically called accountability. You have no one to blame but yourself for your choices. if you choose to eat cake, there is no one to blame but yourself. You may not be to blame for your weight or lack of exercise if you have a medical condition but you are 100% to blame for what you choose to put in your mouth. Accept accountability and OWN your choices.
"I'm worth the effort it takes." – You are. You just are.
"I will not feel guilty about the choices I make." – Guilt can be such a huge cause of sabotage in a healthy lifestyle. But guilt cannot exist if you listen to #4. Since you have control over your choices, if you make a poor choice you simply must look at it as a learning experience and move on. Own it. Accept it. And try to do better next time. And no, one poor choice is not a reason to make additional poor choices.
"I cannot fail." – A healthy life is a journey with different paths not a race with a winner and loser. You can only fail if you stop trying.
"I will not compare myself to anyone else." – This is your journey and it will be different than every other person on the planet. Do it your way.
"I will choose happiness." – I believe that happiness is a choice (short of medical issues). You can choose to wake up with a smile or a frown but coincidentally, the healthier you are, the better you will feel and the less you will have to "put on a happy face" because you will find your mood is naturally elevated.
"The pleasure I get from food is temporary." – This is one you will find you use a lot. I would print it out and DUCT TAPE it to the wall in your kitchen. When your emotions get the best of you. When #4 fails you. You need to remember that some food is like a drug. It's a temporary high that at that moment seems to make you feel better, but tomorrow you are still the same you. Falling into the same traps. Maybe tape this entire list to the wall in your kitchen.
I really believe that getting your mind healthier is imperative, and the key to getting your body healthier. Health really does start from the inside out.
Take control!
WalMart wants to help you take control of your healthy lifestyle. On October 15, 2015 from 12pm – 4pm, they are hosting America's biggest health fair, and they want you to join them!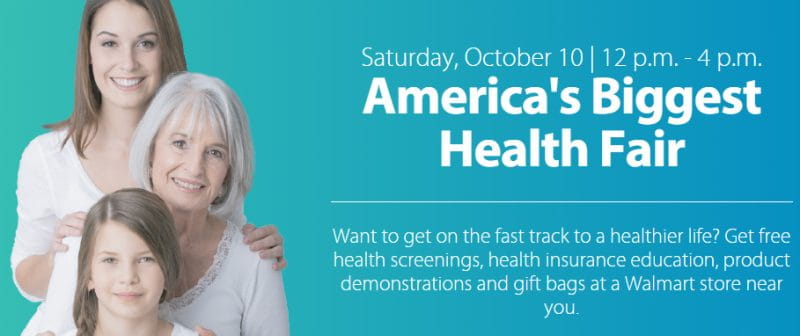 WalMart's health fair will help you to get on the fast track to a healthier life. They will have free health screenings, health insurance education, product demonstrations and gift bags. Visit a WalMart near you on Saturday, October 10 between 12 and 4 pm.

Join our newsletter!
Subscribe to get updates and great stuff via email including subscriber-only goodies like free printables and giveaways.