AllWhites Egg Whites
. All opinions are 100% mine.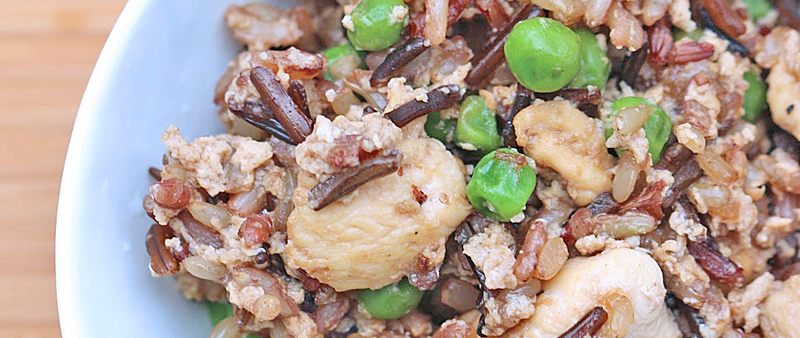 When it comes to your favorite indulgent restaurant foods, it's hard to imagine being able to recreate them at home with less fat and calories. A restaurant serving of some of these foods have your entire day's worth of calories and fat. Not a very good option when you are trying to stay fit and healthy.
For me, Chinese food is the perfect example of something that can sabotage my fitness plan in the blink of an eye. All of that breaded, sweet, savory, spicy, rich goodness combine together to equal like 4,000 calories per serving. Ok, I'm exaggerating, but it surely ends up being an indulgent that can quickly derail my efforts.
So what's a girl to do?
Completely avoid her delicious favorite food?
Eat just a little tiny bit and go hungry the rest of the day?
Or just spurge and risk the consequences?
All of these, I guess, are viable options. But there is a 4th option. Make a healthier version of my favorite food.
Healthier Chicken Fried Rice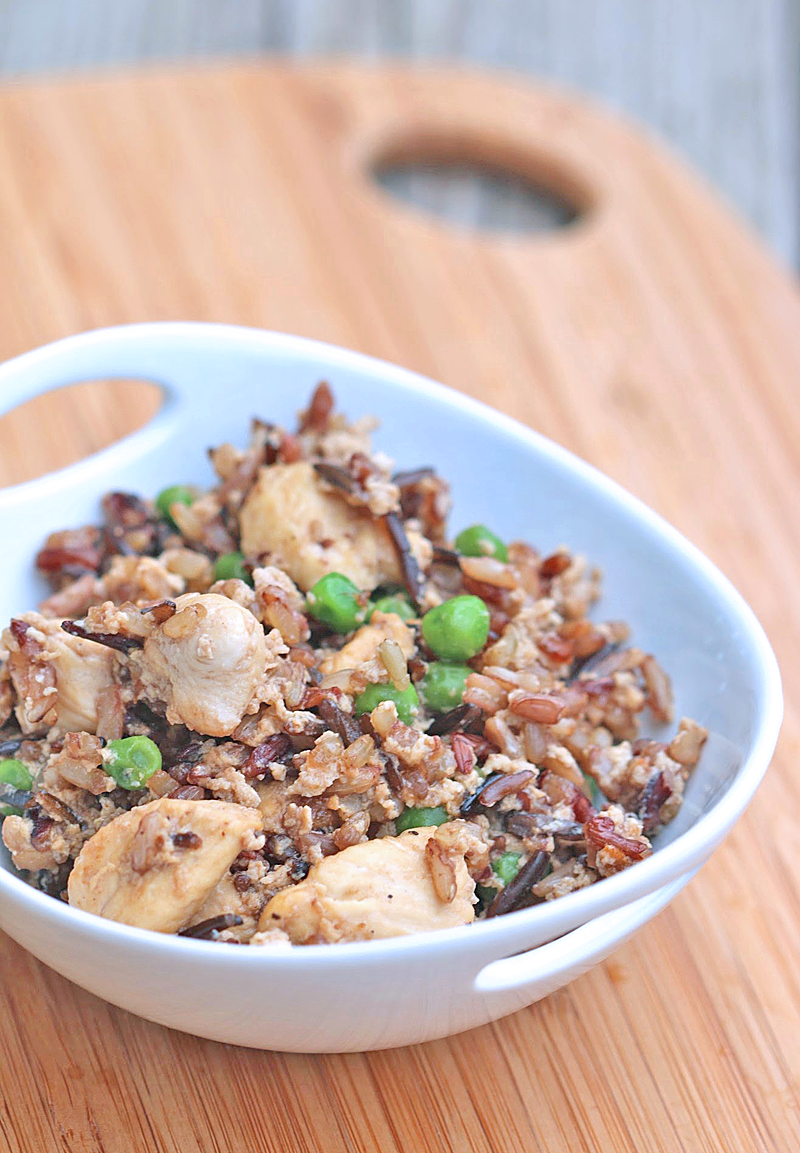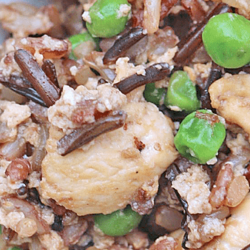 Ingredients
1

cup

uncooked long grain wild rice

you can use any rice but wild rice is the healthiest version

3

tbsp

reduced sodium soy sauce

1

tbsp

dry sherry

1/4

tsp

orange sauce

1

tbsp

sesame oil

1/2

lb

boneless skinless chicken breast halves

cut into 1/2-inch pieces

1

tsp

minced garlic

1/2

tsp

minced onions

3/4

frozen peas

thawed

1

cup

AllWhites® egg whites
Instructions
Cook rice according to the package directions. Generally wild rice takes a full hour to cook. Alternatively you can use 3 cups of leftover already cooked rice.

Meanwhile, in small bowl stir together soy sauce, sherry and orange sauce; set aside.

Heat oil in 12-inch nonstick skillet over medium heat with minced onions & garlic. Add chicken. Cook chicken, stirring occasionally, until chicken is no longer pink.

Add cooked rice and thawed peas. Continue to cook, stirring constantly, for 3 minutes.

Reduce heat to low. Stir in soy sauce mixture. With wooden spoon, push rice mixture to sides of skillet, making large hole in center of skillet for preparing egg.

Pour AllWhites egg whites into center of skillet. As egg starts to set use wooden spoon or spatula to slowly stir egg until eggs are set. Stir rice mixture into egg.
Notes
If you don't want to use cooking sherry you can substitute dry cooking wine, dry white wine or chicken broth.
Information shown is an estimate and is for information only. 730 Sage Street is not responsible for the factual accuracy of any nutrition information, calculations or claims.
This recipe incorporates AllWhites Egg Whites which are a lower calorie alternative to regular eggs. It has over 20 grams of protein! The original version of the recipe can be found here: Chicken Fried Rice. I made some modifications based upon my family's tastes and the ingredients we had on hand.
About AllWhites® egg whites:
100% liquid eggs with no yolks
Convenient
Fat-free
Cholesterol-free
Located in the refrigerated dairy section
Lean source of protein
0 PointsPlus® value per serving on the Weight Watchers® program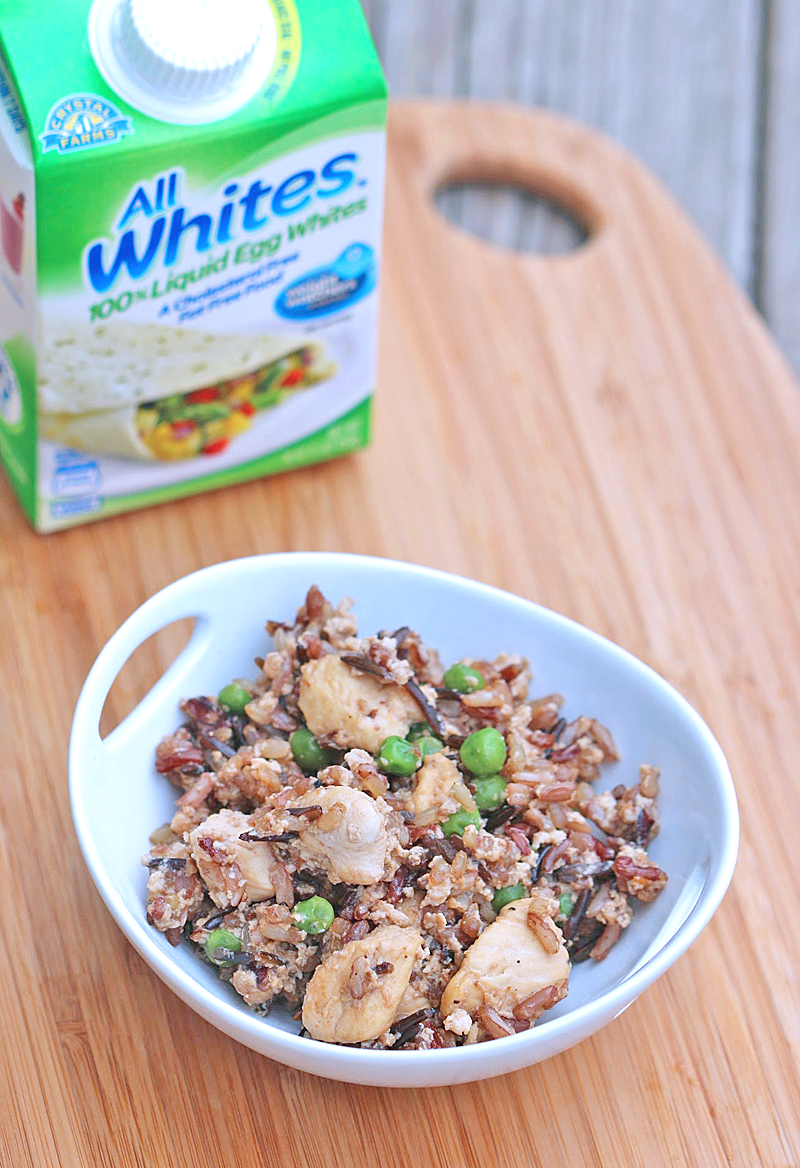 This turned out really good. Honestly better than I expected. I do wish it had the kick the chili sauce would have provided, but my daughter wouldn't have liked it so I went with the sweet orange sauce instead. It was delicious! I even had some for breakfast the next day – it actually tasted even better reheated.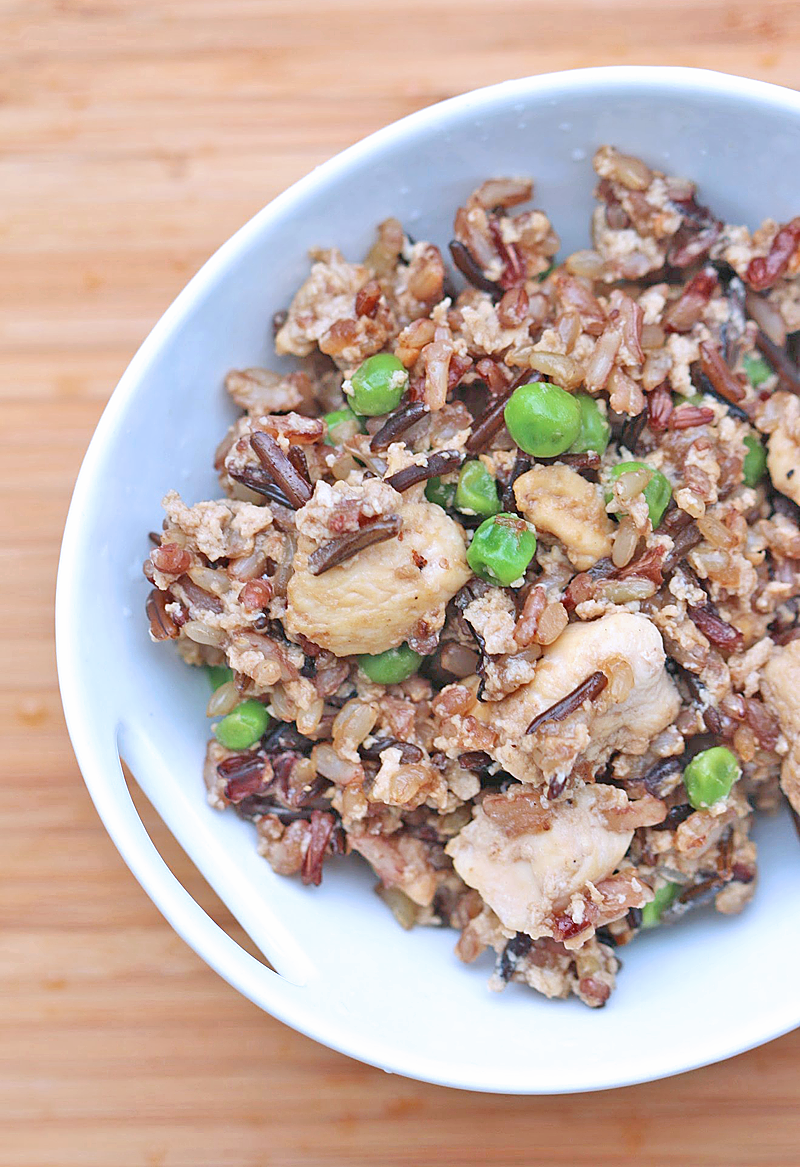 Protein is so important when you are trying to get or stay in shape and this recipe with AllWhites® egg whites is not only lower in calories, it has a fantastic amount of protein per serving! This make it a perfect food to fuel your workout.
For more about how incorporating AllWhites® egg whites can help you achieve your fitness goals visit AllWhite's Fitness and Weight Management pages.
For more recipes visit: AllWhites Egg Whites Favorites
Take it social! Follow AllWhites Egg Whites on Facebook and AllWhites Egg Whites on Pinterest and also on the hashtag #AllWhitesEggWhites.
ENTER TO WIN A MONTHS WORTH OF ALLWHITES EGG WHITES
a Rafflecopter giveaway