This post is sponsored by UnitedHealthcare, opinions expressed are my own.
Premium. EOB. Deductible. PCM. Co-pay. Benefits. FSA. Out-of-network. Cost share.
These are just a few of the terms you will encounter when it comes to researching and choosing a healthcare plan. It can be a frustrating experience, and something so important should not cause fear and confusion. Your choice of healthcare plan has to be the perfect fit for your family. It needs to have the coverage you need and fit within your budget. And it needs not to leave you wondering if there will be any hidden costs or not have the coverage you expected.
But if you don't understand the terminology, how can make an informed decision?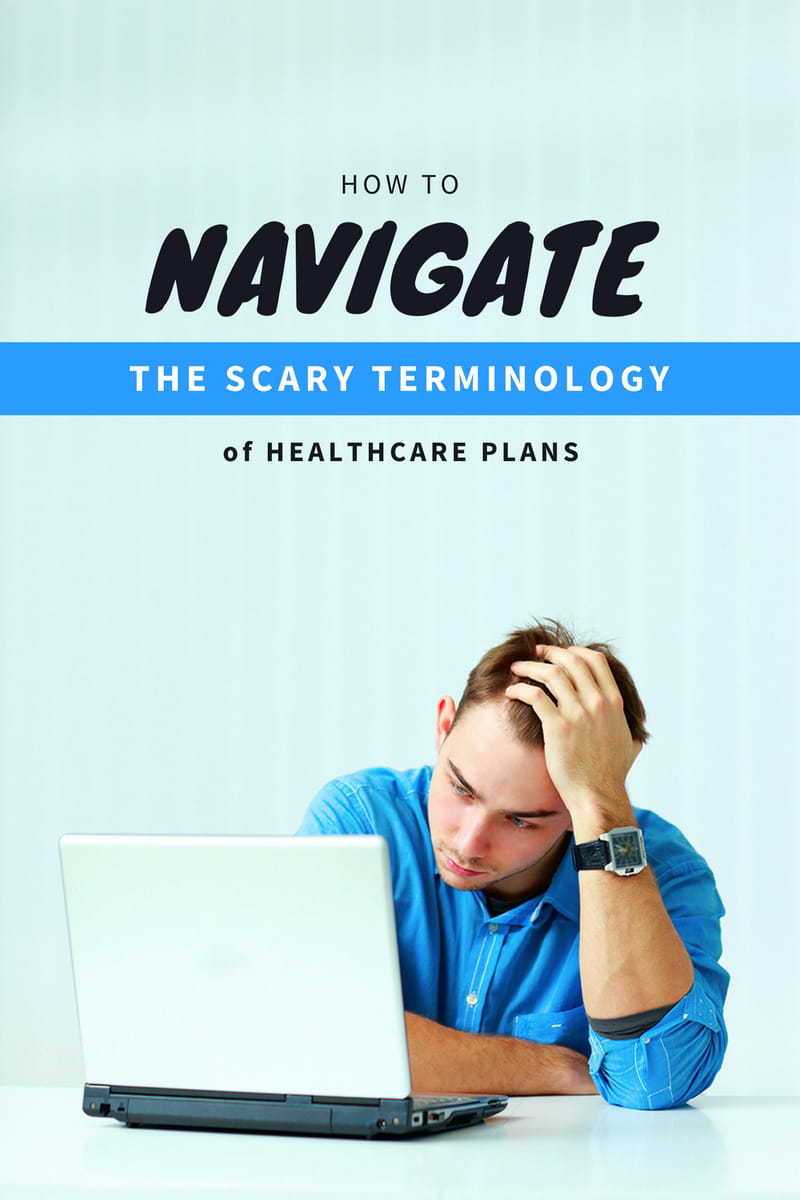 How to Navigate the Scary Terminology of Healthcare Plans
Open Enrollment for 2017 starts on November 1st so it's the perfect time to make sure you understand what all of the different insurance terminologies mean so that you can choose the best plan for your needs.
Research
The key to understanding what all of that scary jargon means is to research standard insurance terms. These words and phrases will be pretty standard across the board from plan to plan. Some key definitions you will want to study are deductible, coinsurance, copayment, cost share, network, premium, primary care provider, Health Savings Account and out-of-pocket maximum. For a complete list of all of the common health insurance terms, you can visit this page over at UnitedHealthcare.com: Common Terms.
Notes
Once you understand what the common words and phrases mean, write the definitions down in your own words so you can refer back to them later as you compare plan feature and options. Having your own notes to refer back to as you choose an insurance plan helps make the process much easier.
Tools
After you are familiar with the common words and phrases you will experience while choosing a healthcare plan, you may find some additional terms that need defining in plain, clear language. United Healthcare has got your back there too; you can visit Just Plain Clear and search for thousands of different terms explained in a way that you can understand them. It really is explained in a clear, simple way and even has a Spanish language translation. You can enter a specific word in the search bar or search by the first letter of the word.
Stay Sharp (and maybe win a great prize)
UnitedHealthcare has some resources to help you stay sharp and test your knowledge of healthcare terminology, and they are offering the chance for you to win prizes along the way. There are two different activities to test your knowledge.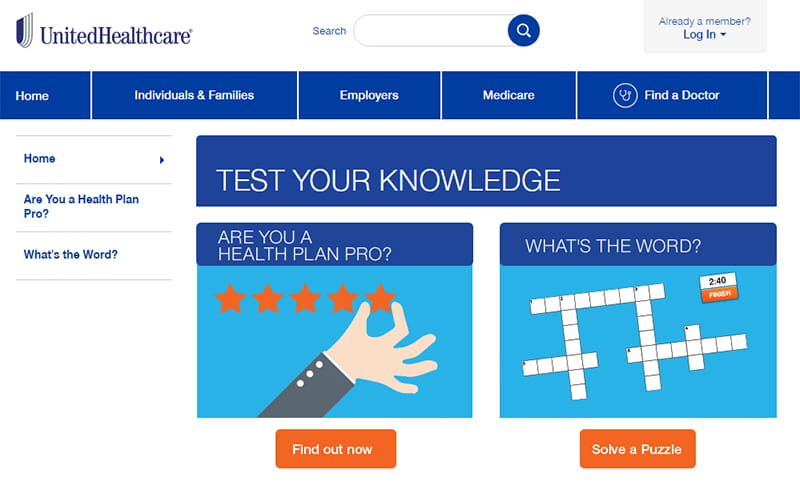 The "Are You a Health Plan Pro?" section is a four-stage activity with a healthcare terminology quiz, a healthcare account type matching game, a slide configurator that helps you understand premiums vs out-of-pocket expenses and a cost ranking section for different healthcare situations. After you complete all four activities you will be given the option enter your information to be entered into the sweepstakes. The prizes for this section are $100 weekly gift card winners and $500 monthly gift card winners.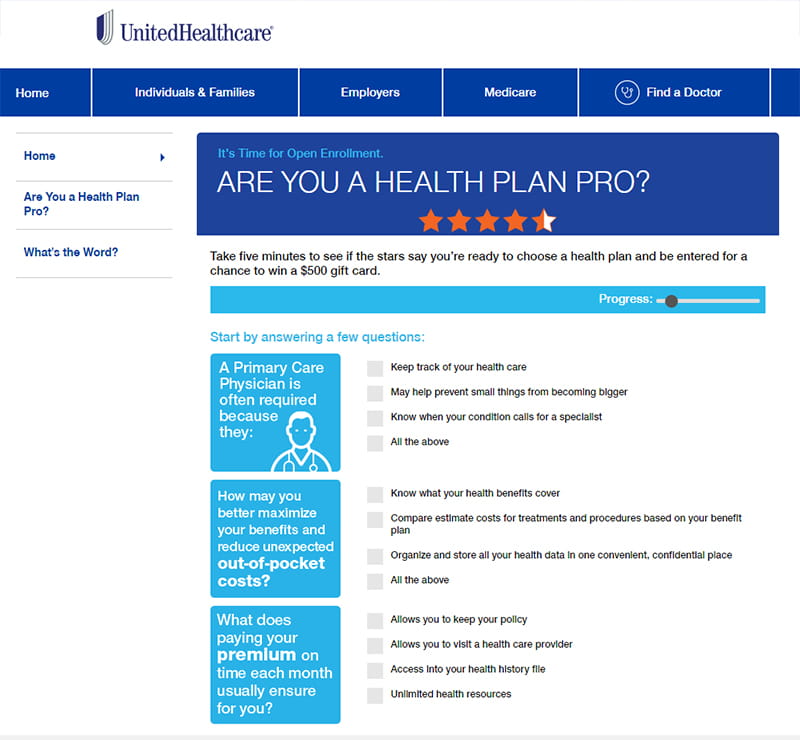 The "What's The Word?" section is a crossword puzzle with a list of clues for across and down. Each answer pertains to must-know healthcare terminology and each clue also comes with the option to receive a hint if you need it. After you complete the puzzle you will be given the option enter your information to be entered into the sweepstakes. The prizes for this section are $100 weekly gift card winners and $500 monthly gift card winners.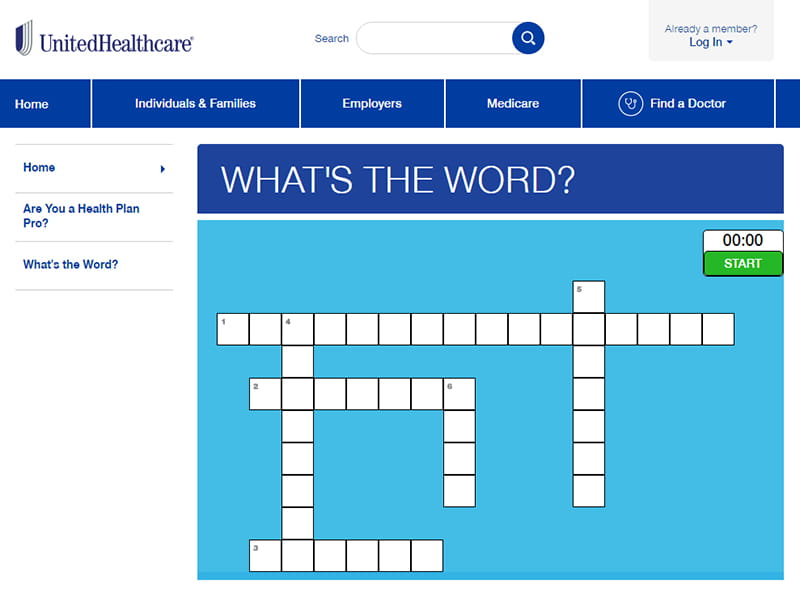 Choosing a healthcare plan is an important decision. Don't get the wrong plan because you didn't understand the lingo. UnitedHealthcare has the tools you need to make educated choices, and with a little luck, maybe you'll even win a prize!
In case you missed them, here are the links to the two different sweepstakes opportunities:
Join our newsletter!
Subscribe to get updates and great stuff via email including subscriber-only goodies like free printables and giveaways.