So many changes have been happening regarding the healthcare situation in our country. Change was needed and no matter how you feel about the changes, the ACA (Affordable Care Act) has been implemented to try and help more people have access to affordable health care. No one should be without access to quality healthcare, and the ACA requires every American to have health insurance.
Thankfully my family is covered because my husband is retired from the US Navy and they have options for maintaining affordable coverage for the whole family.
But for the first time we will be reporting on our annual taxes whether or not we have health insurance.
Which means there are a ton of questions going through your mind.
What do the new health care requirements mean for me? How do I report correctly on my taxes? Do I have to hire an accountant to be able wade through all of the new rules and requirements?
Well, you don't have to worry.
TurboTax has been doing the hard work for us for many many years. They have mastered taxes. They have made is easy for everyone to understand, and that includes the new additions to tax reporting related to the ACA, or Obamacare.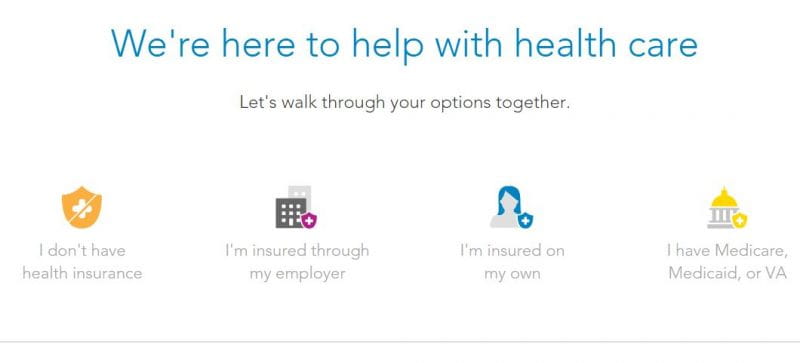 For the majority of Americans, those who are covered, all you need to do is check a box when filing your taxes this year.
For those who are uninsured, there could be a fee if you do not have health insurance by the time you file.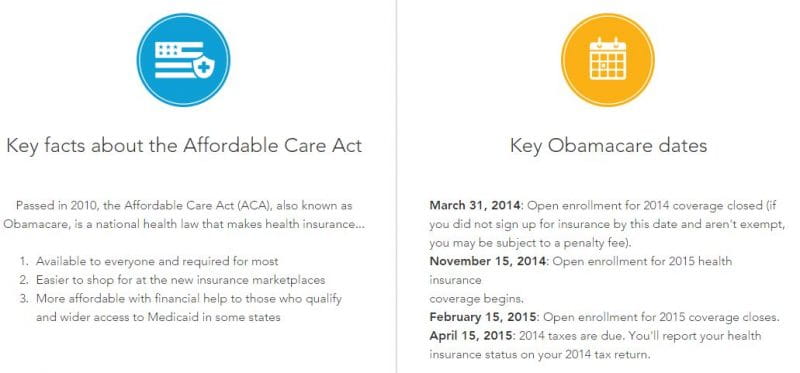 Don't let this happen to you.
Many Americans live paycheck to paycheck, and the tax refund is one of the largest checks these Americans receive at a time (the average being $2,800). TurboTax Health wants to help you make sure your family uses this for care, and not for paying for noncompliance.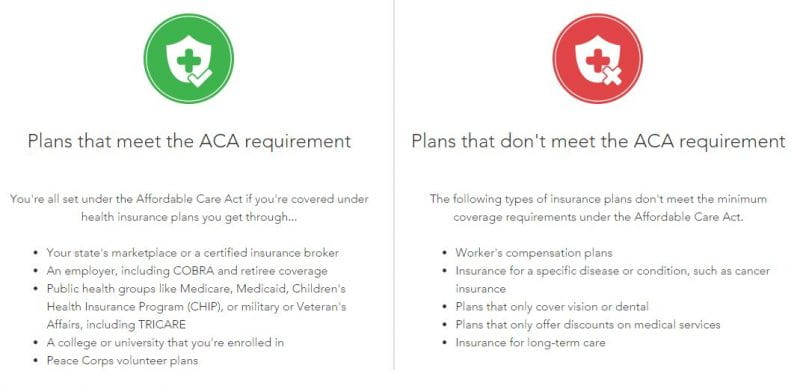 Here's what you need to know about filing taxes and insurance:
Insured
Just check a box on your tax forms, it's as easy as this.
Insured through exchanges
Those covered through their exchange will receive a 1095-A form, that will be input into your taxes much like a w-2.
Uninsured
Those who are not insured and do not qualify for exemptions will pay $95 or roughly 1% of their income.
TurboTax health has a calculator that will help you determine how much your penalty may be for 2014.
The goal is to make sure you don't need to pay a penalty, though. Take advantage of open enrollment that starts on November 15, 2014 and runs through February 15, 2015.
Open enrollment is an extremely important time, especially for those who cannot afford their employers health care plans or to pay out of pocket. If this sounds like you, you may also qualify for government assistance through premium tax credits and subsidies.
TurboTax Health can help make sure you feel confident about the new health care law when you file your taxes. Confident that you have the tools you need to file everything correctly and confident that your hard earned money is being spent on health care, not compliance.
Educate yourself with TurboTax Health!
I was selected for this opportunity as a member of Clever Girls and the content and opinions expressed here are all my own.
Join our newsletter!
Subscribe to get updates and great stuff via email including subscriber-only goodies like free printables and giveaways.