Note: this exercise challenge has been updated and modified. Either version is still a great option if you are looking for a challenge. Check out the new version here: The 99 Workout New and Improved.
I recently came across an exercise workout on Pinterest called "The Ninety-Nine". It is said to have originated from this blog: Beautiful Day 4 Running but I can't find an actual place on the blog where it was posted.
Anyhow, I tried the workout.
And it rocks.
It worked muscles I didn't know I had, and for someone like me in good shape already, that is a very important feature in a workout. I did have an issue with one aspect of the exercises and that was the leg raises so I changed it up a bit and made a sheet that you can print out and hang on the wall if you want to give it a try. It's not for the faint of heart but will give you a great workout. The initial exercises took me 55 minutes, then 11 minutes for the run.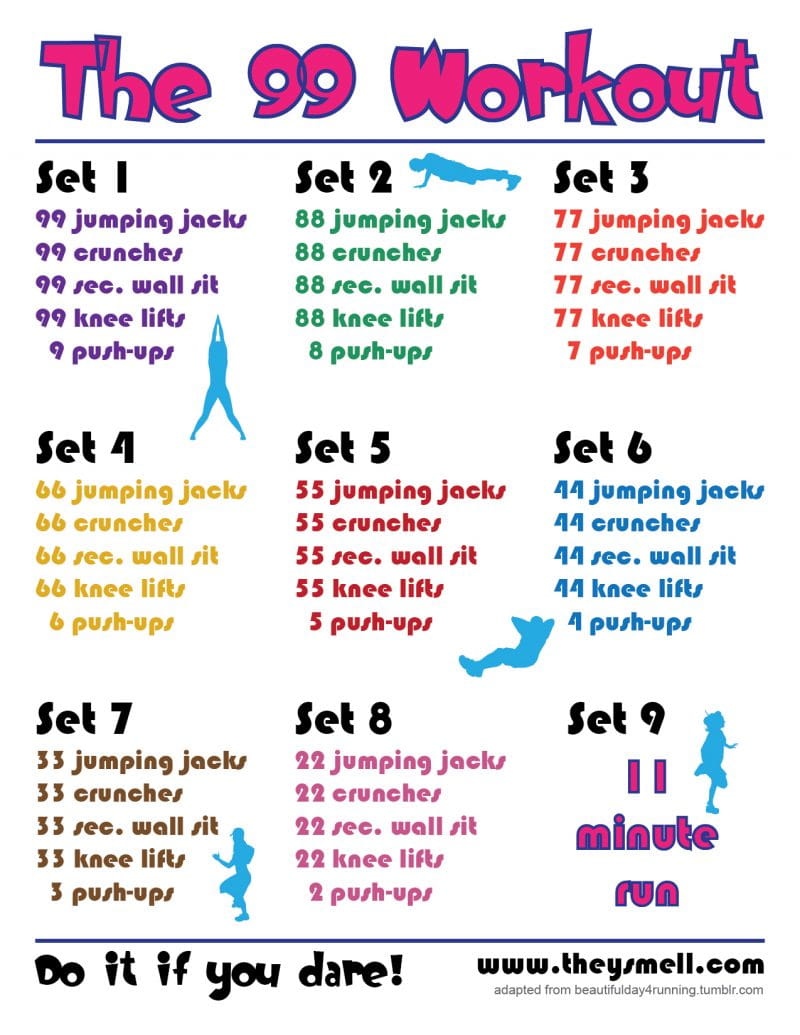 The workout consists of 8 set of 5 exercises. The first set starts with 99 reps of each except the push-ups you do 9 reps. Each subsequent set is 11 reps less than the previous set. The 9th set is just an 11 minute run, jog, walk…whatever you can do after almost an hour of calisthenics.
The exercises are fairly explanatory. Jumping jacks and crunches are what they usually are. The wall sit is a squat with your back against the wall. You go down as low as you can and hold the position. Knee lifts you do while standing just alternating raising each knee as high as you can. Push-ups are fairly standard too, though you can always do them on your knees if you need to.
So….do you dare?