When it comes to holiday gifts for my kids, they want electronics and all sorts of things that buzz and beep and light up, but we prefer to provide them with things that engage them without batteries. Things that the whole family can enjoy. Things that challenge them in the real world, not a virtual world.
Now don't get me wrong, we love all the great games online, app on the iPad and smartphone, and social media focused games. My kids see me playing them all the time and while we all love them, playing them online is more of a solo event because it takes the family interaction out of the picture – but there is GREAT news.
Hasbro and Zynga have teamed up to bring some of our favorite virtual games right to our kitchen table.
Zynga Cityville Monopoly Game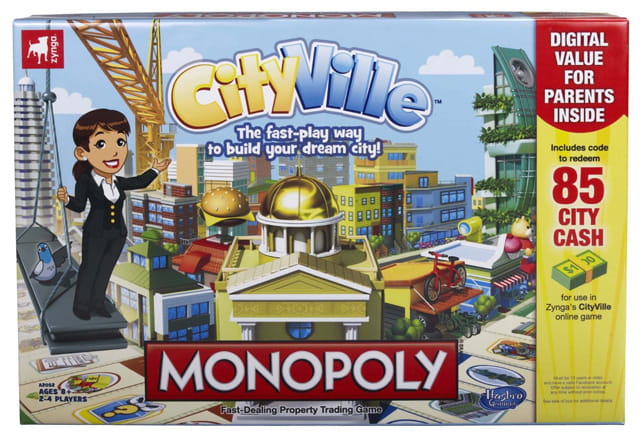 Product Description:
Now you can build the city of your dreams together, right at home. With this CITYVILLE edition of the MONOPOLY game, you can buy the properties you love from the online game and build on them as you wish! Be the first to grow your neighborhoods and build four skyscrapers to win!
Pick your favorite mover and then start buying up properties in this CITYVILLE-inspired MONOPOLY game. You're the mayor and you need to grow your city to keep the citizens happy. Build houses, set up businesses and provide community spaces any way you want! With more chances to buy properties, you'll be able to build your city fast. Decorate your properties with Mystery Gifts and also share some with friends. They'll increase the amount of rent you can collect. Be the first to grow your neighborhoods and build four skyscrapers to win!
Draw Something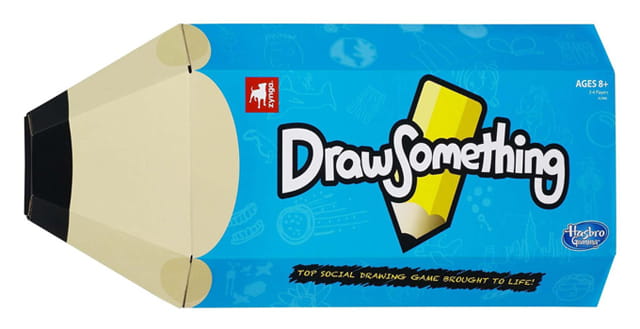 Product Description:
The top mobile drawing game has been brought to life! Now you can play Draw Something, the laugh-out-loud mobile game by ZYNGA, at home with your friends and family. It's the same fast-paced, unpredictable drawing experience that you love, expanded so you can play together with 2 to 4 players. It's fast, it's fun and the first player to earn 15 coins wins!
Zynga Words with Friends Classic Game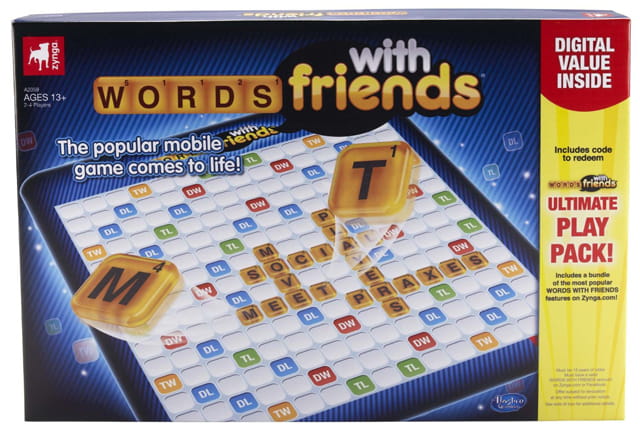 Product Description:
The hot social word game just got more social! For the first time ever, you can play WORDS WITH FRIENDS in person with your favorite wordies. Use the tiles to build words on the gameboard and rack up the points while you challenge your friends in person. Game includes a code to redeem the WORDS WITH FRIENDS ULTIMATE PLAY PACK to enhance your online play.
Farmville Hungry Hungry Herd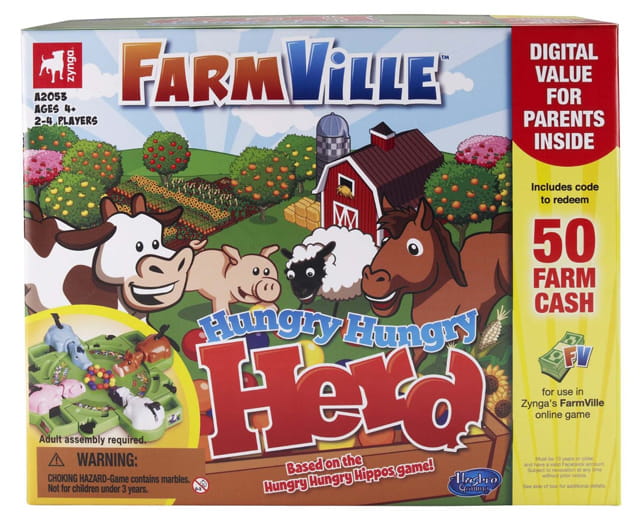 Product Description:
Now you can bring the fun and friendly world of FARMVILLE home with the HUNGRY HUNGRY HERD game! It's the classic play of HUNGRY HUNGRY HIPPOS, updated with four new animals from ZYNGA'S FARMVILLE online game. Each animal has a favorite food, but it will gobble up anything it can get!

Based on FARMVILLE, ZYNGA'S wildly popular online game, HUNGRY HUNGRY HERD brings the farm animals to marble-chomping life! You can choose from four animals to play: Gobbling Horse, Munching Pig, Snacking Sheep or Chomping Cow. Each has a favorite color food that you sort into its feeding trough. Then it's time for the feeding frenzy to begin! Quickly push down your animal's tail to start munching. If your animal eats the most marbles, you win! The game also includes 50 Farm Cash for parents to enjoy in ZYNGA'S FARMVILLE online game.
I love that we can play our favorite Zynga games all together at our kitchen table, enjoying each other's company and laughing and having a good time.
Who on your shopping list would love these games?
Note: I received the games shown to facilitate this post. Hasbro also sent a set of games to Flamini Family Foundation in my name! How cool is that?
Join our newsletter!
Subscribe to get updates and great stuff via email including subscriber-only goodies like free printables and giveaways.