The play on words in that title is fairly obvious I think, though the clever juxtaposition of the popular phrase is not mine. It's the title of a new book by author Chris Guillebeau.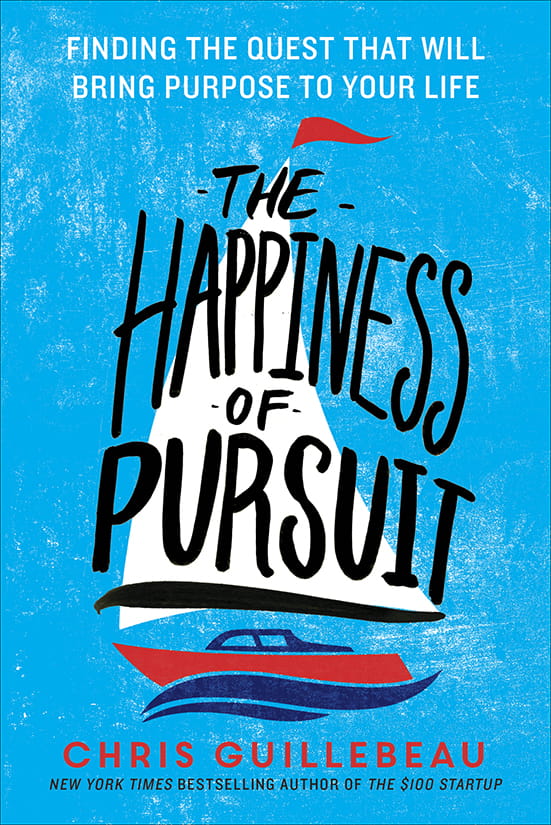 When I was younger, I always thought happiness would come when I achieved the goals I had set for myself. College, career, marriage, children, financial stability, etc. I knew money didn't buy happiness but I also knew that it could sure help make achieving my dreams a little bit easier. So in many ways it was central to everything I did. That is, until my kids came along. Then I wanted nothing more than to leave some of those dreams behind in order to raise them. I realized that life was about more than money but I still thought that the key to living a happy life was in the achievement of these dreams, not necessarily in the pursuit of them.
Which, when you think about it actually makes daily life pretty boring and potentially frustrating if you go around with the viewpoint that the value is in the achievement, not the process. Not in the quest but only in the eventual outcome.
The Happiness of Pursuit was written to help you discover the quest that will bring purpose to your life – every single day of your life.
What is a quest?
As a noun, the word quest means 'a search or pursuit to achieve or find something'. As a verb, it means 'to search or seek for'.
THE HAPPINESS OF PURSUIT – by Chris Guillebeau
About the Book
One of the most common laments among people everywhere is how easy it is to feel that routine has taken over our lives. Chris Guillebeau is not one to bogged down by routine, but instead takes a "make every day count" approach to life.

With this attitude he completed his goal of traveling to every country in the world by age 35; and has learned that happiness comes from incremental striving (a "quest") where we see taking shape, right in front of our eyes, the concrete evidence of what our life has been building toward. Throughout his 193-country journey, Chris met hundreds of questers like himself who were committed to years-in-the-making projects: jaw dropping, and often thought provoking.

Attempts to blaze a new artistic trail, reach an intellectual summit, change the world through philanthropy, or undergo an endurance-testing adventure—just to name a few.

In The Happiness of Pursuit, Guillebeau draws on interviews with hundreds of fellow questers, revealing their secret motivations, their tricks for leaping the hurdles of time and money, the role played by friends and family, and the importance of writing it all down.
About the Author
Chris Guillebeau is an entrepreneur, traveler, and New York Times bestselling author. His first two books were The Art of Non-Conformity and The $100 Startup. Recently, he completed his quest to visit every country in the world before the age of 35. Host of the World Domination Summit, an international gathering of creative people, Chris is focused on encouraging individual quests while also "giving back." His main website, ChrisGuillebeau.com, is visited by more than 500,000 people per month.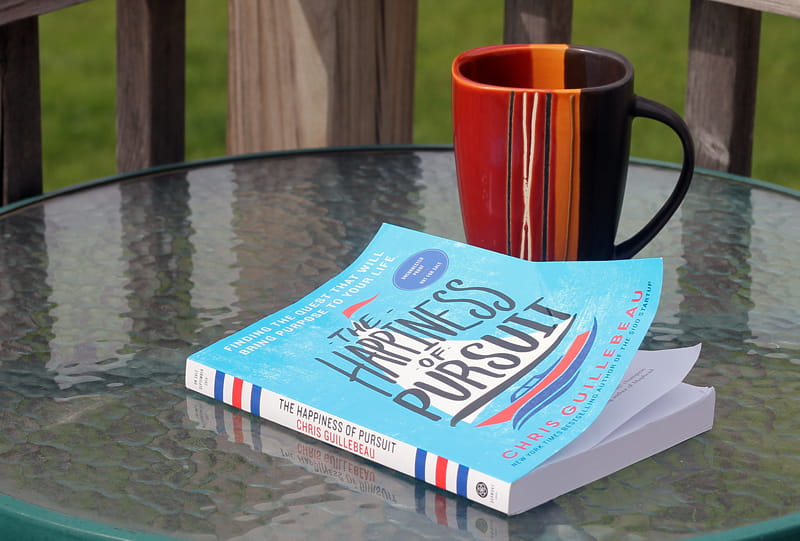 Much of my life I used to think that the thing about wisdom coming with age was just something older people said because they were trying to take the sting off of their own age. But as I reached my 40's I realized that it wasn't something people said to cover up for some inadequacy. It was actually true. It's too bad that wisdom doesn't come with a 25 year old body – but I digress.
One of things this new-found wisdom has afforded me recently is a desire to figure out how I can make every day of my life count.
But how?
In The Happiness of Pursuit, the author shares engaging stories from his own quest to visit all of the countries in the world by the age of thirty-five, and countless other stories of people who felt a calling or a drive to pursue a quest. Ordinary people who found happiness along the path of achieving goals and dreams, some of them record breaking, some wildly ambitious, and others simply small goals that snowballed into something larger.
It is an easy read, Chris Guillebeau is an engaging storyteller and from the first page of the prologue I was drawn in to his quest. I wanted to learn more. How did he, and the people whose stories he shared, choose their quests? How did they know it was the right thing for them? How did they make it a priority in their lives without sacrificing other things that were important to them.
And most importantly, how do I discover the quest that will bring purpose to my life?
Chapter 4 really struck me the hardest. It's titled "Defining Moments" and it talks about how the awareness of your mortality can really help push you and keep you focused. For me, it also has helped me examine the things that I always thought were distractions. The things that I thought didn't matter. The things that I always thought were just something I focused on while I searched for my true purpose in life.
I wish I could tell you that I walked away from this book with a handle on what my quest is. That I could tell you that this book provided clarity and focus for me to live the rest of my life with purpose. When I closed this book the last time I was only left with more questions.
But these were questions I never would have asked before.
You may close this book having achieved perfect clarity, or you may be like me and left with only more questions. The one thing you will walk away with is inspiration from all of the stories found inside. The stories of everyday people who looked at their lives and decided to make every day count, no matter what the passion was that fueled them.
I don't know if my passion for healthy eating will define my quest. I don't know if my interest in fitness will make me choose an exercise based quest. Maybe it has nothing to do with any of that and is something I have yet to discover.
For more information about The Happiness of Pursuit:
Do you have a quest you are pursuing?
Enter to win!
Tell me about your quest (or your lack of quest) in the comments below and you will be entered to win a copy of The Happiness of Pursuit by Chris Guillebeau. (1 winner, US addresses only)
Note: this post was sponsored by Random House. Giveaway ends on 10-10-14 at 11:59pm CST.
Join our newsletter!
Subscribe to get updates and great stuff via email including subscriber-only goodies like free printables and giveaways.