Note: scroll down for a link to print these super cute Halloween lunch box notes.
I've always wanted to be one of those moms.
The moms who make and bake and create all kinds of amazing stuff with and for their children. For a long time I tried to be like them and I even felt guilty when I wasn't living up to the image I had in my mind of these women.
In some ways, not being able to measure up, or at least feeling like I couldn't (which is an important distinction), paralyzed me. Instead of trying to do something, I did nothing because of this perfectionist notion that I carried around. We moms are super hard on ourselves, especially those of us who frequent Pinterest.
It took a lot of years but I came to realize that it's fine for me to to do merely what I am capable of doing, even if it doesn't measure up to anyone else. Because my kids don't care that I don't do what someone else's mom is doing. They really just want me to make the effort.
This can be proven by buying them cupcakes. They con't care that you didn't make the cupcakes, they are just happy to have cupcakes.
Great, now I want a cupcake.
Anyhow, back to my story, because it does have a point.
One of the things that I always wanted to do was to draw and create adorable little lunch box notes or jokes for my kids lunches like Joanna does. But I can barely manage to get the lunches made with food they will actually eat, that I just don't seem to have the energy to create adorable little notes.
So I did nothing.
Until one day I just decided to write a quick little joke on a piece of paper and toss it in my daughter's lunchbox. She loved it and asked me to do it every day. She didn't care that it was written on the back of a piece of junk mail in pen. She didn't care that the joke wasn't really funny. All she cared about was that I took a moment to do something special for her.
So I continue with my scribbled notes to her. Making sure to put a date on them, and considering it a challenge to find something unique to write on like an old envelope or even a piece cut out of a used macaroni and cheese box. They don't look like much, but their value is far beyond any modern description.
With my new-found confidence that I am now almost one of those moms, I decided to take my attempts to the next level and create some printable Halloween lunch notes in the hopes they might help someone else out who has always wanted to do lunch box notes for their kids but never did.
Solidarity at its finest! And for the record, I spelled solidarity wrong the first time and had to look up how to spell it. Hey, at least I know how to use it in a sentence.
Free Printable Halloween Lunch Box Notes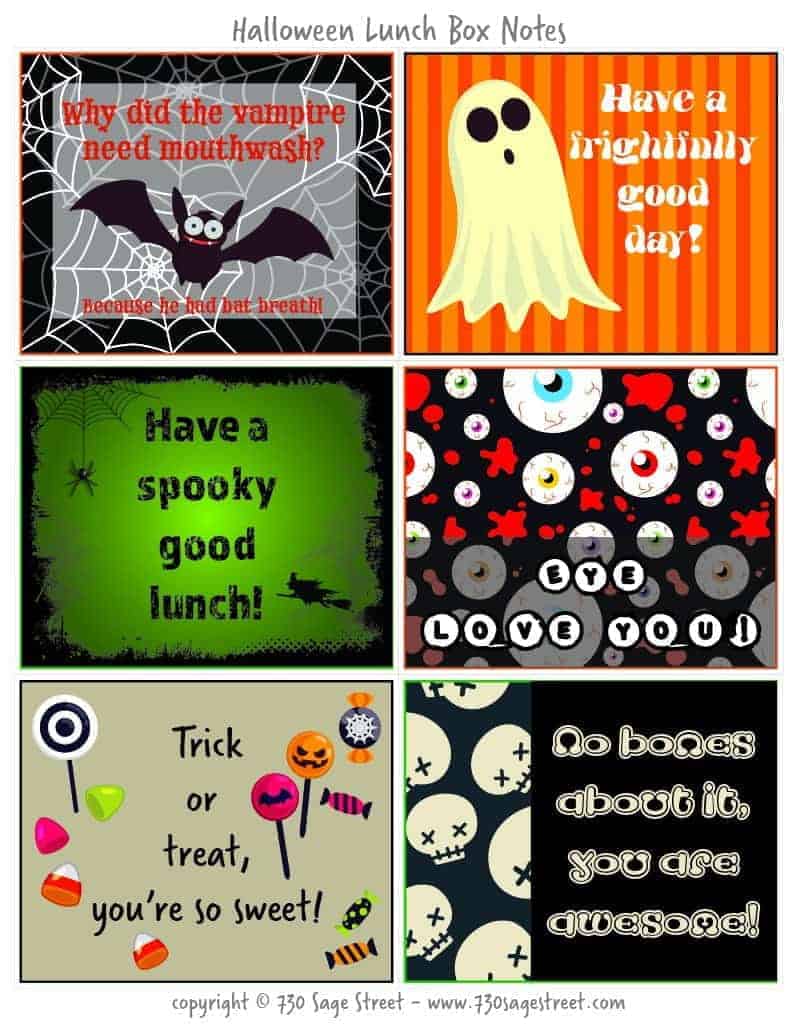 This printable Halloween lunch box notes sheet has 6 different Halloween notes on it. Some of them you can write on the front, but some, if you want to add writing, will have to be written on the back.
Scroll down to the end for the link to grab the PDF to print.
PRINTING TIPS
The PDF should print easily to your default print size without having to change anything. It prints to an 8-1/2 x 11 size sheet which is standard paper size.
PRINTABLE USE TERMS
730 Sage Street has provided this printable free of charge for personal use. You may NOT link directly to the PDF file, resell, or use commercially. This is  a violation of the terms of the graphics and the copyright. Personal use includes parties, classrooms, home school, church, community activities, etc.
Check out out printables category for more great printables and activities.
Free Printable Halloween Lunch Box Notes Download Link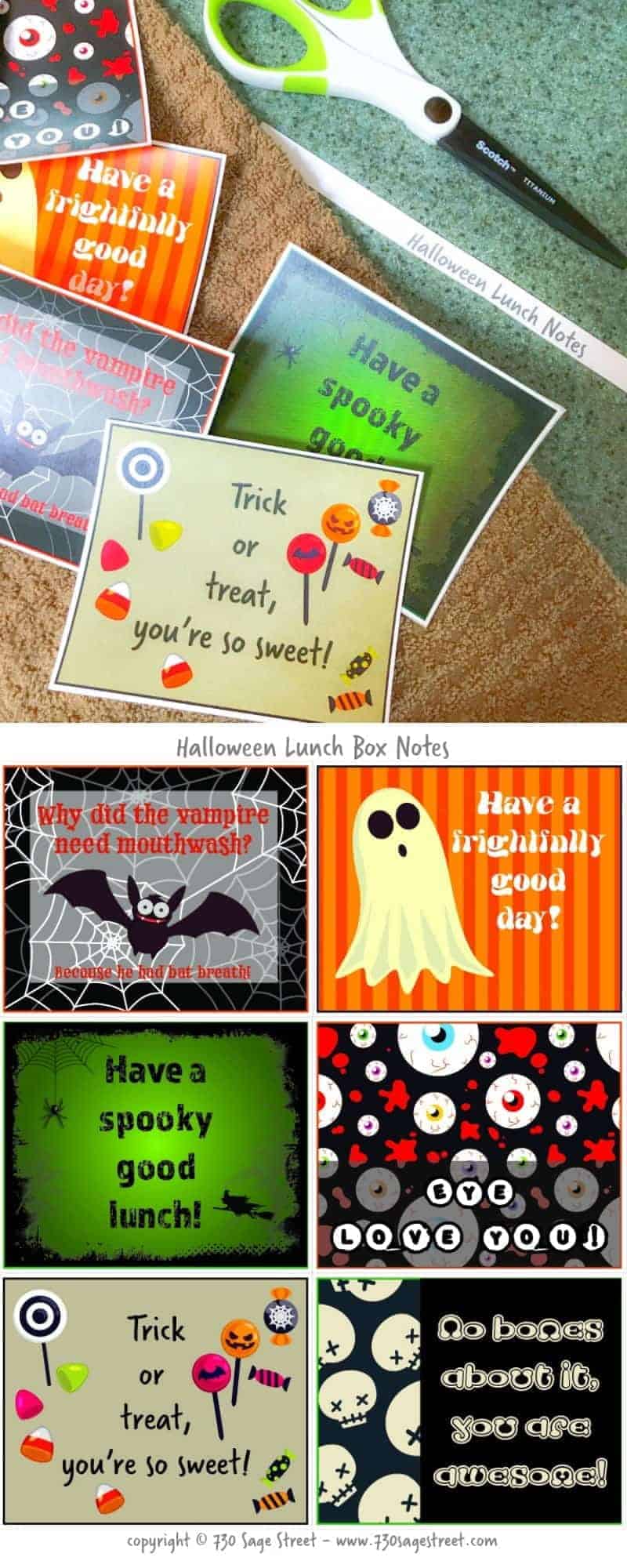 The download is a PDF file here: Halloween Lunch Notes