Candy is inevitable around Halloween. Kids are inundated with it and let's be honest here, we all use it as an excuse to enjoy a sweet treat. I don't believe in deprivation, I believe in teaching kids to have a healthy relationship with things that aren't necessarily good for them, which is why I came up with this Halloween Candy Exercise Exchange for Kids.
This free printable will help your kids learn how to balance their goodies with healthy activities and hopefully teach them how to enjoy things in moderation. Plus, it's fun!
There are a couple of different ways that you can use this printable. You can simply use it with your kids at home as an exchange for the trick-or-treat candy they collect. Or, you can use it during Halloween parties, having the kids perform all of the associated activities based on the candy they receive at the party.
I tried to cover all of the different types of candy they might collect, but it's hard to get them all. It changes every year so I tried to cover the tried-and-true Halloween candy staples. If they receive something that isn't on the list, find the most similar candy, and have them perform that activity. Or, you can tell them that since their candy isn't on the list, they have to do two different activities.
Keep in mind, these are based on the mini sized candy standard around Halloween. Full sized candy would probably 3-4 times the size of a mini and so the activity should be multiplied to reflect that.
The printable PDF for the Halloween Candy Exercise Exchange for kids is at the end of this article. It has the black version as seen below and a white background version – I wanted to be sensitive to anyone who was hesitant to print all that black ink.
Halloween Candy Exercise Exchange for Kids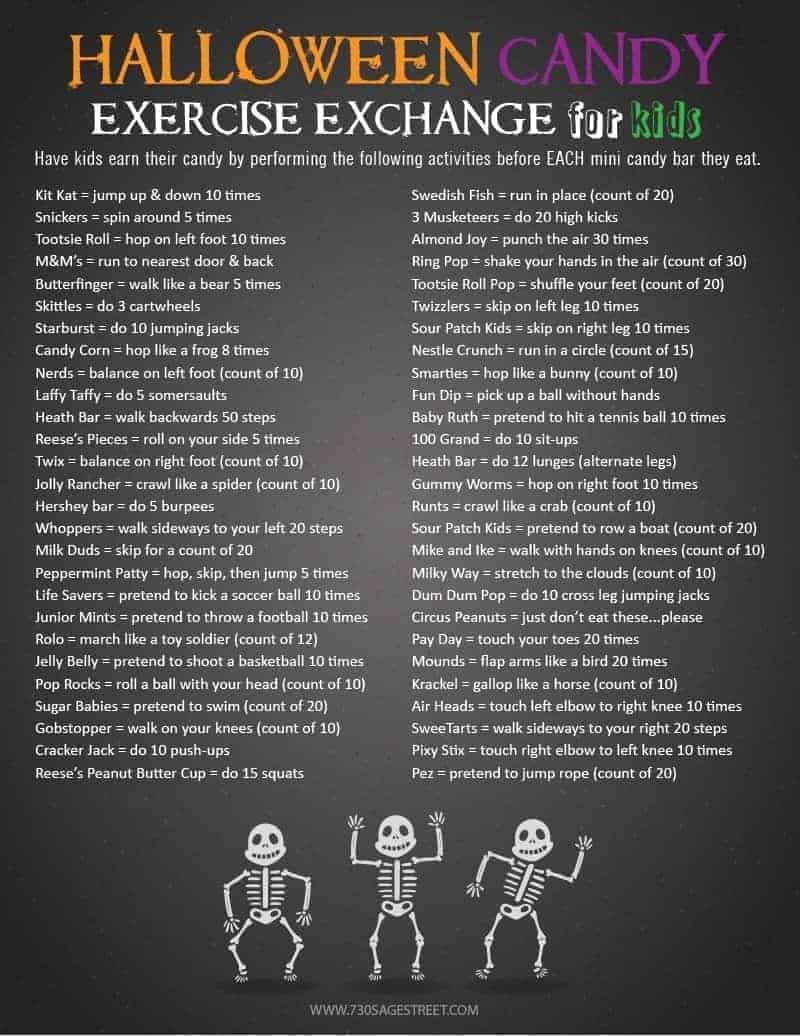 PRINTING TIPS
The PDF should print easily to your default print size without having to change anything. It prints to an 8-1/2 x 11 size sheet which is standard paper size.
PRINTABLE USE TERMS
730 Sage Street has provided this printable free of charge for personal use. You may NOT link directly to the PDF file, redistribute, sell, resell, or use commercially. This is a violation of the terms of the graphics and the copyright. Personal use includes printing the document for parties, classrooms, homeschool, church, community activities, etc.
Check out our printables category for more great printables and activities.
GRAB THE PRINTABLE
Grab it: FREE Halloween Candy Exercise Exchange for Kids printable.