Green beans are a nutritious and adaptable vegetable that can be prepared in many different ways, but when combined with bacon they take on a whole new level of deliciousness.
From crisp roasted green beans to creamy green bean casserole with bacon, these 15 recipes show how diverse and delectable green beans with bacon can be.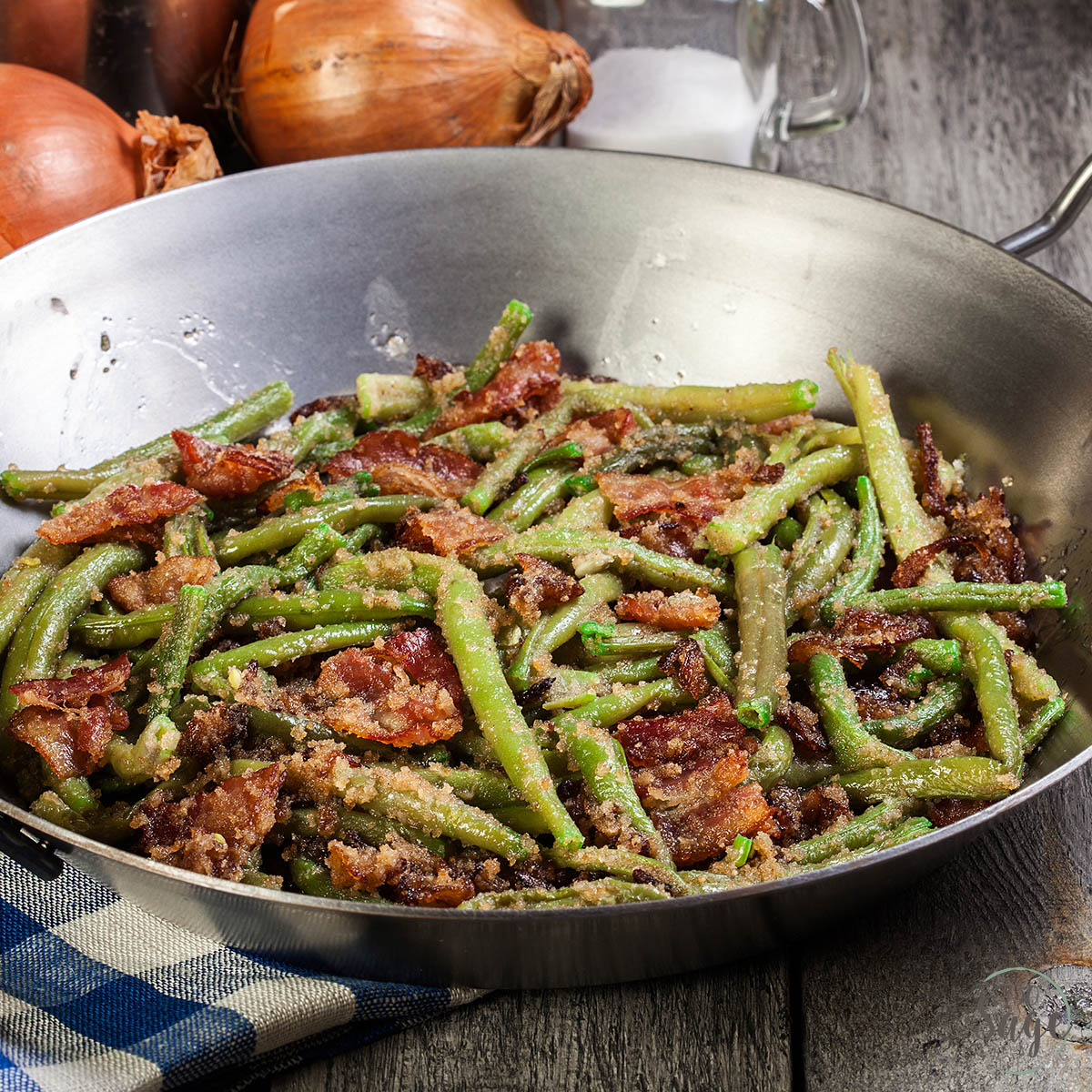 Can I Use Turkey Bacon With Normal Bacon In Green Bean Recipes?
Yes, you can use turkey bacon instead of regular bacon in green bean recipes. Turkey bacon is a healthier alternative to regular bacon as it contains less fat and calories. It has a slightly different taste than regular bacon, but it still adds a smoky flavor to the dish. Just make sure to cook it until it is crispy to get the best texture.
What Are The Finest Green Beans To Buy?
When you are buying green beans, look for beans that are bright green, firm, and free from blemishes or wrinkles. They should be around 4 inches long and snap easily when bent. You can also choose between thin or thick green beans based on your preference.
Thin green beans cook faster and have a more tender texture, while thick green beans take longer to cook and have a meatier texture. Selecting fresh and healthy green beans will ensure that your dish is flavorful and packed with nutrients.
15 Green Bean Recipes With Bacon
Green beans and bacon are a match made in heaven! These 15 dishes elevate the basic pairing with a wide range of textures and tastes that are suitable for any event:
These Green Bean Bundles will impress your guests! Thin green beans are coated in a delectable mixture of garlic salt, melted butter, brown sugar, and pepper, then wrapped in bacon and baked to crispy perfection.
The result is a delightful blend of savory and sweet flavors that will tantalize your taste buds. These bundles make for a fantastic appetizer or side dish and can be served hot or cold. Try garnishing with fresh parsley for a pop of color and flavor. This recipe is easy to make and is sure to become a crowd favorite!
This Bacon Green Bean Casserole is a classic dish that will surely become a staple in your recipe book! Tender green beans are mixed with crispy bacon, creamy mushroom soup, tangy Worcestershire sauce, and sharp cheddar cheese for a flavorful and comforting meal.
Topped with crunchy French onions, this casserole is a delicious and satisfying side dish that will have your guests asking for seconds. The recipe is easy to prepare and can be made ahead of time for a stress-free dinner. Enjoy this casserole's creamy, savory goodness with family and friends, and savor every bite!
Delicious and nutritious, this Green Beans with Mushrooms and Bacon side dish is a great complement to any dinner. Crispy bacon and soft mushrooms bring a rich, savory flavor to fresh green beans. Garlic adds a pleasant heat, and plenty of salt and freshly cracked black pepper lend savory depth to this easy yet delightful meal.
Adding more or less salt and pepper to taste makes it possible to personalize the food to your tastes. This is a wonderful way to add variety to your diet and enjoy green beans at the same time.
For a healthy and impressive breakfast or brunch, try this Crustless Quiche with Green Beans and Swiss Chard. The quiche has a lot going on in terms of taste and texture, what with the crisp bacon, the soft green beans, and the earthy Swiss chard. A rich and fulfilling basis is provided by eggs and milk, while grated cheese and Dijon mustard give depth and tang.
This dish is simple to prepare and may be altered to include whichever vegetables and cheeses you choose. Because there is no crust on the quiche, it is a healthier choice without sacrificing flavor. To make a complete and fulfilling supper, accompany a green salad and some fresh fruit.
The creamy mushroom broth, soft green beans, and crunchy fried onions in Grandma's Simple Green Bean Casserole make for a fulfilling and delectable dish that's excellent for any occasion. The crispy bacon adds a savory, smokey flavor to the already delicious casserole, which is simple to make and adaptable to your tastes.
Use it as a complement to your favorite main course, or eat it on its own as a filling and fulfilling dinner. The same ingredients may also be used to create a simple and tasty frittata, which is great for breakfast or brunch. You'll adore the warm and satisfying tastes in this dish no matter how you serve it.
Crispy bacon, nutty almonds, and fresh green beans come together in this tasty side dish known as "bacon green beans almondine." Green beans are cooked till tender-crisp and then sautéed with bacon, buttery almonds, and fragrant garlic in a straightforward and easy-to-follow dish.
A squeeze of fresh lemon juice and a pinch of chili flakes add brightness and spice to the meal. This dish is equally at home at a casual weekday meal or a formal holiday celebration. Garnish with freshly grated lemon zest to provide a bright note of taste and color, and serve hot. Share this dish's crispy, savory pleasure with your loved ones.
These green beans are bursting with flavor thanks to the addition of bacon, pecans, and blue cheese. Green beans are blanched until just tender and then sautéed in a pan with crispy bacon, producing a deliciously smoky and flavorful dish. Crunchy and acidic blue cheese crumbles and sweet candied nuts take the meal to the next level.
Whether you're having a casual family dinner or a formal holiday feast, this dish will be a welcome addition to the table. The amount of blue cheese and nuts used in the dish may be adjusted to suit individual tastes. The combination of salty, nutty, and sour tastes in each mouthful is just exquisite.
This hearty Potato, Green Bean, and Bacon Soup are excellent for winter nights or days spent inside. The fresh green beans and creamy potatoes in this recipe are excellent for a family meal or a special occasion, and they pair well with the savory bacon and sautéed onions.
A rich and creamy foundation that will warm your heart and soul is achieved by adding a pint of heavy cream and two cups of milk to the meal. The recipe is simple to follow and may be adjusted to include the herbs and spices of your choice. Serve hot with crusty bread and season to taste with salt and pepper.
If you're looking to spice up your green beans, this Sweet and Sour Green Beans dish is for you. Apple cider vinegar, Worcestershire sauce, and brown sugar combine to make a wonderfully tart sauce that coats tender green beans. You may make a sweet and savory side dish by topping the mixture with some crispy bacon.
This dish is great for any occasion and is guaranteed to impress a large group of people with its simple preparation and delicious end result.
Tender green beans are mixed with a blend of bacon, onions, and garlic for a burst of savory deliciousness in this recipe for Bacon Balsamic Roasted Green Beans, which is sure to send your taste on a tasty adventure.
Complexity and flavor are brought out by a combination of salt, pepper, red pepper flakes, onion powder, brown sugar, and granulated sugar. In addition, the green beans' acidic and somewhat sweet aftertaste thanks to the balsamic vinegar makes them a crowd-pleaser at any meal.
Chicken Bacon Ranch Pot Pie is a healthier take on traditional comfort food: soft chicken pieces are cooked with crispy bacon and savory seasonings, then tossed with green beans and cauliflower.
After being topped with a buttery pie crust, the filling is cooked until it is perfectly set and velvety rich. This pot pie is perfect for any gathering and will satisfy even the pickiest diners. So pick up a fork and dig into this delicious dish that will fill you up and make you feel better on the inside!
If you're in need of a quick and simple side dish that yet packs a flavorful punch, go no further than these Green Beans with Bacon and Brown Sugar! Green beans are cooked to perfection in a brown sugar, soy sauce, and chicken broth sauce that is both savory and sweet.
The dish is great as a complement to any meal thanks to the inclusion of crispy bacon, sautéed onions, and garlic. It's time to turn on the stove because I have a side dish that will make even the pickiest diner happy.
Green Beans in Creamy Parmesan Sauce with Bacon is a dish not to be missed by anybody who likes green beans. The dish's rich and decadent taste comes from the combination of the crispy bacon and the creamy Parmesan sauce. To get the ideal texture and flavor, the green beans are first sautéed in garlicky bacon grease before being boiled in chicken broth and heavy cream.
A simple addition of freshly grated Parmesan cheese takes this side dish from ordinary to extraordinary. This meal is perfect for sharing with loved ones and is sure to be a hit, so why not give it a go and see for yourself how tasty it can be?
There's nothing quite like the satisfying flavors of Southern cuisine, and these Southern Green Beans with Potatoes and Bacon are no exception. Cooked low and slow in a dutch oven with chicken stock and aromatics, these green beans and potatoes become tender and infused with rich flavor.
And let's not forget the star ingredient: crispy bacon crumbled on top for the perfect salty crunch. It's a comforting dish that's perfect for a family dinner or a gathering with friends. So go ahead, give this recipe a try, and savor the delicious taste of the South!
This Creamy Chicken Pasta with Green Beans and Bacon is a perfect weeknight dinner! The chicken is seasoned with smoked paprika and Italian seasoning, then cooked to perfection. The creamy sauce is made with heavy cream and Parmesan cheese that melts together beautifully.
And don't forget the crispy bacon and fresh green beans that add texture and flavor to this amazing dish. It's easy to prepare and the result is a comforting and delicious meal that the whole family will love. Trust me, you'll be making this recipe on repeat!