This is a Sponsored post written by me on behalf of GoodNites for SocialSpark. All opinions are 100% mine.
There is nothing fun about being awoken in the middle of the night by a 5 yr old who says "mommy I peed in my bed."
Nothing.
You have to get her wet clothes off.
You have to clear her body.
You have to get her dressed again.
Then you have to take the wet bedding off.
Then you have to find clean bedding.
Then you have to put it on the bed.
Then you have to put the dirty items in the washing machine.
After all this, neither of you will find you have an easy time falling back asleep.
Even potty-trained kids have accidents at night. Their growing bodies and tendency to sleep soundly (and their laziness about getting up to potty) can lead to occasionally night-time bed-wetting.
It's not their fault and their are things you can do to help prevent those middle of the night wake-ups.
GoodNites Underwear provides the protection kids need with a fit that makes them feel like they are wearing real underwear. Discrete protection for ocassional night-time accidents!
We received a pack of GoodNites Underwear to try out for our own "Undercover Mission" and my daughter was super excited over the Disney Fairies graphics on them. While she wasn't thrilled with wearing anything but regular underwear, I explained to her it would keep her from having to change all of her bedding in the middle of the night so she relented.
The underwear fit a little bulky on her as she is quite petite, despite the promises of being discrete. The small/medium size underwear is for ages 4-8 with weights from 38-65 lbs. My daughter is almost size and doesn't yet weight 38 lbs so for her they are a bit big. They also make a russtling noise when she walks because they are bulky for her. I do think that if they made an extra-small size for kids like her they would fit a lot better and achieve the discrete look and feel.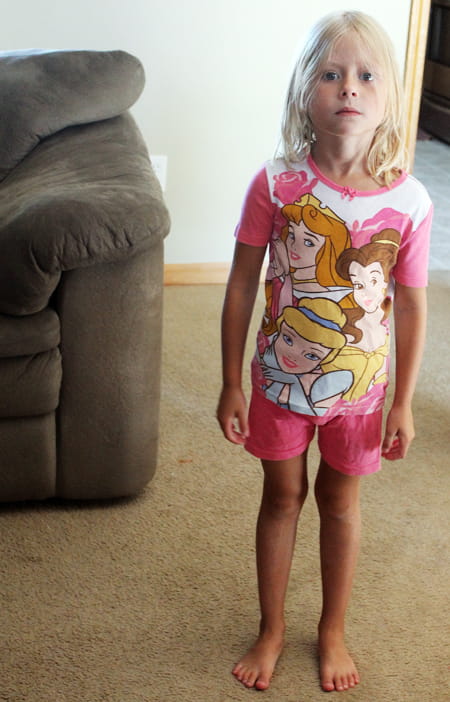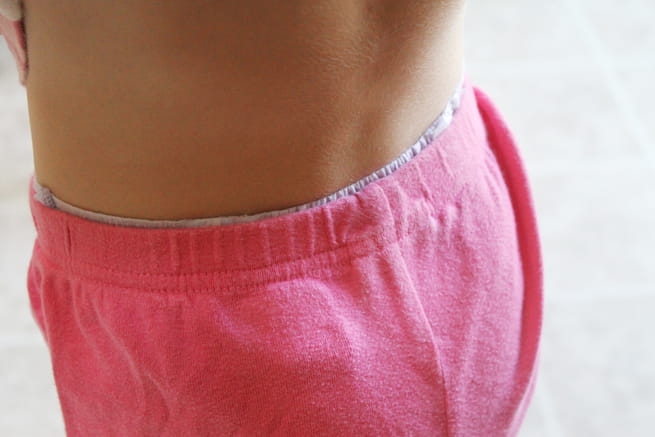 But the bottom line is that they do help me avoid doing the laundry in the middle of the night and because they are called "underwear" she doesn't mind wearing it.
We definitely have successful undercover missions with Goodnites!
If you have a child who still has ocassional accidents, Goodnites challenges you to take their "Undercover Mission" for a chance to win fun spy gear and even a trip to California! You can enter by typing in the unique code 8675 on the Goodnites website or on the GoodNites Facebook page.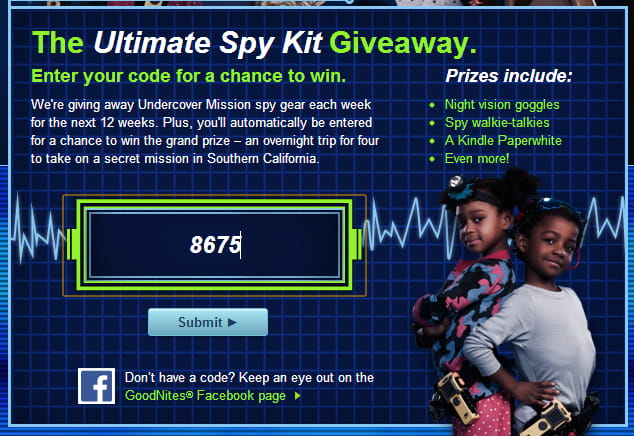 In addition to great prizes you can snag a coupon for $2 off a package of Goodnites Underwear for boys or girls.
Does someone in your family need an undercover mission?
Join our newsletter!
Subscribe to get updates and great stuff via email including subscriber-only goodies like free printables and giveaways.