Did you know that only 1 in 1,000 girls will pursue a career in a STEM field (Science, Technology, Engineering, and Math)? That is less than 1%! I'm not exactly sure what keeps girls from pursuing one of these fields, they certainly are as smart as their male counterparts. But whatever it is that has kept girls from a career in science, there are ways we can help to inspire and encourage them to explore the options a career in science can offer them.
Green Works is a company that believes in empowering girls to unleash their natural potential, and because of this passion, they have partnered with StemBox, a brand new monthly subscription service aimed at young girls. Each StemBox contains a hands-on science experiment that will introduce girls to the fun they can have through science.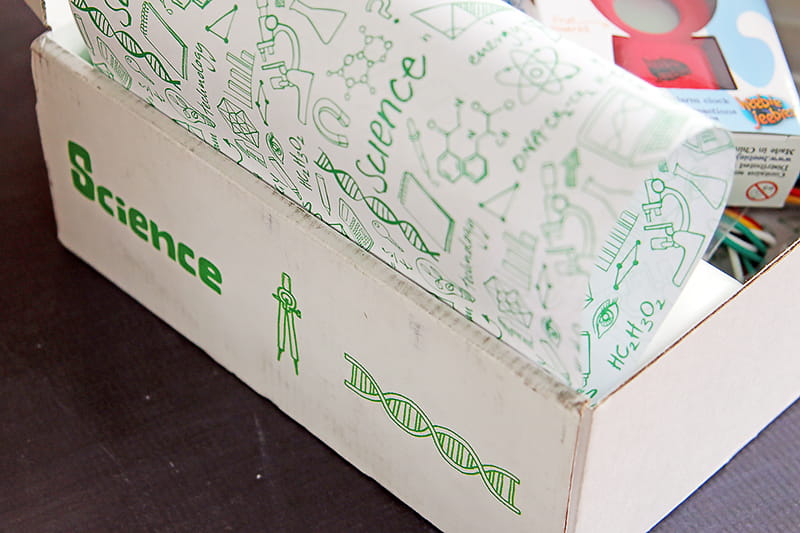 We had the opportunity to try out the StemBox sponsored by Green Works, and it made perfect sense that the experiment was "how to make a lemon battery" because Green Works is derived from naturally derived ingredients. Green Works products show exactly how strong natural ingredients can be!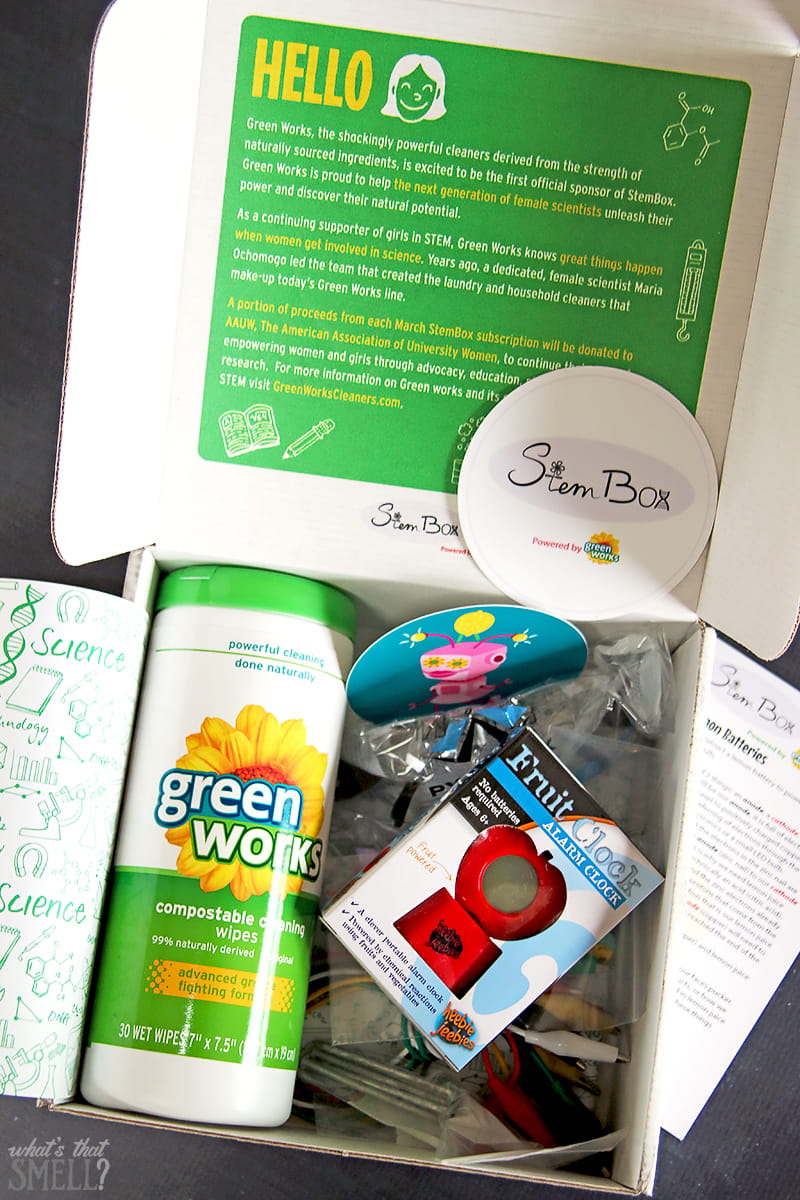 My daughter actually squealed when we opened the box!
How to make a lemon battery
What you need:
4 lemons
an LED bulb
alligator clips (at least 5)
zinc nails (at least 4)
copper wire (at least 4 pieces)
safety goggles
gloves
Green Works and StemBox added a few other goodies to the box as well!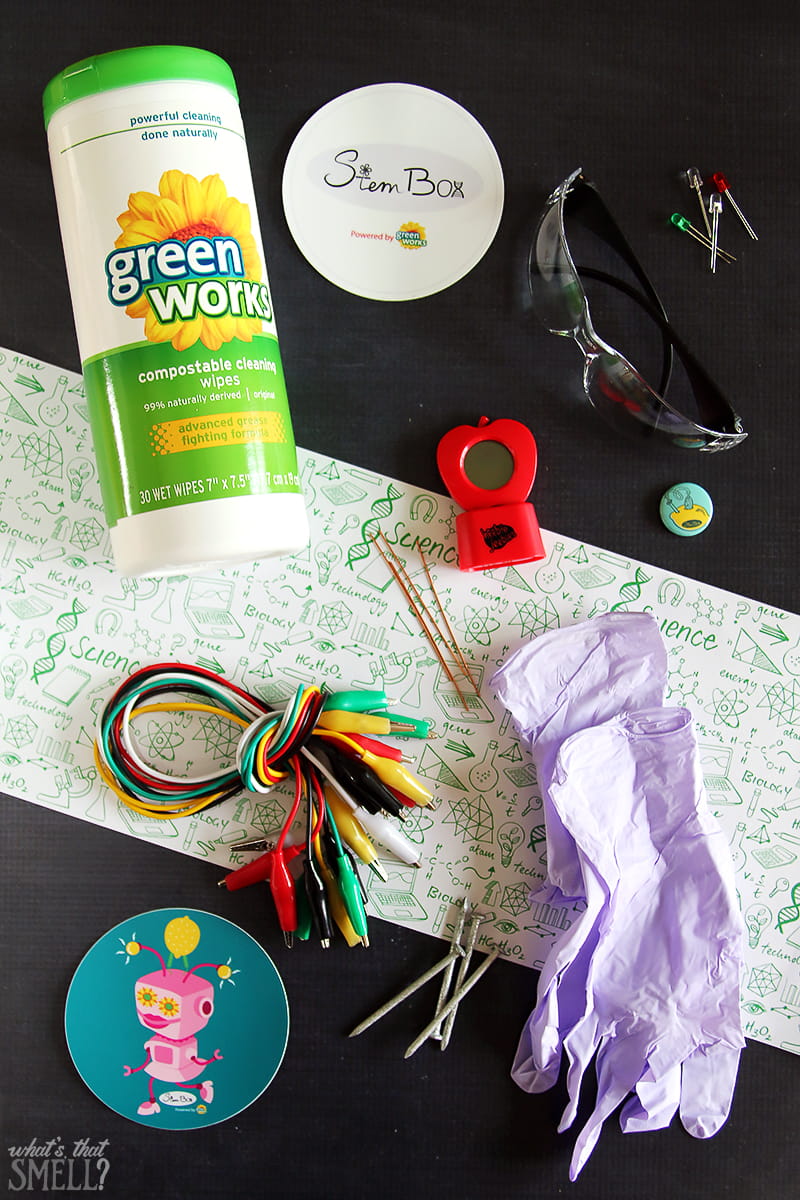 Step 1: Set aside a clean work area and put on safety goggles and gloves.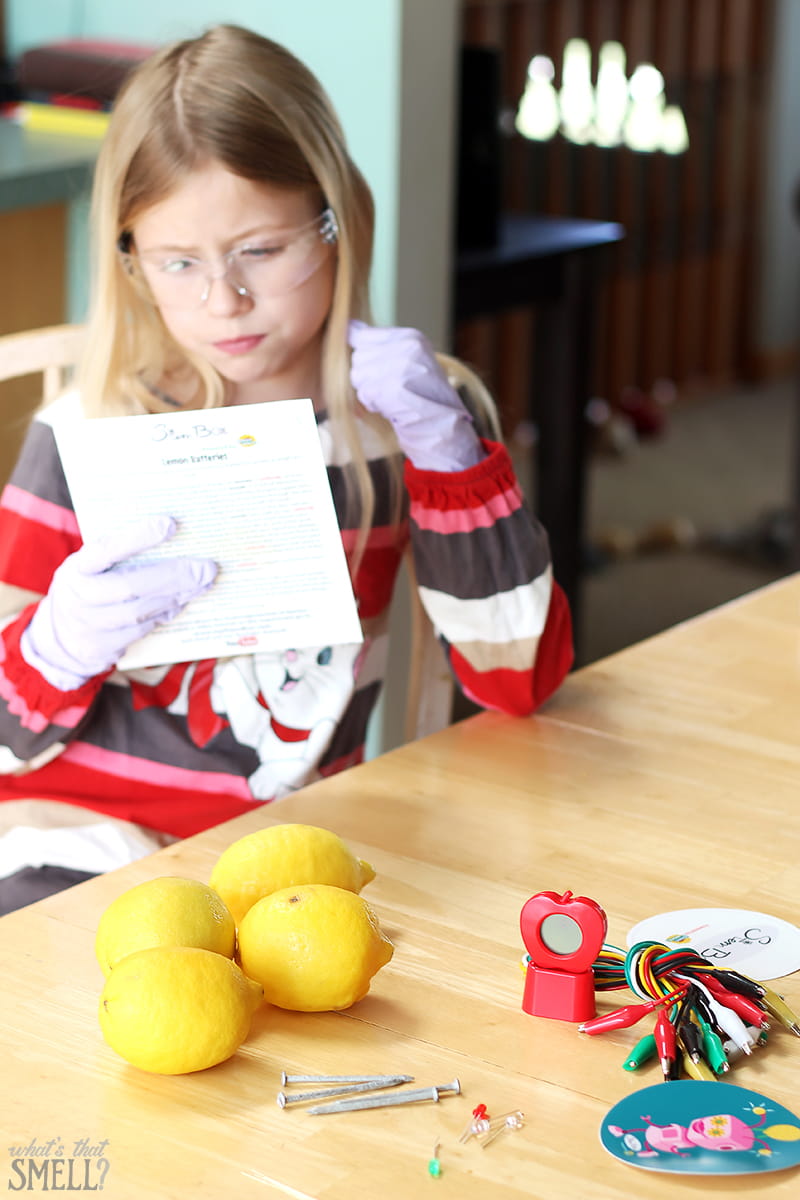 Step 2: Roll the lemons gently on a hard surface so the juice is released inside.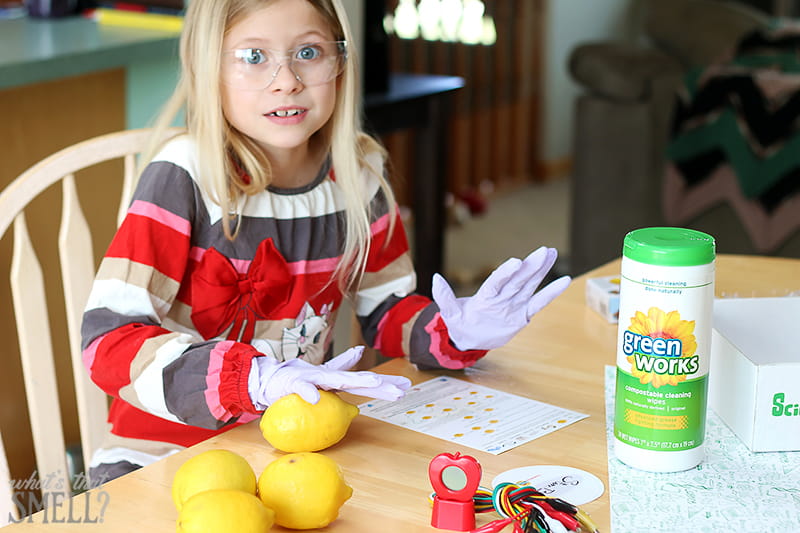 Step 3: Place a zinc nail and a piece of copper wire into opposite sides of 1 of the lemons. Repeat on the additional 3 lemons.
Step 4: Using an alligator clamp, connect the nail on one of the lemons to the copper on a different lemon. Continue this until each lemon is connected to the next. The first lemon will have an unconnected copper and the last lemon will have an unconnected nail.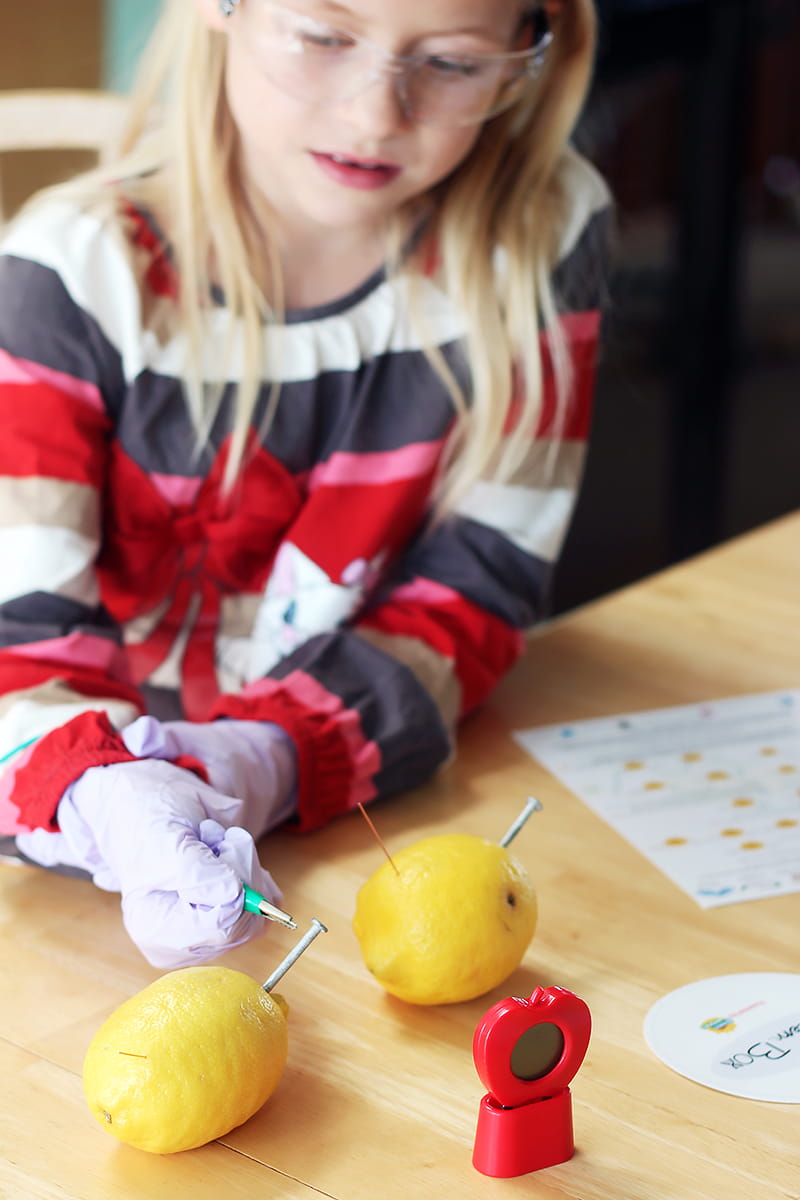 Step 5: Connect an alligator clamp to the empty copper on the first lemon, and a second alligator clamp to the empty nail on the last lemon.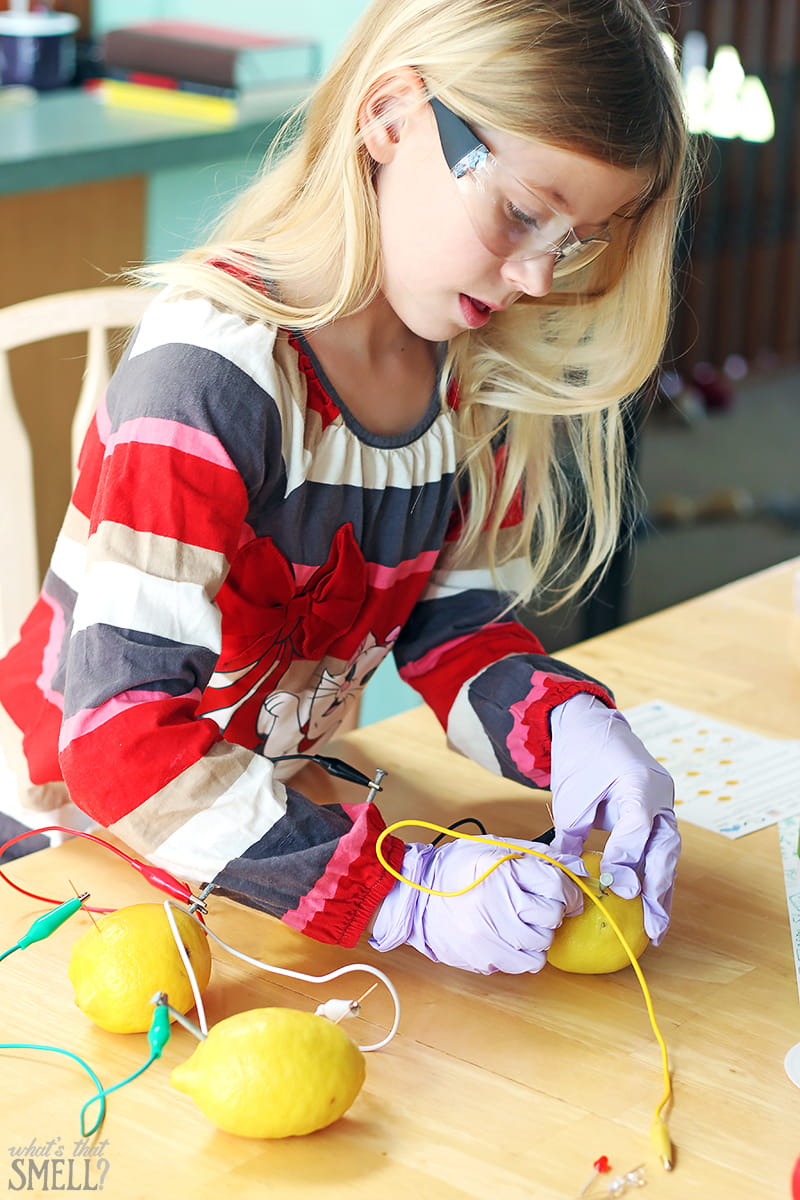 Step 6: Connect the loose ends of the clamps to each end of an LED bulb.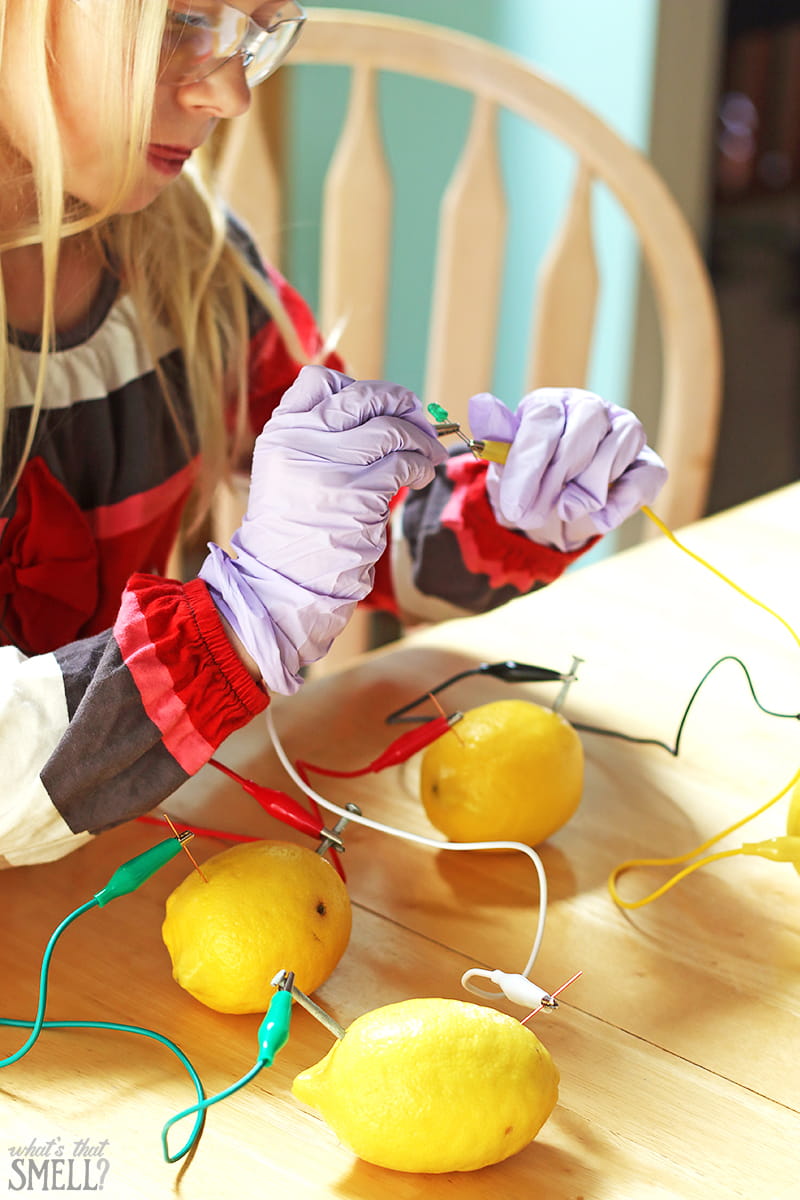 Turn off the lights!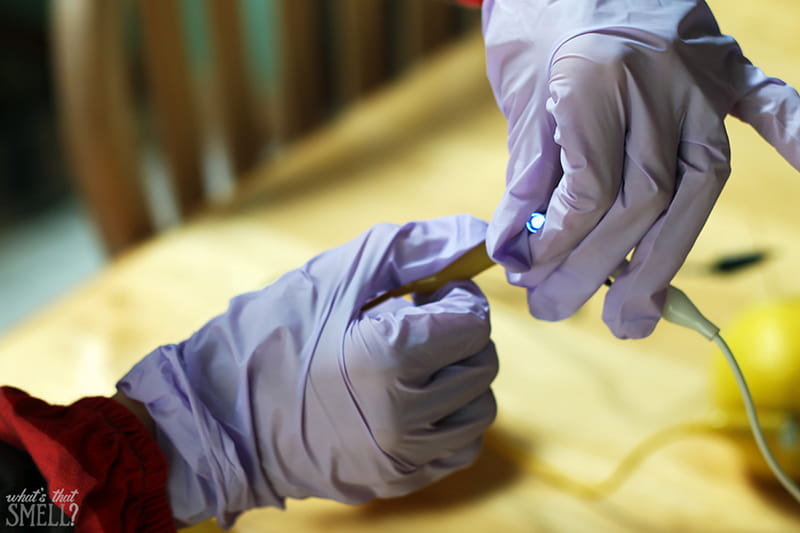 Congratulations, you made a battery out of lemons!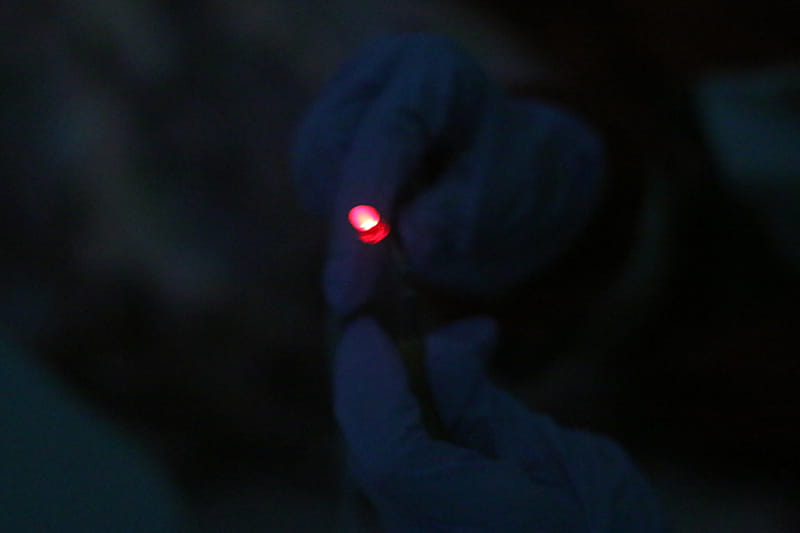 What a fun, interesting way to learn about power and batteries! You can add to the experiment by trying some different things such as adding more lemons, or using fewer. You can also try different fruits and vegetables.
Lemons clearly have their very own natural power which is why Green Works uses them as a key ingredient in their cleaning products. The citric acid in lemon juice has the ability to create chemical reactions that can make amazing things happen! Amazing things also happen when women get involved in science. A woman scientist named Maria Ochomogo was actually the leader of the team that created the Green Works laundry and household products.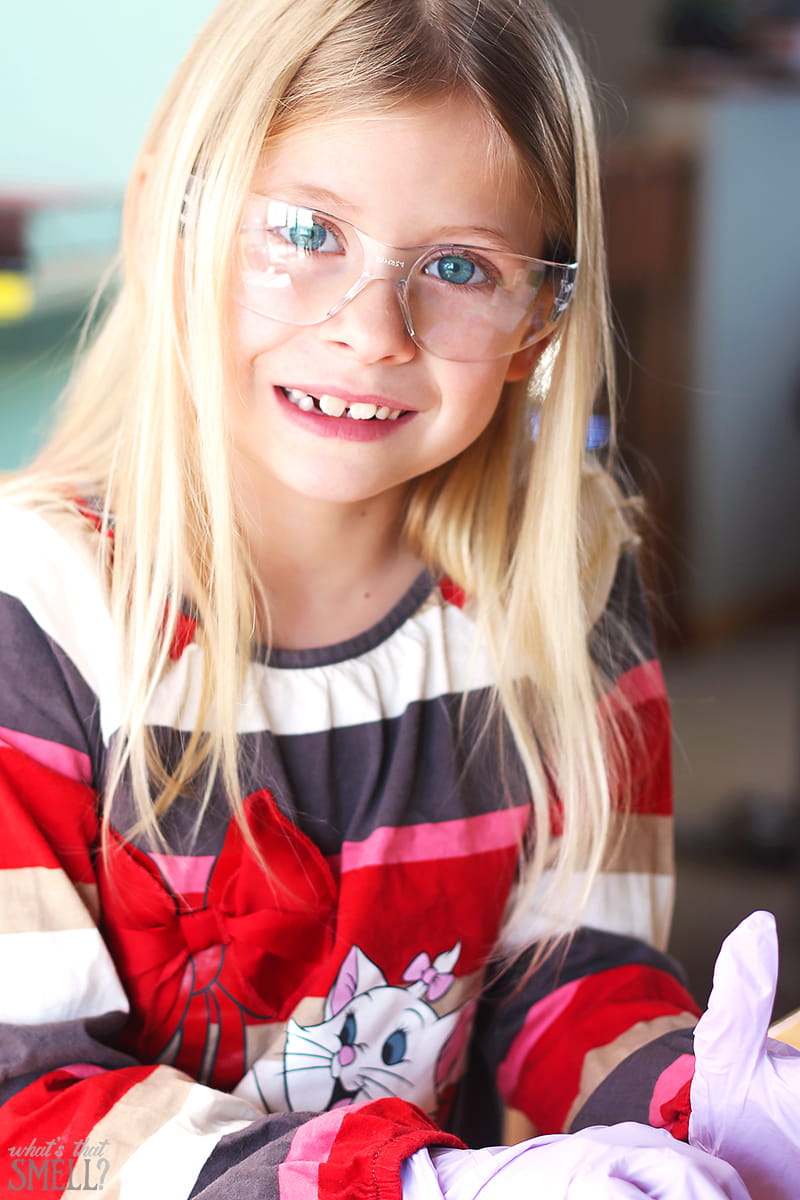 How to get a StemBox
StemBox is available as a monthly subscription that provides a brand new hands-on science experience aimed at girls every month. They are geared towards girls 7-13 years old and are available month-to-month or on a 3 and 6 months prepay option.
A portion of proceeds from each March Green Works StemBox subscription sold will be donated to The American Association of University Women (AAUW), to continue their work of empowering women and girls through advocacy, education, philanthropy and research.
You can signup for StemBox here: www.mystembox.com.
For more information on Green works and its continued support of Girls in STEM visit GreenWorksCleaners.com.
Make sure you Pin the image below on Pinterest so you can try the lemon battery experiment with your daughter!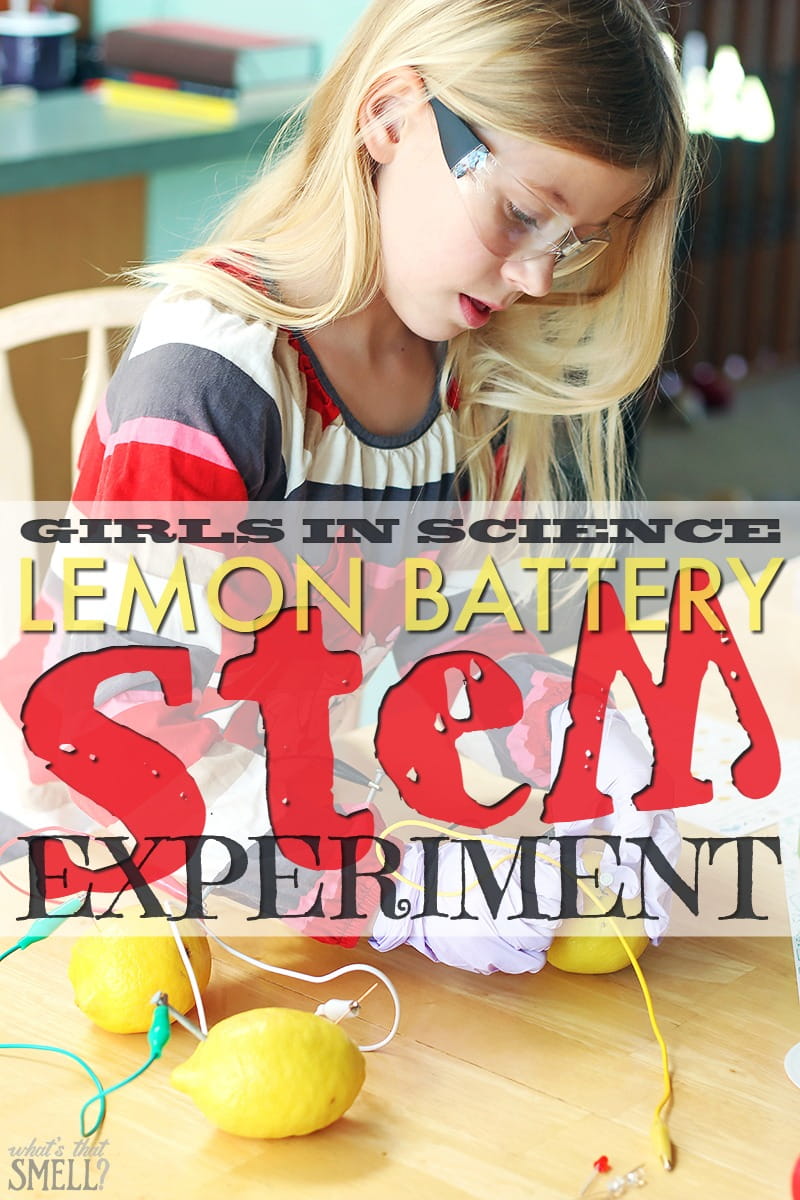 This is a sponsored conversation written by me on behalf of Green Works . The opinions and text are all mine.
Join our newsletter!
Subscribe to get updates and great stuff via email including subscriber-only goodies like free printables and giveaways.