I love dogs. All dogs. Fat dogs. Skinny dogs. Big dogs. Little dogs. Even ugly dogs. No, especially ugly dogs. My mom tells me that as a kid I used to want to adopt the most homely looking dogs because "no one else will pick them." Much like people, you can't judge a book by its cover and you certainly can't judge a dog by its fur.
All my life we have always rescued dogs from the shelter. In many ways it was economically driven – we just didn't have the money for a purebred dog. As I got older my drive to adopt a shelter dog stemmed from the rescue aspect. So many amazing dogs end up in a shelter situation through no fault of their own, that I wanted to help give them the chance they deserve. Most shelter dogs are mixed breed. No one knows their story. No one knows their origin. Heck, most of the time no one even knows their name.
This can make bonding with your new family member quite a challenge. But it's not impossible.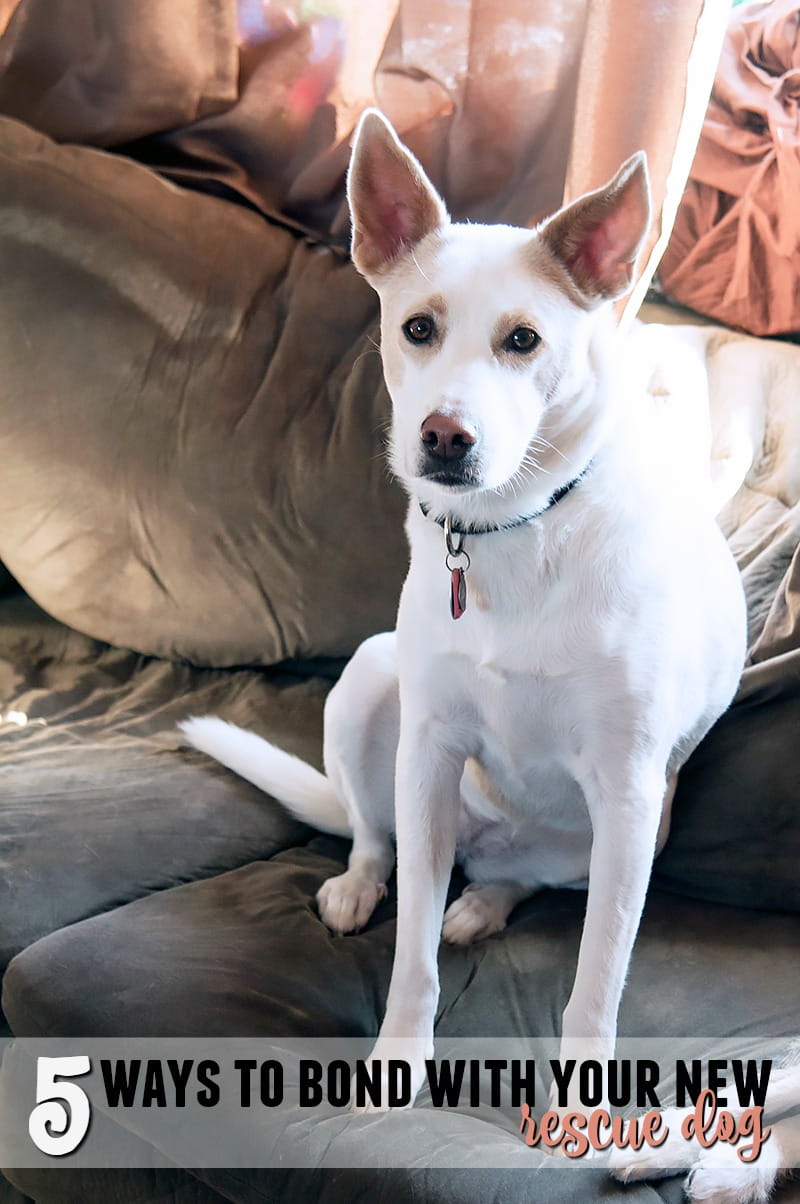 5 Ways to Bond With Your New Best Friend
1. Take it slow
Remember dogs just don't act, think or react like people do. They don't know who you are or why they are there. Give them space, make yourself accessible and let them come to you. Of course, bribery (usually with food and affection) is the ideal way to connect with a new pet so make sure you do plenty of it. Sit down on the floor with food in your hand and it's a sure bet they will approach you before long. Avoid eye contact with a timid pup as well.
2. Act like the boss
Without instilling fear, make sure your excessive attention and treats don't compromise your authority as the leader of the pack. You need to be confident in your dealings with your new baby, while still letting them take the lead. It's sort of a juggling act but just remain in control within the constraints of what makes them comfortable. And try and keep your voice down. Some rescue dogs have deep-rooted fears of loud deep voices. Let them get to know you and trust you first.
3. Give them a place of their own
It's important for rescue dogs to have the safety of a place where they know it is all theirs. A crate is ideal (it doesn't need to be closed) with a blanket over it to make it their den. Do not enter their space, and don't let children enter it either. You may sit nearby in an effort to bond but make sure you do not invade their comfort zone until they are fully bonded with you.
4. Establish rules from the get-go
If you don't want your dog on the couch, don't let them on the couch. This sort of goes hand-in-hand with #2 just make sure it comes from a place of confidence and doesn't cause fear. It's hard enough to un-train bad habits that you had no part of, un-training a bad habit that you initially encouraged is like trying to push a rope.
5. Learn as much about them as you can
Some rescue dogs will have lived in a foster home. This can provide an incredible amount of valuable information. Ask a ton of questions and get the foster family's contact information in case something comes up once you get them home. Another way to learn more about your new family member is by having a doggy DNA test done. It's a great tool to help understand some of what potentially drives your dog because certain breeds have specific characteristics that may change the way you interact with them.
We currently have two rescue dogs. Toby is around 5 years old and was on death row. He was rescued by a local group 4 days before he was due to be euthanized. I just cannot imagine how anyone could not think this goofy looking dog deserved a loving home. He is the epitome of a lap dog and wants nothing more than a spot next to you on the couch and a scratch behind the ears. Sadie is around 2 years old and when we rescued her she was less than a year old. She had also (we would figure out later) never lived in a house before. She was afraid of everything but has turned out to be the sweetest, gentlest dog who makes us laugh every day.
Sadie is the white one.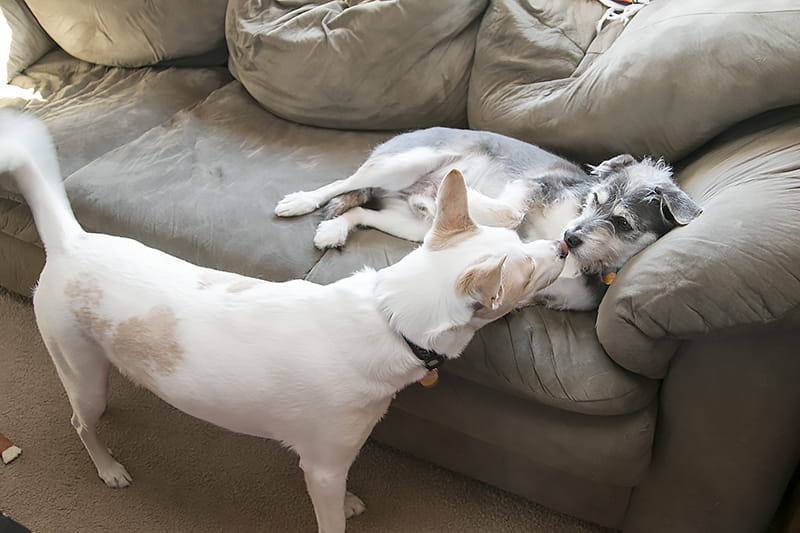 CESAR® Canine knows just how awesome mixed breed dogs can be, and to help you bond with your furry family member they have a fun new mobile site called Feed the Friendship that will help you have some fun while discovering your pup's potential true origins.
Check out what Sadie might be made of!
She is definitely intelligent and independent. And makes the cutest little noises if you pet her while she is sleeping.
Note: The history of the breed and your dog given on the site is fun and playful, and not factual for your dog.
CESAR® products help you celebrate the love you have for your pet with delicious, irresistible, nourishing foods. It not only feeds their hunger, it feeds your friendship as well.
If you are interested in having some fun and finding out a little bit more about your mixed breed dog, visit FeedtheFriendship.com on your mobile device and upload your dog's photo. When you do you can also enter to win one of 500 Feed the Friendship Kits (there will be 500 random winners). Each Feed the Friendship Kit contains a WISDOM PANEL® Canine DNA Test, a free sample of CESAR® HOME DELIGHTS™ dog food, and a custom CESAR® placemat.
You can also opt to receive coupons for CESAR® HOME DELIGHTS™ and for a WISDOM PANEL® Canine DNA Test while supplies last.
Do you have a mixed breed dog?
I was selected for this opportunity as a member of Clever Girls and the content and opinions expressed here are all my own.
Join our newsletter!
Subscribe to get updates and great stuff via email including subscriber-only goodies like free printables and giveaways.