The new year usually brings with it resolutions of all sorts, but for most people getting in shape or getting in better shape is a top priority.
And usually a top failure.
So I was trying to figure out why people fail, and what I could do to help prevent it.
Generally it occurs because of a lack of follow-through.
But why?
Is it too hard?
Do we get lazy?
What keeps us from sticking with it?
The fitness industry makes millions upon millions of dollars selling products to help us change our bodies. Books. DVDs. Online subscriptions. Apps. And they are GOOD products, often inspiring people to lose weight. At least for a short period of time.
But something is missing.
And I think I know what it is.
A plan.
A plan that tells you exactly what you need to be doing. EVERY. SINGLE. DAY.
Like a prescription. Take 2 with food twice daily.
This is especially critical for beginners.
So I have decided to provide a monthly "get fit" calendar that does just that.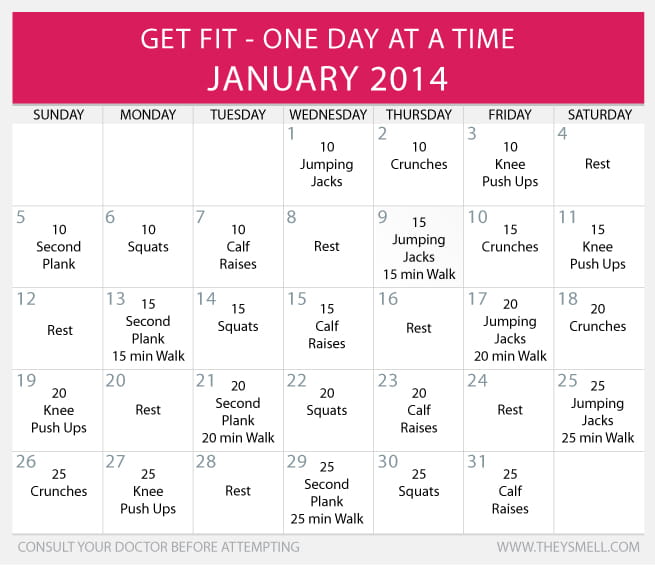 This calendar is geared towards absolute beginners, but you don't have to be a beginner to follow it. You can ADD IT to your current routine or consider the calendar items one rep of a set, and complete multiple sets. Below are sample plans for every level of fitness. For intermediate and advanced, simply print out the calendar and pencil the number of sets and the increased cardio into the calendar.
Each month will be progressively more challenging as your level of fitness increases.
Beginner:
Follow the calendar exactly.
Intermediate:
Do two sets of each exercise on the calendar.
Run instead of walk.
Do 3 runs each week.
Advanced:
Do five sets of each exercise on the calendar.
Run instead of walk.
Do 5 runs each week.
How to do the exercises:
If you aren't familiar with the exercises listed, the following videos will explain them and show you proper form.
February's plan will go live towards the end of January, so get moving! January has some repetition in order to get you comfortable with the moves and committed to the routine, but I promise that February will get a bit more fun and varied.
Disclaimer:  The exercise plan above is for educational and entertainment purposes only, and is not to be interpreted as a recommendation for a specific plan or activity.  Please consult a health care provider for appropriate exercise prescription and safety precautions before beginning this or any exercise program. The exercise advice presented is in no way intended as medical advice or a substitution for medical advice.