Last month I told you about a revelation I had regarding sticking to a fitness plan.
That revolution was that sometimes people need someone to tell them exactly what to do and when to do it, especially if they are beginners – and not everyone can afford a personal trainer.
So I designed this series with a beginner's needs in mind.
If you are just discovering this plan you can opt to jump right in with the February plan but if you are a true beginner you might want to start with January and just remain a month behind. It will help you establish the routine and develop good form to prevent injury.
February's workout is a lot of the same moves as in January. You are comfortable with the moves by now and can begin to develop endurance and stamina. You will notice a couple of new exercises towards the end of the month. Those will help prepare for more variety in March. I also have added some short jogs in place but these can be replaced with marching. Bring your knees up as high as is comfortable. There are links to videos for the new exercises below the calendar.
Burpees and mountain climbers can be challenging, but you can do modified beginner moves for each one. For the mountain, take one leg at a time slowly, just remember that one mountain climber = each leg moving. So left leg + right leg = 1. The video below shows a beginner burpee, which is nowhere near as scary as a normal one. I encourage you to follow that video rather then try and undertake a more advanced move. The video for the superman gives you options as well. If you opt for the very beginner one, again remember that one side + the other side = 1 move.
Enjoy and have a very fit February!
Click the calendar for a printable PDF.
As a reminder, January's workout is here: monthly workout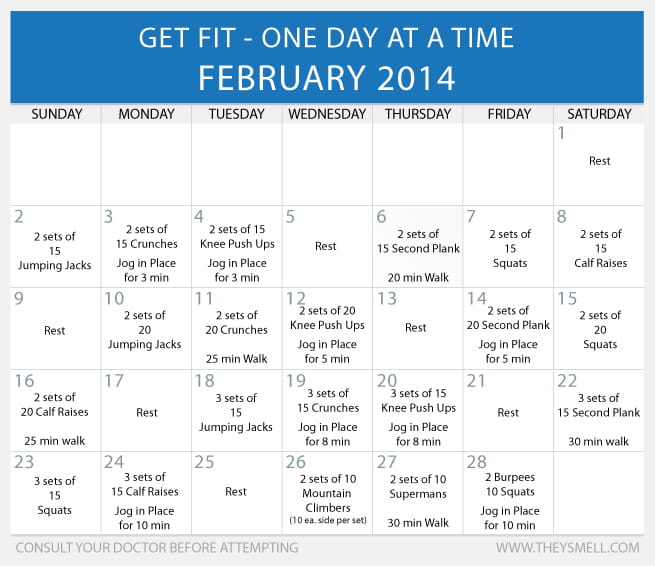 How to do the exercises:
If you aren't familiar with the exercises listed, the following videos will explain them and show you proper form.
Disclaimer:  The exercise plan above is for educational and entertainment purposes only, and is not to be interpreted as a recommendation for a specific plan or activity.  Please consult a health care provider for appropriate exercise prescription and safety precautions before beginning this or any exercise program. The exercise advice presented is in no way intended as medical advice or a substitution for medical advice.
Join our newsletter!
Subscribe to get updates and great stuff via email including subscriber-only goodies like free printables and giveaways.