I've never been a fan of fresh green beans. For me it was the texture, I always found them to be slightly fuzzy and tough.
I am pretty sure it was all in my head though.
The same thought processes that convinced me I didn't like green beans, allow my 5 year old to eat cooked zucchini when I tell her it is a cucumber. It's rather irrational and based totally upon the way something may look or feel raw. Heck, I even think the word zucchini doesn't sound as tasty as cucumber.
In any case, I was blessed with children who are just like me, which makes it a challenge to get them to eat their veggies.
Most of these challenges are made easy with ketchup.
Ketchup is magic!
Have you ever tried ketchup with green beans?
You are missing out if you haven't, it's a favorite of mine that my grandmother taught me and I have since handed this delicacy down to my kids.
Hey, it gets them to eat the green beans and frankly in my world ketchup counts as a vegetable. It's a double win!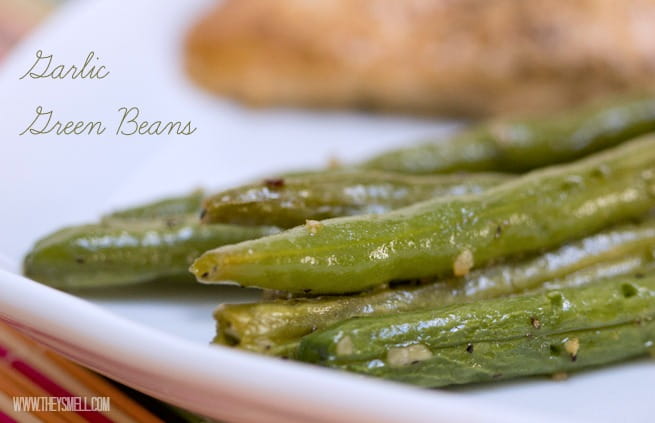 Print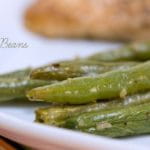 Garlic Green Beans Recipe
---
Ingredients
2 tbsp Olive Oil
2 cups fresh green beans (trimmed)
1 tsp minced garlic
1/2 tsp kosher salt
1/2 tsp black pepper
1 tbsp melted butter
---
Instructions
Preheat oven to 350 degrees
Heat a pot of water to boil
Add the green beans (trimmed) to the water for about 2 minutes unti bright green
Drain and rinse or submerge beans in cold water
Place beans in a shallow baking dish and combine with oil, butter, garlic, salt & pepper.
Bake in oven for 15 minutes or until desired tenderness is reached
But alas, despite how good these look (and they tasted as good as they look), it's hard to convince my daughter to eat more than one.
We have a rule, you have to have at least one.
And there she stops.
One green bean.
My son and I are of the attitude that this means "more for us" which we are just fine with, but the problem is that it leaves my daughter lacking in the dietary nutrients department which can affect her immune system and leave her more prone to illness.
Green beans are loaded with Vitamin C and Vitamin A and also contain Calcium, Iron, Magnesium and Vitamin B-6, many of which are key vitamins vital to a healthy immune system.
One green bean isn't enough!
My daughter is starting all-day kindergarten this year thereby increasing her potential exposure to germs exponentially. I want to make sure that her body is as prepared as possible to combat sickness. I wouldn't want her to miss any school, it's important for her learning and my sanity!
Eating veggies, however, aren't the only path to good health, it is just one of many things you can do to support a strong body. Staying healthy and building your child's immune system relies on a number of things including proper diet, adequate sleep and daily physical activity. These things all work in synergy to help keep them healthy and strong. But as parents we want to know that we are doing enough. More than enough, really. As a mom I'd rather have "overkill" than feel like I wasn't doing enough to help them stay healthy, which is why I am so glad for L'il Critters.
About L'il Critters:
L'il Critters™ are the #1 child gummy vitamin. We are the better tasting gummy vitamin that is preferred by Kids and trusted by Moms. "We Make Nutrition Taste Good."
If you know me, you know that I am a fanatical label reader and that when it comes to the health of my children I do not compromise, especially when it comes to vitamin supplements. L'il Critters Gummy Vites Complete are made in the USA and contain no artificial colors or flavors. The bottles they use are BPA-free and they are allergy-friendly with no wheat, gluten, milk, eggs, peanuts, tree nuts or soy ingredients.
Gummy Vites provide the peace of mind that I am doing as much as I possibly can for my kids on those days when they only eat one green bean.
Do you kids like vegetables?
Do you have something that you do that helps you feel like you are sending your kids off to school as prepared as they possibly can be?
Disclosure: Compensation was provided by Church & Dwight via Glam Media. The opinions expressed herein are those of the author and are not indicative of the opinions or positions of Church & Dwight.
Join our newsletter!
Subscribe to get updates and great stuff via email including subscriber-only goodies like free printables and giveaways.