Condensed milk is a popular addition to many dessert recipes, notably fudge, because of its rich, creamy texture and sweet taste.
From traditional chocolate to more adventurous tastes like pumpkin and eggnog, we've compiled 15 of the greatest fudge recipes using condensed milk as a main component.
Get yourself a can of sweetened condensed milk and get ready for some yummy fudge.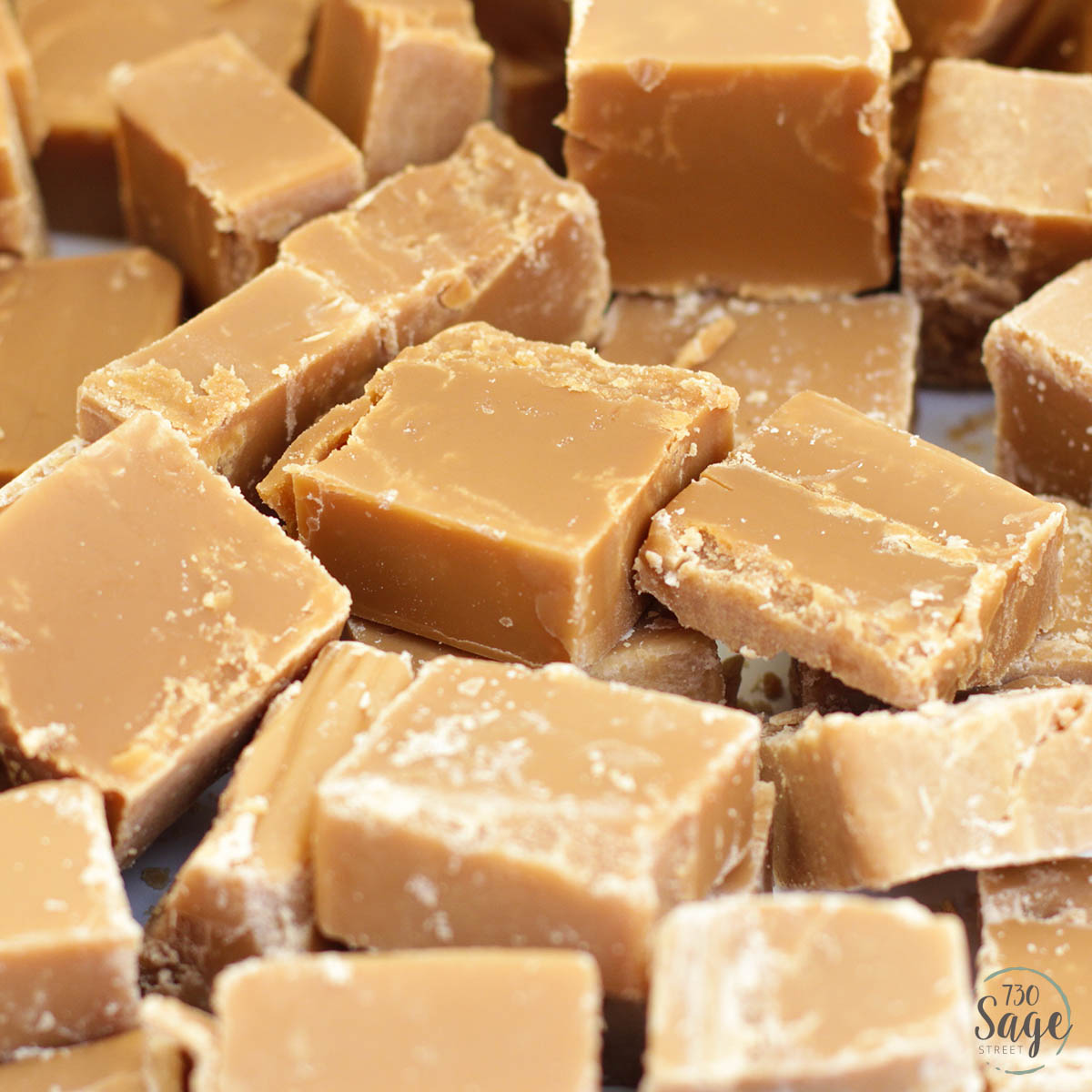 Can I Use Evaporated Milk Instead Of Condensed Milk In Fudge Recipes?
Evaporated milk can be used as a substitute for condensed milk, but it will change the flavor and texture of the fudge. Condensed milk is sweeter and thicker than evaporated milk, which means the fudge may not be as sweet and may not set as well with evaporated milk.
Can I Make Vegan Fudge With Condensed Milk?
Traditional condensed milk contains dairy, so it's not suitable for vegans. However, there are vegan condensed milk alternatives available made from plant-based ingredients like coconut milk or soy milk. By using vegan condensed milk alternatives, you can make delicious and creamy vegan fudge.
15 Fudge Recipes With Condensed Milk
These 15 condensed milk fudge recipes, from basic chocolate to unexpected variations, will satisfy your sweet craving:
Enjoy the sublime pleasure of chocolate with this simple and satisfying fudge recipe. To satiate your sweet need, combine semisweet chocolate chips with sweetened condensed milk and melt them together.
If you want to take the taste to the next level, add some salt and vanilla extract, and if you want to add some crunch, sprinkle some chopped nuts on top. Serve chilled or at room temperature, and keep for up to two weeks in an airtight container; it's perfect for any chocolate fan.
This fudge is so delicious because it combines two of life's greatest pleasures: creamy peanut butter and white chocolate. In a microwave-safe bowl, combine white chocolate chips, creamy peanut butter, and sweetened condensed milk.
Put the ingredients into a baking dish and chill in the fridge until set. The end product is a mouth-watering, opulent dessert. Slice into small pieces and serve as a sweet or salty snack.
Experience the perfect balance of sweetness and tanginess with this white chocolate cranberry fudge. Melt white chocolate chips and condensed milk in a double boiler until smooth and creamy, then mix in a generous amount of dried cranberries for added texture and flavor.
Pour the mixture into a prepared baking dish, and sprinkle the remaining cranberries on top for a pop of color. Let it cool and harden overnight, then cut it into bite-sized pieces. Each bite is a heavenly combination of smooth white chocolate and chewy cranberries that will leave you wanting more.
This Rocky Road Fudge is the perfect treat to indulge in any time of the day. The rich and creamy texture of the fudge is created by combining semi-sweet chocolate chips, sweetened condensed milk, and butter over medium heat until smooth.
The addition of salted peanuts adds a nice crunch to the fudge while mini marshmallows bring a fluffy texture. The best part is the extra marshmallows and peanuts sprinkled on top, making each bite irresistible. It's the perfect dessert to share with your friends and family on any occasion.
If you're a fan of cookies and cream, then you have to try this cookie and Cream Fudge recipe. This mouth-watering fudge combines the creamy texture of white chocolate chips and sweetened condensed milk with the crunch of crushed Oreo cookies. You can add the cookies as big or as fine as you prefer, and even mix them in with the fudge before pouring it into the pan.
The end result is a heavenly combination of flavors and textures that will surely satisfy your sweet tooth. Serve it at your next gathering or keep it all for yourself as a decadent treat.
Make this Quick and Easy Caramel Fudge whenever you're in the mood for a sweet and decadent treat. Satisfy your sweet taste with this recipe for a creamy, delicious delicacy that blends the decadent flavors of caramel and white chocolate. Brown sugar, sweetened condensed milk, golden syrup, and unsalted butter are melted together to make the fudge, and then white chocolate chunks and vanilla essence are folded in.
After chilling, you may cut it into slices and serve it. This is a simple dish that can be made for any special occasion, either as a treat for oneself or to share with loved ones.
In this recipe for Andes Mint Chocolate Fudge, semi-sweet chocolate chips, sweetened condensed milk, and Andes mint baking chips come together to make a fudge with a rich and creamy texture and a minty aftertaste that will leave you wanting more.
Little chocolate chips on top provide a satisfying crunch and go well with the mint. You can whip up a batch of this fudge in no time, and it will be a hit whether you're serving it to guests or eating it all by yourself. Try this dish and take a trip to the land of decadent tastes.
Dive into the comforting world of Salted Butterscotch Fudge, where the irresistible blend of sweet, salty, and nutty flavors awaits you. The toasted pecans add a delightful crunch, while the sea salt perfectly balances the rich butterscotch chips. This fudge will transport you to a cozy, nostalgic place with every bite.
For an even more memorable experience, share this scrumptious treat with loved ones during a cozy get-together or a quiet night in.
Say hello to your new obsession: Nutella Fudge. This heavenly creation combines the luscious creaminess of Nutella with the velvety texture of milk chocolate, all held together by sweetened condensed milk. The hint of vanilla adds a subtle depth of flavor, making each bite an unforgettable experience.
Whip up a batch for a decadent dessert, movie night snack, or even as a thoughtful homemade gift. Just remember to keep an eye on the mixture as it heats, ensuring a perfectly smooth result. Trust us, this fudge will have you coming back for more!
Embrace the warmth of fall with this delightful Maple Walnut Fudge recipe. The luxurious white chocolate chips meld beautifully with the rich maple extract, creating a cozy, aromatic treat. Add in the crunch of chopped walnuts, and you've got a fudge masterpiece that's perfect for sharing with friends and family or treating yourself on a crisp autumn day.
To ensure the perfect consistency, keep an eye on the melting process and stir well. Once it's set, enjoy the harmony of textures and flavors that will make you feel like you're wrapped in a warm, comforting hug.
Delight your senses with this 5 Minute Dark Chocolate Raspberry Fudge, a tantalizing fusion of fruity and chocolatey goodness. The silky dark chocolate chips harmonize beautifully with the tangy raspberry jam, creating an enchanting melody of flavors.
The white chocolate chips add a touch of elegance and a marbled effect, while the optional pink raspberry drizzle gives it an extra pop of color and flair. This fudge is perfect for those spontaneous cravings or as a show-stopping addition to your dessert table. Just remember to work quickly for the best marbling results and enjoy the mesmerizing taste adventure!
Enjoy the delicious flavor of chocolate, coconut, and almonds in this simple fudge recipe. In a matter of minutes, you can have a batch of this rich dessert ready for any celebration. The butter enhances the decadence of the semisweet chocolate chips and sweetened condensed milk, which together form a velvety foundation.
A lovely crunch and nutty taste come through from the slivered almonds and flakes of coconut. If you want a fudgy consistency, refrigerate it until it sets. Every mouthful will take you on a magical adventure of deliciousness.
Add a zesty twist to your fudge game with this delightful Chocolate Orange Fudge. The combination of smooth chocolate chips and vibrant orange extract creates a refreshing yet indulgent treat. The white baking chips introduce a contrasting layer of flavor and texture, while the orange food coloring gives it a playful, eye-catching appearance.
Perfect for any gathering or a simple afternoon pick-me-up, this fudge is sure to be a hit. Be mindful of the melting process and don't rush, so you can savor the delightful dance of chocolate and orange in every bite.
Go green with this utterly delightful Pistachio Fudge, a delightful blend of smooth white chocolate chips and the nutty goodness of pistachios. The marshmallow cream and instant pistachio pudding mix add a unique, velvety texture that will leave you wanting more.
The chopped pistachios on top provide a satisfying crunch, making this fudge both visually appealing and full of flavor. A great addition to any dessert spread or just to satisfy your sweet tooth, this Pistachio Fudge is a delicious adventure you don't want to miss. Be sure to press those pistachios down firmly to ensure they stay put!
Add a touch of sophistication to your fudge repertoire with this Easy Chocolate Coffee Fudge. Combining the indulgence of chocolate and the bold flavors of instant coffee, this fudge recipe creates a delightful harmony that is perfect for coffee lovers and chocolate enthusiasts alike.
The simplicity of the recipe means it can be made in the microwave, on the hob, or even in a slow cooker, making it accessible for all levels of home cooks. Enjoy this grown-up treat as an after-dinner dessert or a midday pick-me-up, and let the rich, velvety flavors whisk you away to a chic café in the heart of Europe.