Yogurt, in all its forms (from thick and creamy Greek yogurt to dairy-free options like coconut or almond milk yogurt), is a delicious and nutritious addition to a fruit smoothie.
In this article, we've rounded up 15 delicious and nutritious fruit smoothie recipes that all feature yogurt as a key ingredient. Smoothies come in a wide variety of flavors and ingredients, from traditional combinations like strawberry-banana to more experimental ones like mango-turmeric.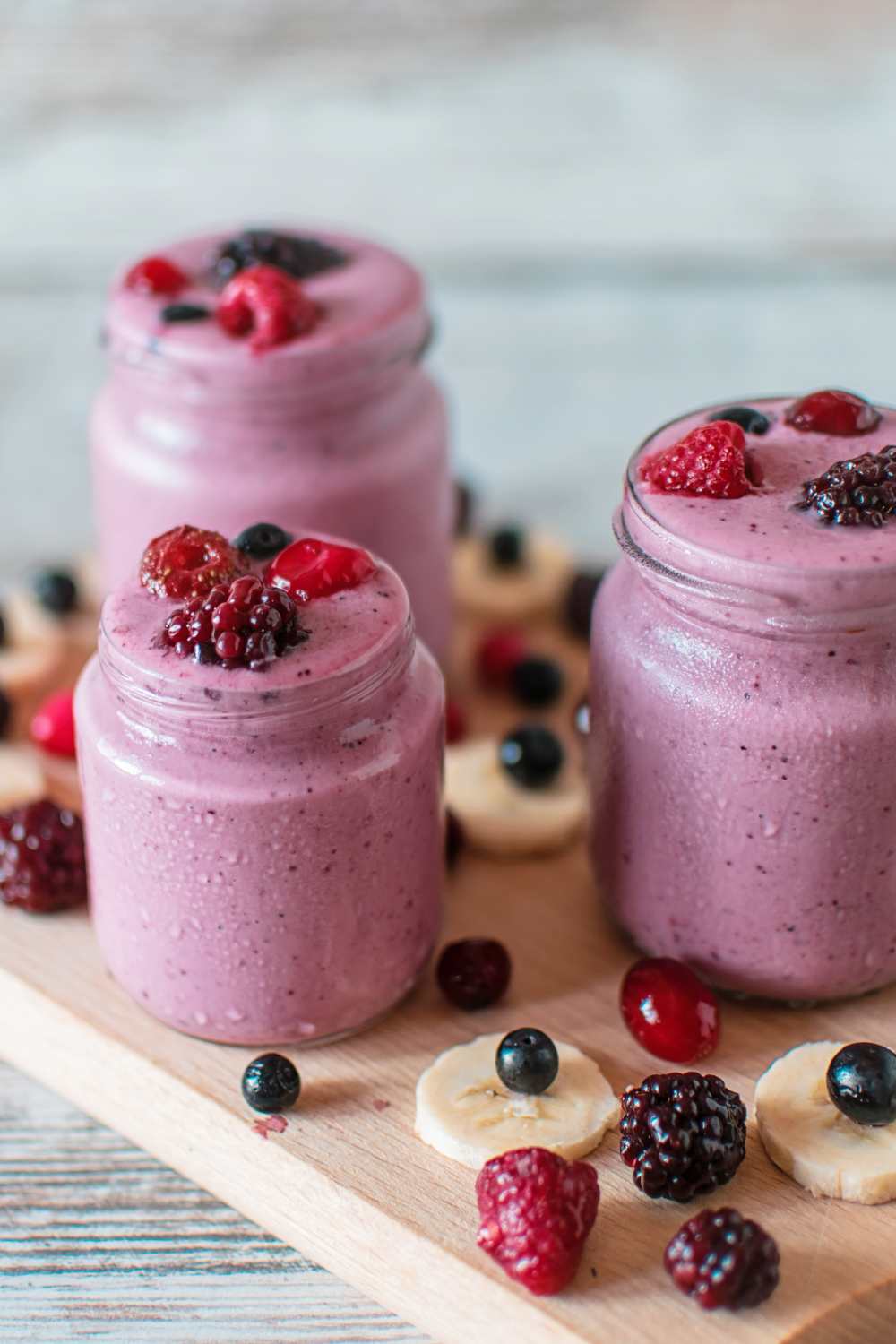 These 15 fruit smoothie recipes with yogurt are excellent for breakfast or a snack, and they come in a wide variety of flavors, from tropical to berry, that are guaranteed to make your day better:
Start your day off with a sweet and creamy treat that's both healthy and satisfying! This Strawberry Banana Yogurt Smoothie is made with whole milk, plain yogurt, frozen strawberries, and a ripe banana. The addition of honey (or maple syrup) adds just the right amount of sweetness.
This smoothie is easy to make, just toss all the ingredients into a blender and blend until smooth. The texture is smooth and velvety, and the fruity flavors combine perfectly with the tangy yogurt. Enjoy this refreshing smoothie as a breakfast, snack, or dessert.
This creamy and delightful Banana Mango Yogurt Smoothie will transport your taste senses to the tropics. With juicy chunks of fresh mango and a frozen banana, this smoothie is the perfect balance of sweet and tangy.
The addition of plain Greek yogurt gives it a silky texture and adds a boost of protein. Simply blend the ingredients together until smooth and enjoy the delicious flavors of the tropics in a glass. Perfect for a quick breakfast, midday snack, or post-workout boost!
Escape to a tropical paradise with this refreshing Pineapple Coconut Smoothie! This deliciously creamy and sweet smoothie features frozen pineapple, coconut yogurt, and coconut milk, for a creamy and refreshing drink that is perfect for any time of the day.
Add a dash of maple syrup or lemon juice for a touch of sweetness and tanginess, and a pinch of turmeric for a beautiful golden hue. Whip up this easy-to-make smoothie in minutes and enjoy a taste of the tropics in your own home!
This Blueberry Greek Yogurt Smoothie is the perfect way to kick off your day. Made with frozen blueberries, creamy Greek yogurt, and nutrient-dense greens like kale or spinach, this smoothie is packed with vitamins, antioxidants, and protein.
Add flax seeds for extra fiber and omega-3s and a drizzle of honey for a touch of sweetness. Simply blend all ingredients together until smooth and enjoy the refreshing and satisfying taste. This smoothie is perfect for breakfast or as a healthy snack on the go.
Satisfy your sweet tooth with this Strawberry Raspberry Yogurt Smoothie that's packed with fruity goodness! With frozen raspberries and strawberries, light raspberry yogurt, and raspberry juice, this drink is full of bold flavors.
Simply blend all the ingredients until smooth and creamy, adding more liquid if you prefer a thinner consistency. Pour into a glass, and you have a refreshing and healthy drink to enjoy any time of the day.
This refreshing Peach Yogurt Smoothie Recipe is a perfect summer treat! Made with ripe peaches, Greek yogurt, frozen almond milk, and sweetened with honey, this smoothie is a great source of protein and probiotics. The frozen almond milk provides a creamy texture, making this smoothie extra satisfying.
Perfect for breakfast, snacks, or dessert, this Peach Yogurt Smoothie is easy to make and incredibly delicious. Just blend the ingredients together, serve in a chilled glass, and enjoy the sweet and tangy flavors of peach and yogurt.
Get ready for a cozy and delicious treat with this apple pie smoothie! Chopped apple and banana combine with unsweetened almond milk, light vanilla yogurt, walnuts, cinnamon, nutmeg, and freshly grated ginger to create a smoothie that's packed with warm, comforting flavors.
All you have to do is throw everything in a blender and whir it up until it's nice and smooth. If you want to amp up the flavor, try adding some more cinnamon, nutmeg, or pure maple syrup. This smoothie may serve as a nutritious breakfast on the run or a tasty and guilt-free sweet treat.
Get ready to indulge in the ultimate cherry smoothie recipe with a twist of yogurt and walnuts. This smoothie is a true treat for your taste buds with its creamy texture and nutty flavor. The fresh or frozen pitted cherries add a delicious fruity taste to this recipe, while the unsalted walnuts give it a subtle crunch.
The yogurt makes it creamy and thick, and if you're feeling extra sweet, add a tablespoon of maple syrup. Enjoy this smoothie for breakfast or a midday snack, and feel refreshed and energized all day long.
This Chocolate Peanut Butter Banana Smoothie is sure to satisfy your wants for something sweet. This rich and luscious smoothie is made by blending together frozen banana slices, creamy peanut butter, chocolate powder, and milk.
Sweetened with vanilla extract and a sprinkle of maple syrup or honey, this is the ideal option for a quick morning meal or midday pick-me-up. Enjoy the smooth texture and full taste by serving it right away.
This Kiwi Banana Smoothie is a refreshing treat that's perfect for summer mornings or afternoons. The sweet and tangy flavor of kiwi pairs perfectly with the creamy texture of Greek yogurt and the natural sweetness of a frozen banana. For an extra touch of sweetness, add a bit of honey to the mix.
The smoothie is topped off with ice cubes to make it cold and refreshing. The recipe is easy to follow and only requires a few simple ingredients. To switch things up, try using flavored Greek yogurt. Enjoy this delicious and nutritious smoothie as a quick breakfast or mid-day snack.
Papaya and Greek Yogurt Smoothie is a delicious way to start your day with a burst of tropical flavor. The sweet and juicy papaya is combined with tangy orange juice and creamy Greek yogurt to create a smoothie that's both refreshing and satisfying. Adding ice cubes makes it even more refreshing on a hot day.
This recipe is quick and easy to prepare and is a great way to get a serving of fruit in your diet. For a thicker smoothie, add more ice or reduce the amount of water. Try experimenting with different flavors of Greek yogurt to switch things up.
Watermelon Yogurt Smoothie with Coconut Flavor is a perfect summer drink to cool you down on a hot day. The combination of juicy watermelon, creamy coconut flavor Greek yogurt, and sweetened condensed milk creates a smoothie that's both refreshing and indulgent.
The recipe is simple and requires only a few ingredients that are easy to find. To make it even creamier, add a bit of whole milk. This smoothie is perfect for breakfast, as a mid-day snack, or even as a dessert. For an added touch of elegance, top it off with fresh mint or coconut flakes. Sip, relax, and enjoy this delicious treat!
This Lemon Smoothie is a refreshing and invigorating treat that's perfect for any time of year. The tangy lemon juice and zest combined with creamy probiotic yogurt and almond milk create a deliciously balanced smoothie. Adding turmeric powder and hemp seeds provides a boost of nutrients and health benefits.
To sweeten things up, a touch of pure maple syrup or honey can be added to taste. This easy-to-make recipe takes just minutes to prepare, making it an ideal choice for busy mornings. Top it off with your favorite toppings, or enjoy it as is. Sip on this zesty and healthy lemon smoothie and start your day with a burst of energy.
Get ready for a burst of summer in a cup with our Orange Creamsicle Smoothie! This refreshing and creamy smoothie is perfect for a hot summer day or any time you need a quick pick-me-up.
Made with freshly peeled and seeded orange, nonfat plain Greek yogurt, vanilla extract, flaxseed meal, and ice, this smoothie is packed with immune-boosting vitamin C, protein, and fiber. Simply blend all the ingredients together until smooth, and serve it in a tall glass garnished with fresh orange slices for a beautiful presentation.
Indulge in a sweet and healthy treat with our 4-ingredient Grape Smoothie. Frozen seedless red grapes add a deliciously unique flavor and a touch of frostiness to this smoothie, while ripe banana lends natural sweetness and creaminess.
Greek yogurt adds protein and a tangy kick, and the milk of your choice helps to blend everything together into a velvety smooth texture. Whether you're looking for a refreshing breakfast or a midday snack, this easy-to-make smoothie is a perfect option. Just remember to freeze the grapes ahead of time and blend all ingredients until smooth.
Can I Use Any Type Of Yogurt In These Smoothie Recipes?
When it comes to making fruit smoothies with yogurt, there are a variety of options to choose from. Here are six types of yogurt to consider, along with their unique benefits and drawbacks:
Greek yogurt: This thick and creamy yogurt adds a tangy flavor and protein boost to smoothies, but can be more expensive than other varieties.
Plain yogurt: A versatile option that can be used in a variety of recipes, plain yogurt is lower in sugar than flavored varieties but may have a thinner consistency.
Vanilla yogurt: Adds a touch of sweetness and vanilla flavor to smoothies, but may contain added sugars.
Coconut yogurt: Great for those with dairy sensitivities, coconut yogurt adds a tropical twist to smoothies but may have a thinner consistency.
Soy yogurt: Another dairy-free option, soy yogurt has a creamy texture and is high in protein, but may not be suitable for those with soy allergies.
Almond yogurt: This plant-based yogurt is low in sugar and high in healthy fats, making it a great option for those following a keto or low-carb diet, but may be pricier than other varieties.