Let's face it, toddlers are notorious for not wanting to eat the things they should to grow up healthy and strong. Try as we might, they scrunch up their faces and simply refuse to eat the healthy things we put in front of them.
I can't really blame them though, even I am not partial to some fruits and vegetables, even though I know exactly why I should be eating them.
Plum Organics is a brand that aims to bridge the gap between a parents desire to offer healthy food for their kids and the kid's refusal to eat it.
Plum Organics offers a complete line of organic baby foods including fruit puree, toddler snacks & more. Plum Organics' newest line of products aimed at toddlers is called Mighty and features pouches, bars and snack puffs full of nutrition yet packaged in a way that even the pickiest toddler will find appealing.
The Mighty line-up is packed with healthy, organic, and delicious ingredients like Greek yogurt, chia, whole grains, fruits, and veggies and has been specially formulated to help fuel mighty tots and their mighty imaginations.
My daughter is 6 and isn't considered a toddler anymore, but much like her former toddler self, she still uses her imagination to fuel her day. Back then, she wanted nothing more than to be a ladybug.
Not much has changed, she actually still has that costume and can still manage to get into it, although she does need some help getting out of it now because it is a bit tight. She has a better understanding of the world and now realizes that she can't actually be a ladybug, but that doesn't stop her from pretending.
Toddlers do have amazing imaginations. Take a look at the video below from Plum Organics where they ask a toddler "What will you do when you grow up?"
To help us experience their new Mighty products, Plum Organics sent us a Mighty Tot kit filled with goodies!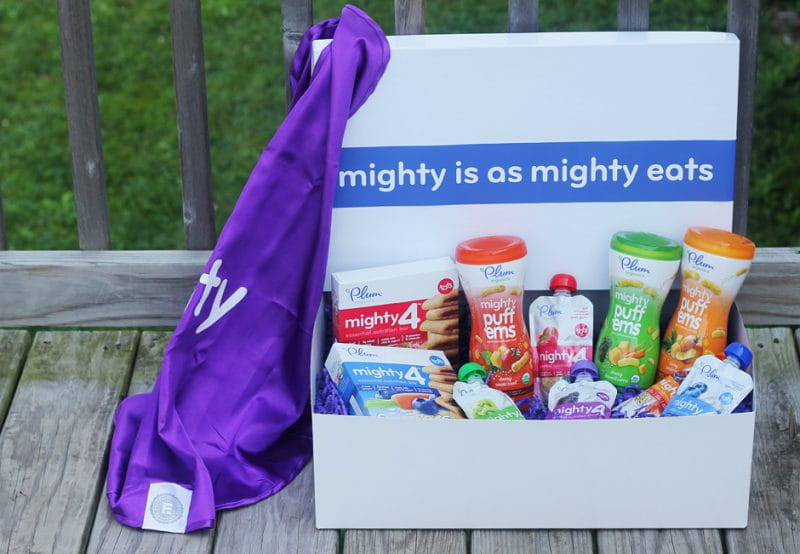 My daughter showed off how mighty she is and how much she enjoyed the Plum Organics products. She also announced that we should bake a cake with one of the pouches, which I thought was rather creative (fueled in part, I'm sure, by the Mighty Tots she had been sampling) , so we did!
We decided to make a pound cake with the Mighty 4 Spinach, Kiwi, Barley and Greek Yogurt pouch. My daughter did most of the work mixing ingredients and pouring the batter into the pan.
It turned out surprisingly good!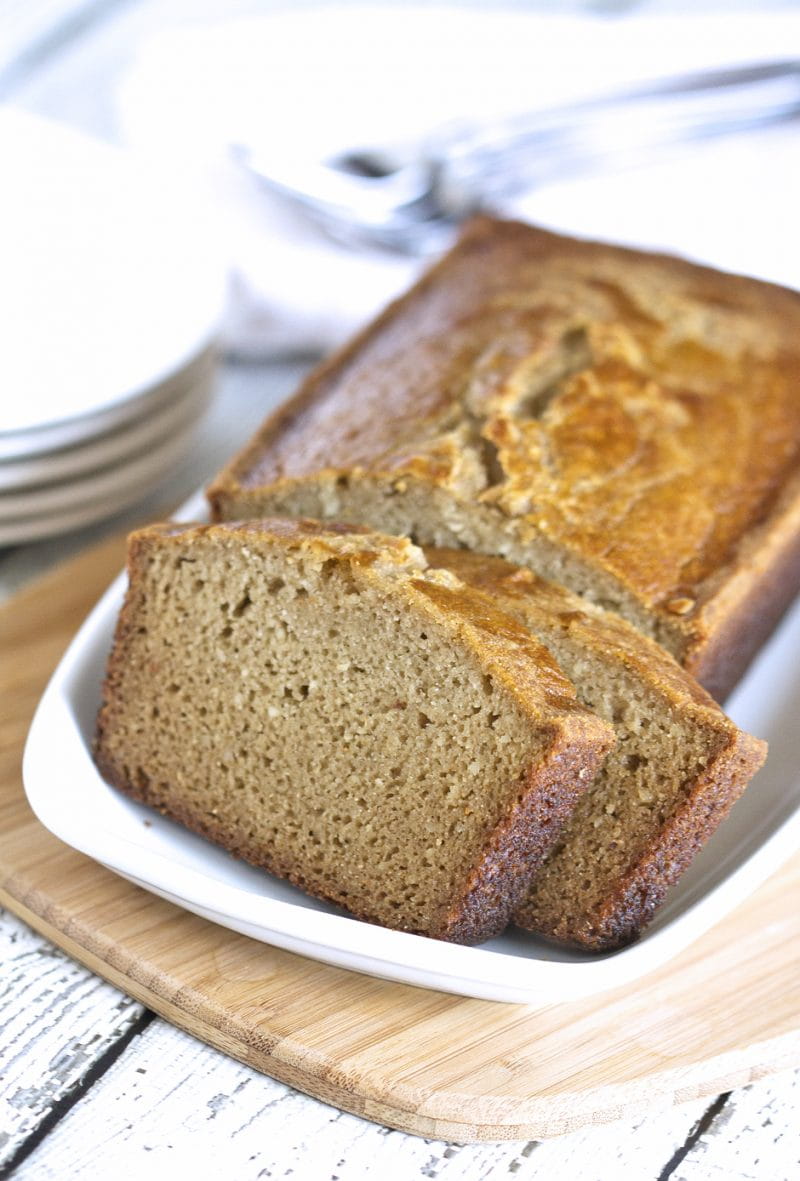 Fruit Pouch Pound Cake Recipe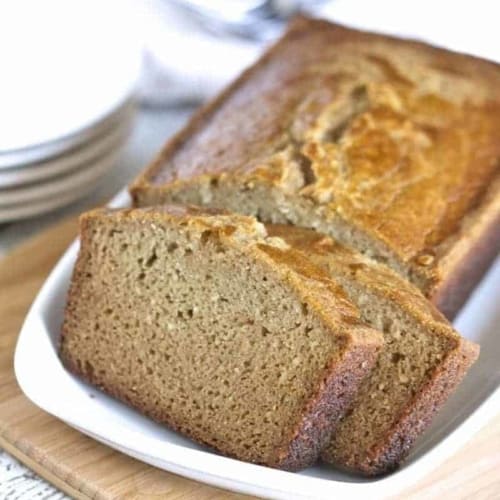 Ingredients
1

cup

almond meal or flour

1

cup

tapioca flour

1/2

cup

coconut flour

1/4

tsp

salt

1

tsp

baking soda

4

large eggs

1/4

cup

raw honey

2

tbsp

softened coconut oil

4

oz

pouch of fruit puree

1

tbsp

vanilla

1/2

cup

unsweetened almond milk
Instructions
Preheat oven to 350 degrees F.

Grease a loaf pan (I love my Lodge Cast Iron loaf pan) with coconut oil (you can also cut a sheet of parchment paper to place in the bottom of the pan to help keep the cake from sticking).

In a medium bowl, mix all of the dry ingredients together until evenly combined.

In a small bowl, whisk all of the wet ingredients together until almost smooth. The coconut oil will solidify slightly, but that's ok, it will melt back down while baking.

Slowly pour wet ingredients into dry ingredients and stir until blended well.

Pour batter into greased loaf pan and bake for about 35-40 minutes.

Bake time will vary based upon your oven, it should be done when a toothpick comes out almost clean. If you wait until it comes out clean, the rest of it may end slightly over cooked.
Nutrition or specific diet information shown is an estimate or best guess and is for information only. 730 Sage Street is not responsible for the factual accuracy of any nutrition information, calculations or claims.
Who'd have thought such a great tasting pound cake could have so much goodness baked inside! Potassium, Vitamin C, Vitamin E and more! This cake is surprisingly moist and just the right amount of sweet.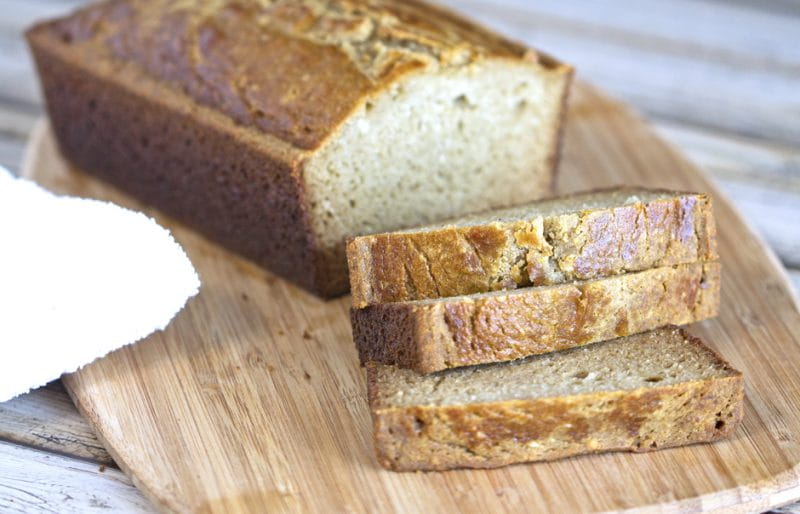 In the words of my daughter AND my 5 year-old niece "I love it!"
We can't wait to try this recipe with the Plum Organics Mighty kale, strawberry, amaranth & greek yogurt variety and top it with fresh strawberries. YUM!
And by the way, she hasn't taken the cape off yet, spending her time running through the house yelling "super Abby to the rescue".
You can purchase Mighty products at PlumOrganics.com, find a local store near you that carries them, or from Amazon.com.
Note: This is part of a sponsored campaign with Plum Organics, opinions are my own.