Frozen lima beans are a versatile and nutritious ingredient that can be used in a variety of dishes, from soups and stews to salads and casseroles.
Whether you're looking for a quick and easy weeknight dinner or a hearty and comforting meal for the whole family, these 15 recipes with frozen lima beans are sure to satisfy you.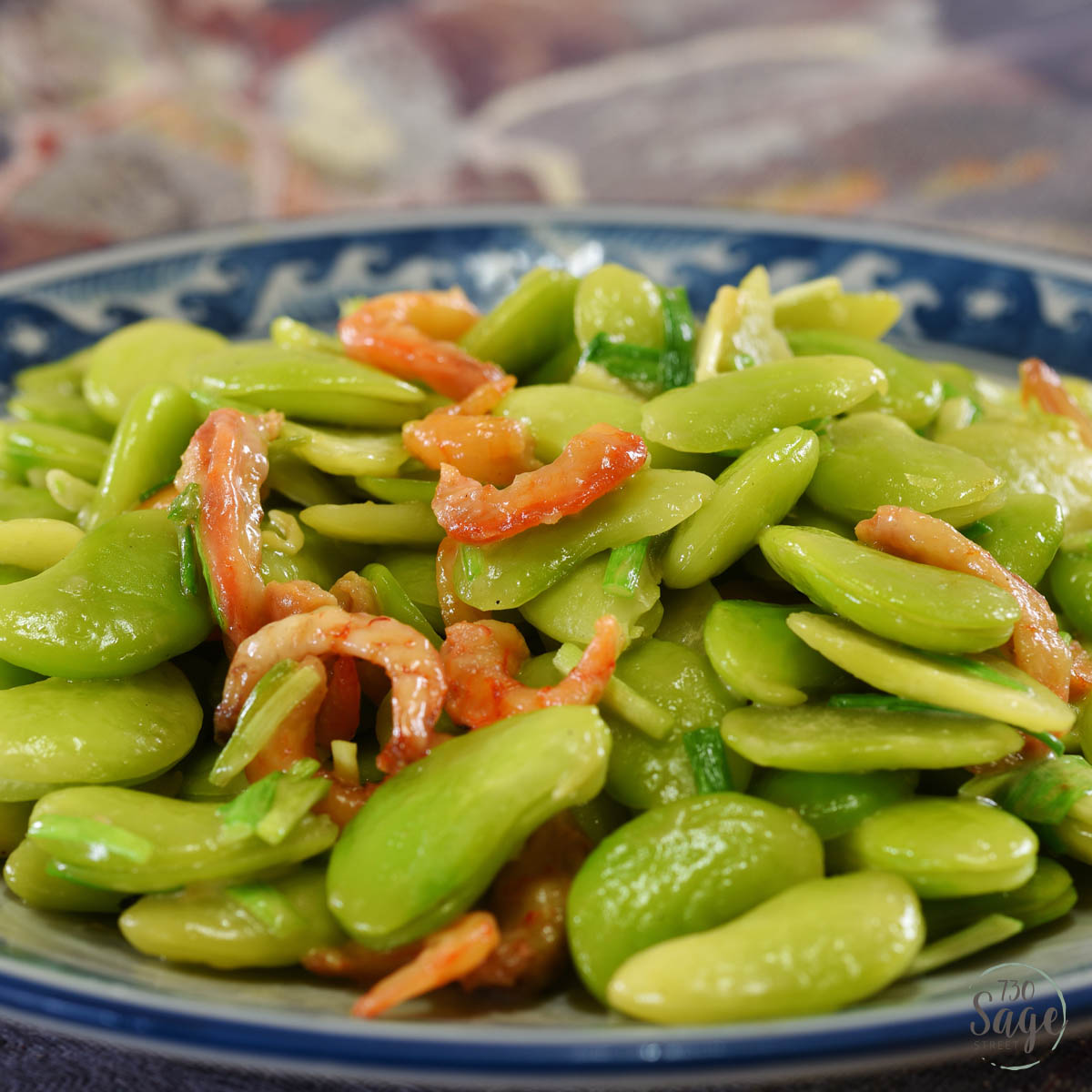 How Do I Thaw Frozen Lima Beans Before Cooking?
To thaw frozen lima beans, simply remove the desired amount from the freezer and let them sit in the refrigerator overnight. Alternatively, you can place them in a colander and rinse them under cold water until they are fully thawed.
Can I Use Canned Lima Beans Instead Of Frozen Lima Beans In These Recipes?
Yes, you can substitute canned lima beans for frozen lima beans in most of these recipes. However, keep in mind that canned beans are already cooked, so you will need to adjust the cooking time accordingly. Additionally, canned beans are often salted, so you may need to adjust the seasoning in the recipe as well.
15 Recipes With Frozen Lima Beans
Get creative in the kitchen with these 15 delicious recipes featuring frozen lima beans. From soups and stews to casseroles and salads, there's something for everyone to enjoy:
This Corn Succotash recipe is a perfect side dish to complement any meal! Packed with flavors, this dish is a combination of frozen lima beans, canned corn, fresh tomatoes, red pepper, thyme, oregano, and parsley.
This gluten-free and Weight Watchers-friendly recipe is healthy and quick to prepare, making it a great addition to any meal. The combination of savory herbs, sweet corn, and the creamy texture of lima beans makes this dish a true crowd-pleaser. Top it off with fresh parsley and enjoy the wholesome goodness in every bite!
Lima Bean Casserole is the ultimate comfort food! Creamy and cheesy with a buttery cracker crumb topping, this casserole will warm your heart and soul. Who knew that lima beans could taste so good? The combination of creamy condensed cream of celery soup, savory onion, and tangy diced pimentos make this dish a flavor explosion.
The crunchy texture of the crackers on top adds the perfect balance of texture to the dish. It's a perfect side dish for any occasion, and your guests will definitely ask for seconds!
Baghali Polow, also known as Persian Dill Rice, is a delightful and aromatic side dish that will transport you to the streets of Tehran. This recipe features frozen lima beans that are paired with dried dill for a burst of flavor. The rice is cooked to perfection and served with a touch of saffron-infused water, creating a beautiful yellow hue that will make your mouth water.
Baghali Polow is a classic dish in Persian cuisine and is gluten-free, vegan, and vegetarian, making it a perfect dish for everyone. With just a few ingredients, you can make this delectable dish and impress your guests with your culinary skills!
If you're looking for a hearty and flavorful one-pot meal, look no further than this Lebanese Beef Stew with Lima Beans. This dish is perfect for a cozy family dinner, and the Lima beans add a unique texture that pairs well with the tender cubes of sirloin steak.
The tomato paste and diced tomatoes add a rich depth of flavor, while the cinnamon, allspice, and black pepper give this dish a warm and comforting taste. Simmered to perfection, this stew is sure to become a family favorite. Serve it over a bed of rice for a complete and satisfying meal that will warm your belly and your heart.
These Oven Roasted Lima Beans with Garlic are a simple yet satisfying snack or side dish that everyone will love! The frozen lima beans are roasted to crispy perfection, while the garlic cloves add a sweet and nutty flavor. The dish is then drizzled with high-quality olive oil and seasoned with salt and pepper, making it irresistible.
These beans are a great source of protein, making them a perfect post-workout snack or healthy side dish. You won't be able to resist their addictive crunch and delicious taste!
These Baked Honey & Mustard Lima Beans are a must-try for anyone looking for a creative way to get their kids to eat their veggies. These tender and flavorful lima beans are coated in a deliciously sweet and tangy sauce made with liquid honey, Dijon mustard, and grainy mustard. Olive oil adds a smooth richness to the dish, while salt and pepper enhance the flavor profile.
Top it off with fresh thyme to add an earthy and herbal aroma. These beans are perfect for a quick and easy side dish that will add flavor and nutrition to any meal.
Lima Beans and Ham recipe is a hearty and comforting dish that is perfect for a chilly evening meal. Fresh lima beans are cooked to perfection and combined with diced potatoes, whole-kernel corn, and fresh veggies like tomato, onion, and celery. The dish is then thickened with a creamy cornstarch and milk mixture before adding in chunks of savory cooked ham. Seasoned with salt and pepper and garnished with fresh parsley, this dish is sure to be a hit with your family and friends.
Serve it as a main meal or pair it with a side salad or coleslaw for a deliciously satisfying dinner.
Lima Bean Vegan Corn Salad is the perfect side dish for any summer BBQ or picnic. With a zesty and spicy dressing made from grapeseed oil, lime juice, cumin powder, chili powder, and cayenne, this salad is bursting with flavor.
The combination of sweet corn, creamy avocado, earthy lima beans, and tangy cherry tomatoes make for a satisfying and refreshing meal. This salad can be whipped up in just 20 minutes and can be stored in the fridge for up to 3 to 4 days. It's vegan, healthy, and delicious!
Creamy Lima Beans and Broccoli casserole are the perfect combinations of flavors and textures! This dish features lima beans and broccoli cooked in a delicious cheese sauce with cream of celery soup.
The addition of curry-flavored Rice Krispies on top adds a delightful crunch to the creamy casserole. Perfect for holidays like Thanksgiving, Christmas, or Easter, this casserole is sure to be a crowd-pleaser. The lima beans and broccoli may sound like an odd combination, but trust me, the flavors are irresistible and absolutely mouthwatering.
This vegan one-pot dinner is a satisfying and nourishing meal that's perfect for busy weeknights. The creamy butter beans (also known as lima beans) are combined with fresh kale and a spicy tomato sauce that adds a burst of flavor with every bite.
The garlic, basil, oregano, and smoked paprika provide a warm and comforting aroma, while the cayenne pepper adds a spicy kick. Serve with your favorite grain or pasta and top with toasted nuts or seeds for added crunch. Store any leftovers in the refrigerator for up to a week and reheat them on the stovetop or in the microwave for a quick and easy meal.
Get a taste of Greece with this hearty and delicious gigantes plaki recipe! Creamy, buttery lima beans are baked in a rich tomato sauce that's bursting with flavor. This dish is perfect as a mezze or a side dish and is sure to impress any guest.
The combination of garlic, onions, and celery creates a flavor that's both aromatic and savory. Top it off with a crusty, golden top and garnish with fresh parsley or oregano. You can make this recipe even more nutritious by adding some fresh spinach or kale to the mix. It's simple, easy, and sure to become a family favorite!
Instant Pot Lima Beans and Ham soup is a savory and satisfying meal that's perfect for busy weeknights. The recipe uses dried or frozen Lima beans and precooked ham, making it a budget-friendly and easy-to-make dish.
The combination of chicken broth, onions, garlic, and bay leaves gives the soup a deep and complex flavor that's hard to resist. You can even add a ham hock or bone for an extra layer of smoky flavor. The dish can be served as is or thickened by cooking it in sauté mode. With the Instant Pot, you can have a hearty and nutritious meal ready in just under an hour!
This creamy succotash with bacon, thyme, and chives is like a warm and comforting hug in a bowl! The frozen baby Lima beans and sweet corn are the perfect base for this rich and flavorful dish, while the thick-sliced bacon adds a smoky and savory touch.
The cream gives the succotash a velvety texture that will make you want to lick your bowl clean! The minced fresh thyme and snipped fresh chives add a pop of freshness that balances out the richness of the dish. This succotash is so easy to make and can be prepared ahead of time, making it the perfect dish for busy weeknights or entertaining guests. Serve it as a side or a main course, and watch it disappear in no time!
Get ready to experience the ultimate Lima beans recipe with this copycat Cracker Barrel Lima Beans! This dish is bursting with flavor and will have you coming back for seconds (and maybe even thirds).
The frozen baby Lima beans are simmered in a delicious blend of seasonings, including chicken bouillon, minced garlic, Cajun seasoning, onion powder, garlic salt, sugar, black pepper, and smoked paprika, creating a delightful blend of sweet and savory notes. The lima beans become tender and absorb all the mouthwatering flavors of the dish, making it the perfect accompaniment to any meal. Whip up this easy and flavorful recipe and impress your family and friends with your cooking skills!
This refreshing and satisfying succotash salad is perfect for a hot summer day. The combination of fresh sweet corn, tender lima beans, and savory bacon creates a burst of flavor in every bite.
Topped with grilled chicken, red onions, and crumbled blue or feta cheese, this salad is hearty enough to be a complete meal. But it's the creamy buttermilk avocado dressing that brings everything together, adding a smooth texture and a hint of herbaceousness. Impress your guests with this elegant salad, and let the flavors speak for themselves!