Eggs are a healthful and adaptable item that can be used to improve the flavor of any recipe, but they really shine when added to fried rice.
These 15 egg-based fried rice recipes range from traditional Chinese fried rice to spicy Thai fried rice, so there's something for everyone, no matter how you like your eggs cooked.
These dishes are not only tasty but also simple to prepare and flexible enough to be used for every meal of the day.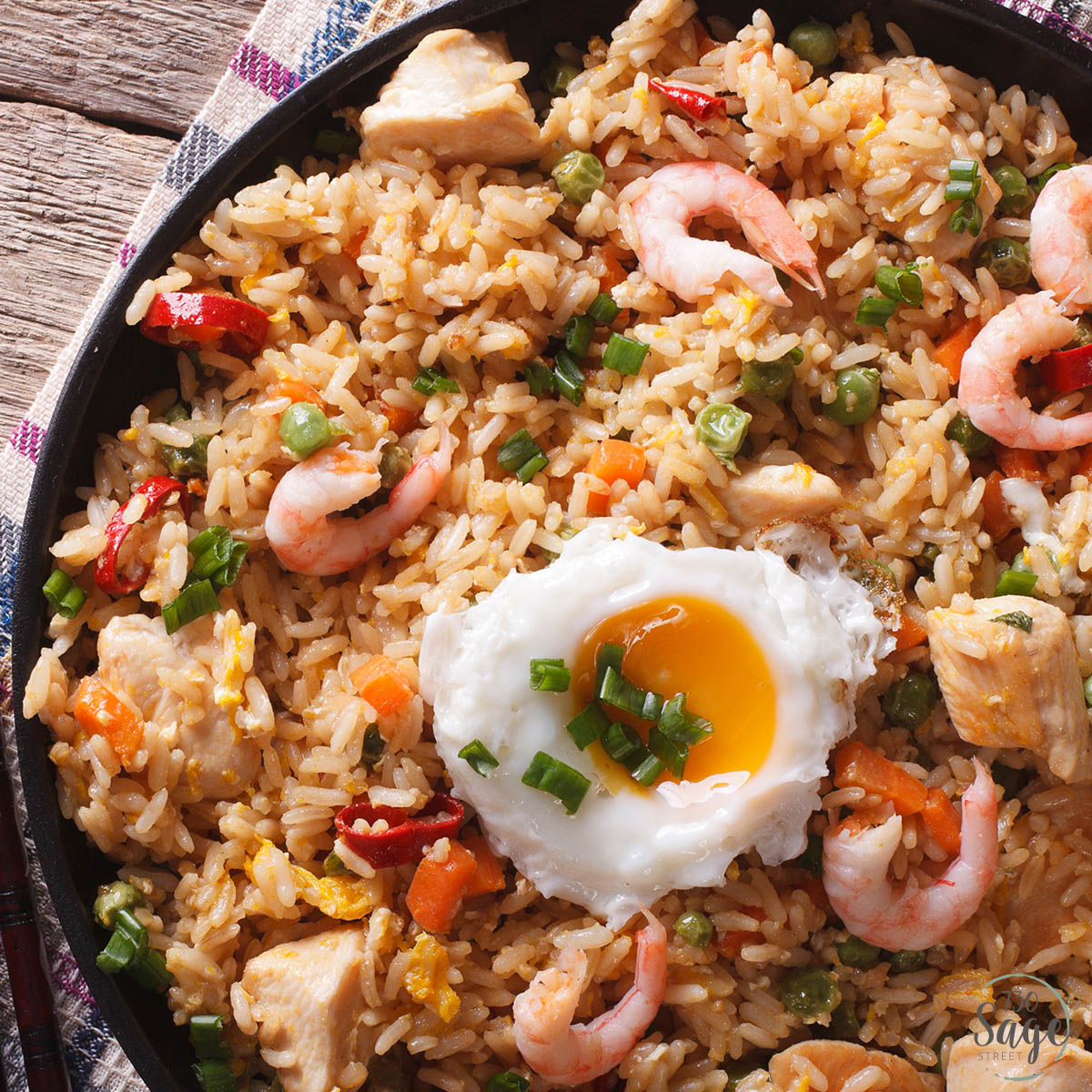 What Type Of Rice Should I Use For Fried Rice?
The best type of rice to use for fried rice is long-grain white rice, preferably cooked and chilled overnight. This is because it has a firmer texture and won't clump together when fried. Brown rice is also a healthy option as it contains more fiber, but it will take longer to cook.
Can I Use Frozen Vegetables For Fried Rice?
Yes, you can use frozen vegetables for fried rice. It's actually a great way to make a quick and healthy meal. Frozen vegetables are picked and frozen at their peak ripeness, which means they can be just as nutritious as fresh vegetables. Just make sure to thaw them before adding them to the rice.
15 Fried Rice Recipes With Egg
These 15 Fried Rice Recipes With Egg will raise your weeknight dinner game, from traditional to unique. They're fast, simple, and filled with nutritious ingredients:
This Egg Fried Rice is the ultimate comfort food that's easy to prepare and incredibly satisfying. This classic recipe is made with boiled long-grain rice, onion, garlic, sesame oil, soy sauce, and scrambled eggs. The secret to its deliciousness lies in the perfect balance of flavors, with just the right amount of salt, garlic salt, and lemon juice to give it a zesty kick.
Served with a generous sprinkling of chopped spring onions, this dish is perfect on its own or as a side to your favorite Chinese cuisine. Try it with Crispy Sesame Chicken or Sweet and Sour Chicken for a complete meal that will satisfy your cravings.
Diced white onions, carrots, and Chinese BBQ pork give this meal the typical taste of pork fried rice, and the dish's ease of preparation and deliciousness will have you making it again and again. This dish's sweet and salty tastes are well balanced by the use of soy sauce, Chinese cooking wine, and sugar.
The rice, which had been cooked the day before, has the ideal texture for this recipe since it has had time to absorb all of the other ingredients' tastes. The addition of frozen peas and sesame oil makes this recipe not only tasty but also very nutritious. In a short amount of time, you may prepare this delicious meal and enjoy the tantalizing scent and taste.
In about 30 minutes, you can have delicious, authentic Chinese Chicken Fried Rice. This recipe has the ideal ratio of protein to carbs thanks to the boneless chicken thighs marinated in a tasty combination of spices. The meal is brightened visually and nutritionally by the use of scrambled eggs, finely sliced carrots, and frozen peas.
The sauce gives the meal a deep and savory taste; it's produced by combining soy sauce, Shaoxing cooking wine, sesame oil, and chicken bouillon powder. The use of day-old jasmine rice simplifies the preparation even more since the rice readily absorbs the sauce and vegetable tastes.
This Japanese Hibachi Fried Rice recipe is a culinary journey to the Far East in just one bite! The chilled white rice, mixed with flavorful onions, carrots, garlic, and ginger, is stir-fried to perfection in a cast-iron skillet with soy sauce, rice wine, and sesame oil.
The eggs, cooked in butter, add a rich texture to the dish, while the frozen peas bring a sweet crunch. Don't forget to garnish with scallions to add a pop of color to the dish. Perfect for a quick and easy weeknight meal or as a side dish for a larger gathering, this recipe is sure to impress!
This recipe for Spicy Chicken Fried Rice strikes the ideal balance between heat and flavor. Buttery rice, onions, carrots, and garlic are stir-fried with tender shredded chicken for a flavorful foundation. Sriracha and toasted sesame oil give the meal its distinctive flavor and heat.
Don't leave out the eggs; they lend a wonderful texture to the rice when cooked and combined together. Green onions are a great way to add color and flavorful freshness as a garnish. This recipe is great for a casual weekday dinner or as an appetizer to share with guests.
This 20-minute Nasi Goreng recipe is a flavorful and easy way to use up leftover rice. Spam and corned beef are cooked together with fluffy scrambled eggs and rice to create a hearty and savory base. The dish is then elevated with kecap manis, chicken bouillon, and fried shallots for a unique blend of umami flavors.
For those who like a little kick, add in chili sauce or sambal to take it to the next level. Serve with crispy shrimp crackers, sliced cucumbers, and a fried egg for a satisfying and delicious meal. Quick, easy, and full of flavor, this Nasi Goreng recipe is perfect for a weekday dinner or a casual get-together.
This Chinese Fried Rice (Yangzhou Fried Rice) is a classic dish that will transport you straight to the streets of China. Perfect for using up leftover white rice, this dish is a quick and easy way to create a satisfying meal. The rice is slightly pressed to separate the grains and fried with diced Chinese ham, shelled shrimp, green peas, and diced carrots to create a flavorful base.
Light soy sauce, salt, and ground white pepper are added to enhance the flavor. Finally, green onion is sprinkled on top for an extra pop of freshness. Simple yet delicious, this dish is perfect for a weekday dinner or a quick lunch. Don't forget to try pressing the rice for the perfect texture!
This Egg Fried Rice recipe is the perfect solution for a quick and easy meal that doesn't compromise on taste. Using only 6 ingredients and ready in just 10 minutes, this recipe is a game-changer! Cooked jasmine rice, at least one day old, is combined with whisked eggs and tossed together in a steel wok with green onion, soy sauce, and sesame oil.
The eggs and rice create a light, fluffy texture, while the green onion adds a touch of freshness. Perfect for a last-minute dinner or a quick lunch, this recipe is a must-try for anyone who loves simple yet delicious dishes. For optimal taste, cook in a steel wok and smoke the oil.
Satisfy your cravings with this spicy and flavorful Kimchi Fried Rice recipe. The aroma of garlic and ginger sautéed with onions, combined with tangy kimchi, creates an appetizing scent.
The rice is then mixed in, along with carrots and scallions, and coated in soy sauce, gochujang, and sesame oil. For an extra pop of color and flavor, top it off with nori strips and black sesame seeds. Served with perfectly fried eggs, this dish is a meal that is both comforting and full of character.
Delicious and simple to prepare, this Fried Rice with Egg and Curry will transport your taste senses to other lands. Aromatic spices like curry, coriander, turmeric, and fennel seeds combine with basmati rice with onions and garlic to produce a dish that will make your mouth wet.
The eggs turn the rice into a luxuriously creamy dish. Have this meal warm with some Greek yogurt on the side, and it will be excellent for any occasion. Fresh coriander, sprinkled over top, adds an added dimension of taste.
Start your day off right with this satisfying Breakfast Fried Rice recipe. Crispy bacon, scrambled eggs, and frozen vegetables are combined with leftover rice for a delicious and hearty breakfast. The eggs are scrambled to perfection, and the rice is fried until crispy and flavorful with a touch of soy sauce and toasted sesame oil.
The addition of frozen peas, carrots, and corn adds color and texture to the dish, making it not only delicious but also healthy. This breakfast is a great way to use up leftover rice, and it comes together quickly and easily for a filling meal any day of the week.
Transport yourself to a tropical paradise with this delicious Hawaiian Fried Rice recipe. Featuring a savory and sweet blend of diced ham, red bell peppers, green onions, and juicy pineapple chunks, this dish is sure to impress your taste buds.
A flavorful mixture of low-sodium soy sauce, sesame oil, and hot sauce adds a tangy kick that ties all the ingredients together perfectly. Don't forget the eggs, which are lightly scrambled and mixed in with the other ingredients to create a deliciously filling meal that's perfect for any time of day.
Jambalaya Fried Rice is here to invigorate your taste senses. With the addition of cooked rice, kielbasa sausage, and spicy vegetables, this Southern staple takes on an Oriental flavor profile. Soy sauce provides umami while aromatic spices like paprika, oregano, thyme, and garlic contribute to a fuller taste profile.
In addition, it only requires one pan, so it's simple to prepare in advance for supper or lunch the next day. If you need more protein, you may also add some beaten eggs. If you're looking for something with a little kick and a lot of flavors, go no further than this recipe.
Bacon Fried Rice is sure to satisfy your need for a substantial breakfast. The cooled cooked rice is the foundation of this meal, which also has crisp bacon, savory onion, and fragrant garlic. Soy sauce and oyster sauce provide depth of flavor, and a flawlessly cooked egg and chopped scallions are the cherries on top.
Add some sesame oil for a nutty flavor. Feeling full and ready to take on the day has never been easier than with this simple dish.
Get ready for a taste of the Orient with this quick and easy egg and mushroom fried rice! The savory flavors of shiitake or cremini mushrooms combine with garlic and ginger to create a deliciously aromatic base, while frozen peas add a touch of sweetness.
The eggs are softly scrambled and then mixed into the rice with sodium-reduced soy sauce and a dash of Sriracha for a spicy kick. Drizzle some sesame oil for an extra nutty flavor that will make your taste buds dance with delight. Perfect for a weekday lunch or dinner, this vegetarian dish is sure to become a family favorite!