Fried rice is a traditional dish in many Asian cuisines. It's a flexible and tasty way to use up leftover rice and vegetables.
This roundup includes 15 fried rice recipes with vegetables, each with its own taste profile and colorful vegetable combination. From traditional Chinese fried rice to Thai-inspired pineapple fried rice, these fried rice recipes are delicious and a wonderful way to eat more veggies.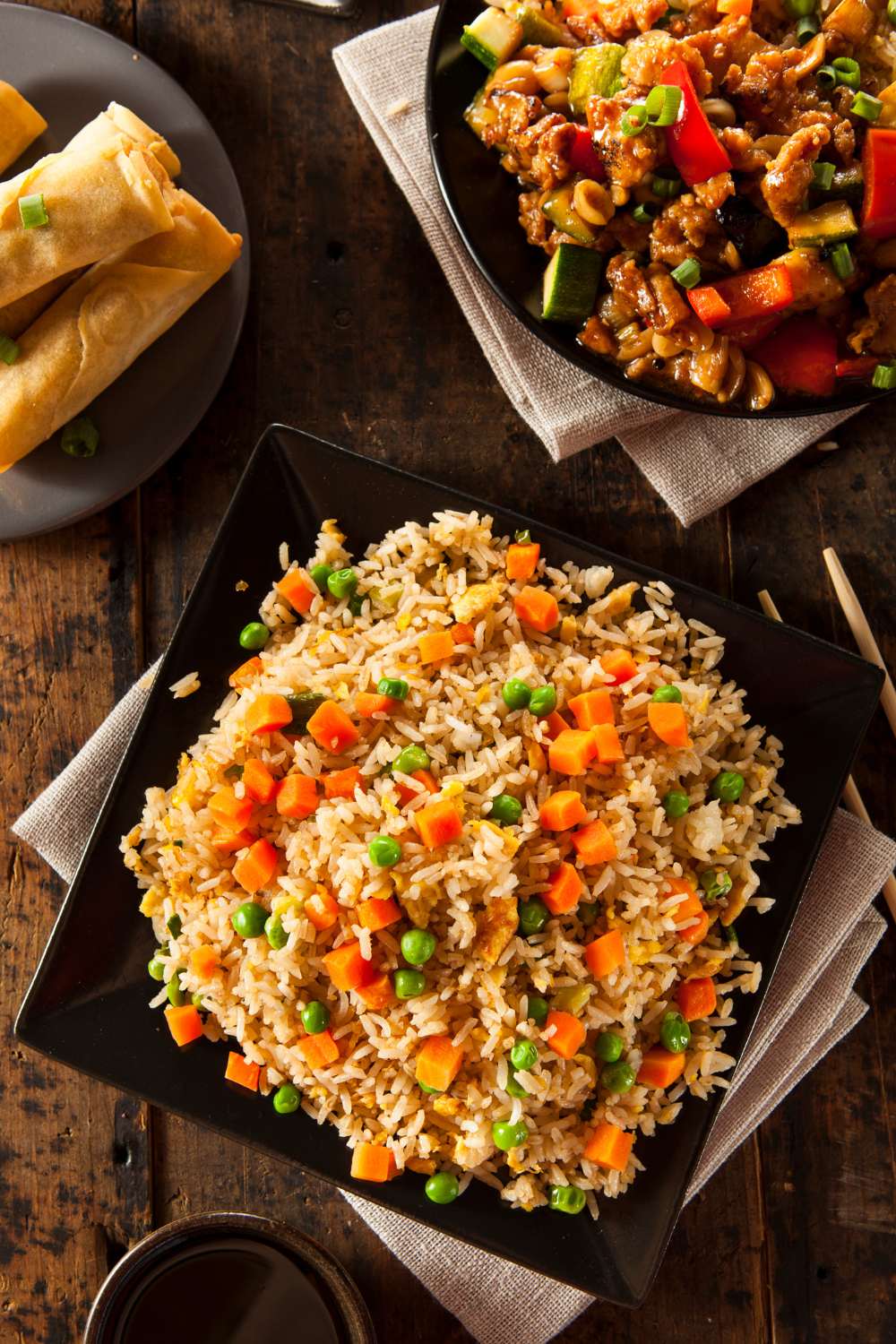 Can You Use Brown Rice Instead Of White Rice In Fried Rice?
Yes, you can use brown rice instead of white rice to make fried rice. Brown rice is a healthier option as it is a whole grain and has more fiber than white rice. However, brown rice takes longer to cook than white rice, so it's best to cook it ahead of time or use leftover brown rice for fried rice.
What Kind Of Oil Should I Use For Fried Rice?
The best oil to use for fried rice is an oil with a high smoke point, such as vegetable oil, canola oil, or grapeseed oil. These oils can handle high heat without smoking or burning, which is important when stir-frying rice. To make fried rice healthier, use a smaller amount of oil or substitute it with a healthier option like avocado oil.
15 Fried Rice Recipes With Vegetables
From spicy to savory, these 15 Fried Rice Recipes with Vegetables will take you to Asia and fulfill every appetite:
Say hello to your new favorite twist on the classic fried rice! With this Best Fried Rice recipe, you'll be transported to a world of flavor, featuring a delightful mix of onion, garlic, ginger, and carrots. The secret to its irresistible charm lies in using day-old rice, giving it a perfect texture as you sauté it alongside peas and crunchy cabbage.
A generous drizzle of soy sauce and a touch of fish sauce bring everything together in harmony. Don't forget to garnish with green onions for a pop of color and extra zing!
Embark on a tropical adventure with this Vegan Pineapple Tofu Fried Rice served in a pineapple boat! This fun, fruity twist on fried rice is packed with healthy brown rice, vibrant veggies, and tofu scrambled to perfection.
The dish comes to life with a blend of enticing spices and a kick of heat from the sriracha. Finally, top it off with crispy baked tofu cubes, sprinkled with sesame seeds, for a delightful textural contrast. One bite of this flavorful creation, and you'll feel like you're lounging on a sunny beach, surrounded by swaying palm trees. Enjoy!
Whisk your senses away on a culinary journey to Thailand with this Thai Basil Spicy Fried Rice! In just 30 minutes, you'll create a mouthwatering medley of tender chicken, fragrant jasmine rice, and vibrant Thai basil.
The real magic comes from the chili-garlic paste, adding a delightful punch to each bite. A blend of oyster sauce, fish sauce, and soy sauce brings it all together in a symphony of flavors. Serve your masterpiece with a crispy fried egg on top and a squeeze of lime for an extra burst of freshness. Trust us; it's a trip worth taking!
Unleash the bold flavors of Korea with this scrumptious Kimchi Fried Rice! The star of the show, kimchi, brings a tangy punch and a spicy kick to the dish. As you sauté garlic, onion, and kimchi together, your kitchen will fill with an irresistible aroma that'll have you counting the minutes.
The rice soaks up all the lovely kimchi juice, creating a beautiful harmony of flavors. When it's time to serve, crown your creation with a perfectly poached egg and garnish with sesame seeds, green onions, and seaweed strips. You'll be hooked from the first bite!
Sail away to the sunny Mediterranean with this Cauliflower Fried Rice, bursting with fresh flavors and vibrant colors. This lighter alternative to traditional fried rice features cauliflower rice sautéed with red onion and cherry tomatoes, while olives and feta cheese add a tangy twist.
A drizzle of olive oil and a splash of lemon juice bring brightness and zest to the dish. As you sprinkle parsley over the top and dig into this healthy, scrumptious creation, you'll feel as if you're basking in the warmth of a Mediterranean sunset.
Embrace the exotic flavors of the East with this delightful Curry Fried Rice with Chicken! Juicy, tender cubes of chicken are nestled among a medley of colorful veggies, while the star of the show - yellow curry powder - infuses the dish with its warm, aromatic spices.
Day-old Jasmine rice adds the perfect texture, absorbing the curry powder and water for a moist, flavorful experience. Top it off with a sprinkle of sliced scallions, and you'll find yourself savoring every bite of this enticing, aromatic masterpiece. Time to dig in and enjoy!
Let's head south of the border with this vibrant Mexican Fried Rice, a fantastic addition to our global fried rice adventure! This dish is bursting with the bold flavors of chili powder, cumin, and paprika, while the mix of onions, tomatoes, corn, and green chiles adds a delightful, colorful contrast.
As you continue to explore the wonderful world of fried rice, this Mexican-inspired creation will spice up your collection and bring a fiesta to your table. Pair it with our earlier Curry Fried Rice with Chicken for a delightful, international dining experience!
Now, let's dive into the earthy flavors of Mushroom Fried Rice, a delectable variation that complements our journey through different fried rice dishes. With an assortment of fresh mushrooms combined with the aromatic trio of garlic, chiles, and ginger, this fried rice creates a delightful harmony of flavors.
The addition of asparagus, cilantro, and sesame oil adds even more depth and complexity to this dish. This Mushroom Fried Rice is a fantastic option to enjoy alongside the spicy and colorful Mexican Fried Rice, providing a delicious and diverse culinary experience that showcases the versatility of fried rice in various global cuisines.
Fall in love with a new take on fried rice with this recipe for Butternut Squash and Brussels Sprout Fried Rice. This cozy, heartwarming dish combines tender butternut squash, caramelized Brussels sprouts, and fragrant ginger in a sweet and spicy sauce.
Boosted with nutty hemp or sesame seeds, it's a nutritious and flavorful meal. Top it off with a perfectly runny fried egg to give it that extra oomph! Trust me, once you try this scrumptious fusion, you'll be making it on repeat throughout the season.
Zucchini and Egg Fried Rice! This vibrant, veggie-packed recipe brings together the delightful crunch of zucchini and carrots with the comforting aroma of sautéed garlic. You'll love the playful dance of flavors as the savory soy sauce melds with freshly cracked pepper, creating a mouthwatering experience in every bite.
With a sprinkle of green onions for a burst of color and freshness, this fried rice recipe will make you feel like you're enjoying a warm, sunny day in your favorite park.
Get ready to spice up your dinner with this Schezwan Fried Rice, an irresistible fusion of flavors that will transport you straight to the bustling streets of Sichuan! Savor the medley of crunchy cabbage, carrots, and earthy mushrooms, stir-fried to perfection with bold garlic and fiery Szechuan sauce.
Each mouthful of this dish is an explosion of heat and zest, balanced by the fluffy, fragrant rice. Sprinkle some scallions on top for a pop of color and freshness, and serve alongside your favorite dipping sauce. Adventure awaits in every bite of this tantalizing treat!
Brighten up your mealtime with this colorful and nutritious Rainbow Veggie Fried Rice! This cheerful dish is packed with a medley of vibrant veggies like carrots, bell pepper, peas, and sweet corn. Every spoonful of this wholesome creation not only brings a burst of color but also a symphony of flavors and textures.
Cooked with aromatic garlic and drizzled with savory tamari, this dish is a celebration of wholesome goodness on a plate. Share the joy of this rainbow-inspired feast with your loved ones, and let it remind you of the simple pleasures in life.
Take your taste buds on an aromatic adventure with this Ginger Garlic Fried Rice with Vegetables! This scrumptious dish features a symphony of flavors, starring the zingy warmth of ginger and the bold bite of garlic, harmoniously blended with crunchy carrots and green beans.
As you delve into this heavenly creation, you'll find yourself wrapped in a comforting embrace of perfectly seasoned rice and savory soy sauce. Serve it alongside your choice of Thai red curry, peanut sauce tofu, crispy honey potatoes, or orange chicken for a meal that will whisk you away to a world of enticing flavors and delightful textures.
Unleash the power of green with this vibrant Broccoli Edamame Pea Fried Rice! This lush, verdant dish is a celebration of wholesome ingredients, featuring hearty broccoli florets, protein-packed edamame, and sweet peas.
Each spoonful is a delightful mingling of textures and flavors, elevated by the zesty kick of ginger, garlic, and red pepper flakes, all tied together with a savory soy sauce blend. As you dig into this nourishing creation, you'll feel like you're frolicking through a lush, green meadow on a beautiful spring day.
Introducing a fusion of flavors with this enticing Blood Orange Teriyaki Tofu and Asparagus Pea Fried Rice! This vegan delight combines the tangy sweetness of blood orange with the savory richness of teriyaki tofu, creating a truly unique experience.
As you savor each bite, you'll be whisked away on a vibrant journey through jasmine or brown rice, infused with the earthy goodness of asparagus and green peas. Top it all off with a sprinkling of sesame seeds, furikake, and a kick of red pepper flakes for a meal that's not only a visual feast but a celebration of taste.