Note: the download link for the free printable calendar 2018 is at the end of the post.
If you are looking for the 2019 version go here: 2019 PRINTABLE CALENDAR.
Before you know it, that shiny silver ball will be dropping and we will welcome in the start of another year. A new beginning. The perfect time to get and stay organized.
But planners can be expensive ya'll. I've seen some well over the $50 range and while I'm sure they are worth it, I often find that some of those planners are overkill, or they don't do what I need them to do. And trust me, I've tried them all! I call myself a notebook nerd because I love planners and journals and all things that make me feel like I can accomplish all of my good intentions!
I need a calendar that I can stick on the small bulletin board in my kitchen to keep track of stuff like school lunches and family appointments. A regular calendar doesn't work for me. They are super heavy and way too long. The smaller ones are too small. I need one about the size of a piece of paper.
So I made one!
And I figured I'd share it cause it's far too cute to keep to myself. You can download it at the end of the post in a PDF format. You can print the whole free printable calendar 2018 at once or one page at a time as you need them.
Free Printable Calendar 2018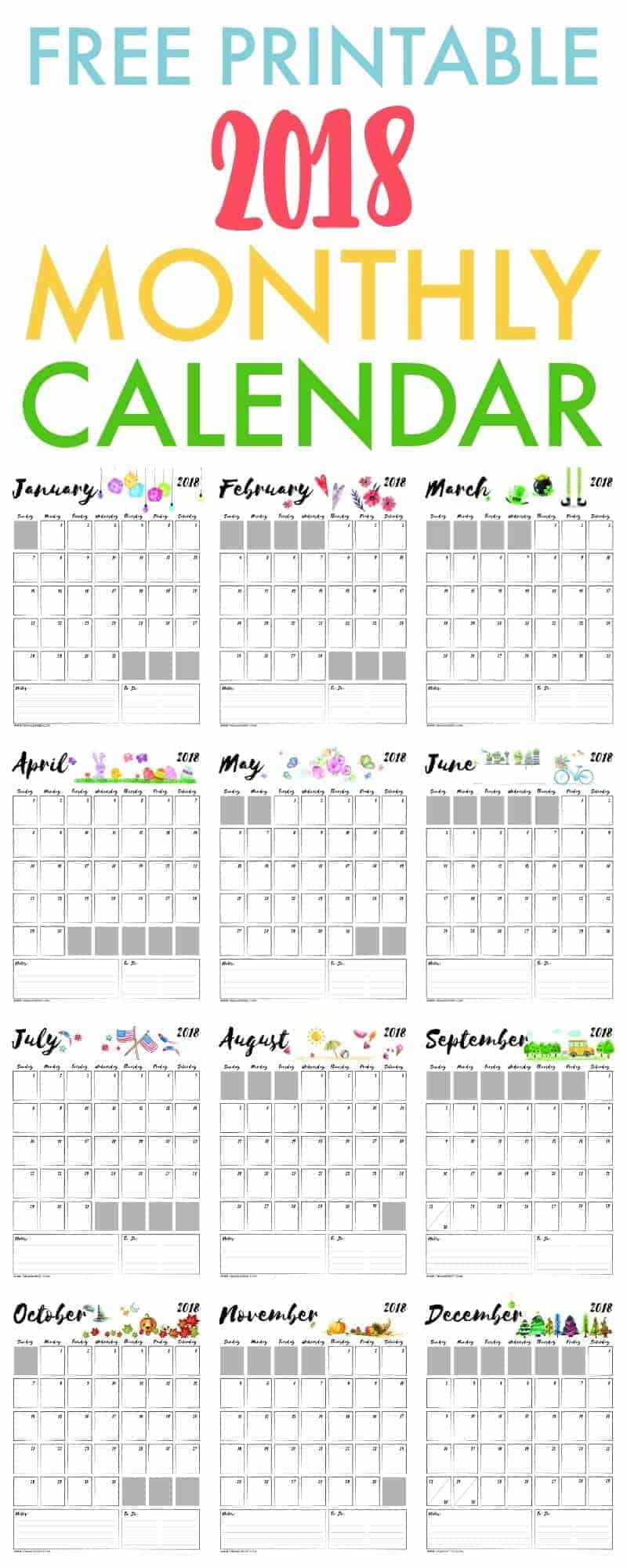 This free printable 2018 monthly calendar has adorable graphics for each month and a space for note and a to-do list at the bottom of each page. It is a printable 2018 calendar by month so you can print it one month at a time or print them all out ahead of time. Note that the grey boxes printed out much lighter than they show on the screen so you could use those areas for special notes or anything else you want to write down for the month.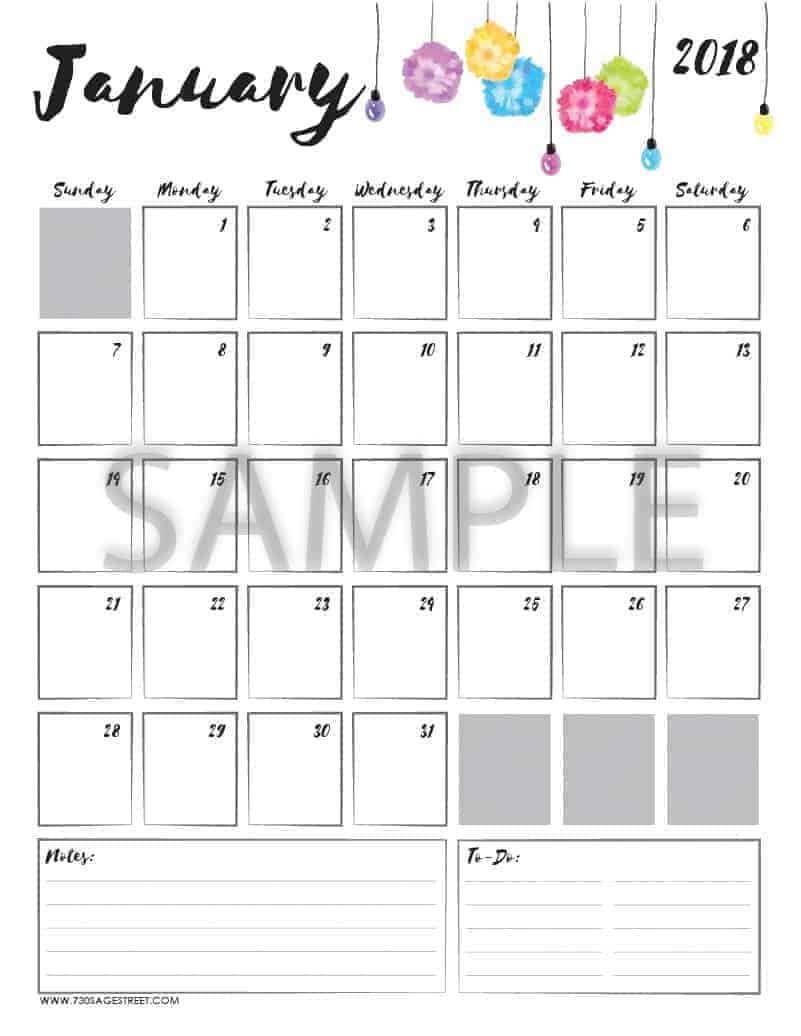 A magnetic framed chalkboard (see example below) would be such a cute way to hang your calendar in the kitchen. Depending on the size you get, you'd have room for other things too.


Calendar Ideas
You can use this free printable calendar 2018 in a number of different ways for the whole family. Print out multiple copies and write under the name of the month what the calendar is for, like "meal planning calendar" or "school lunch calendar". The kids can use it too.
Some ideas for using the calendar:
chore planning
meal planning
school lunch schedule
sporting event claendar
after school activities planner
custody planning for mixed families
work schedules
pet feeding schedule
exercise planner
charting a goal
homework due dates
so much more
Using a "bullet journal" type legend can help you combine many of these onto one calendar page as well. Color coding with symbols and check boxes help condense items on each day. See the example below.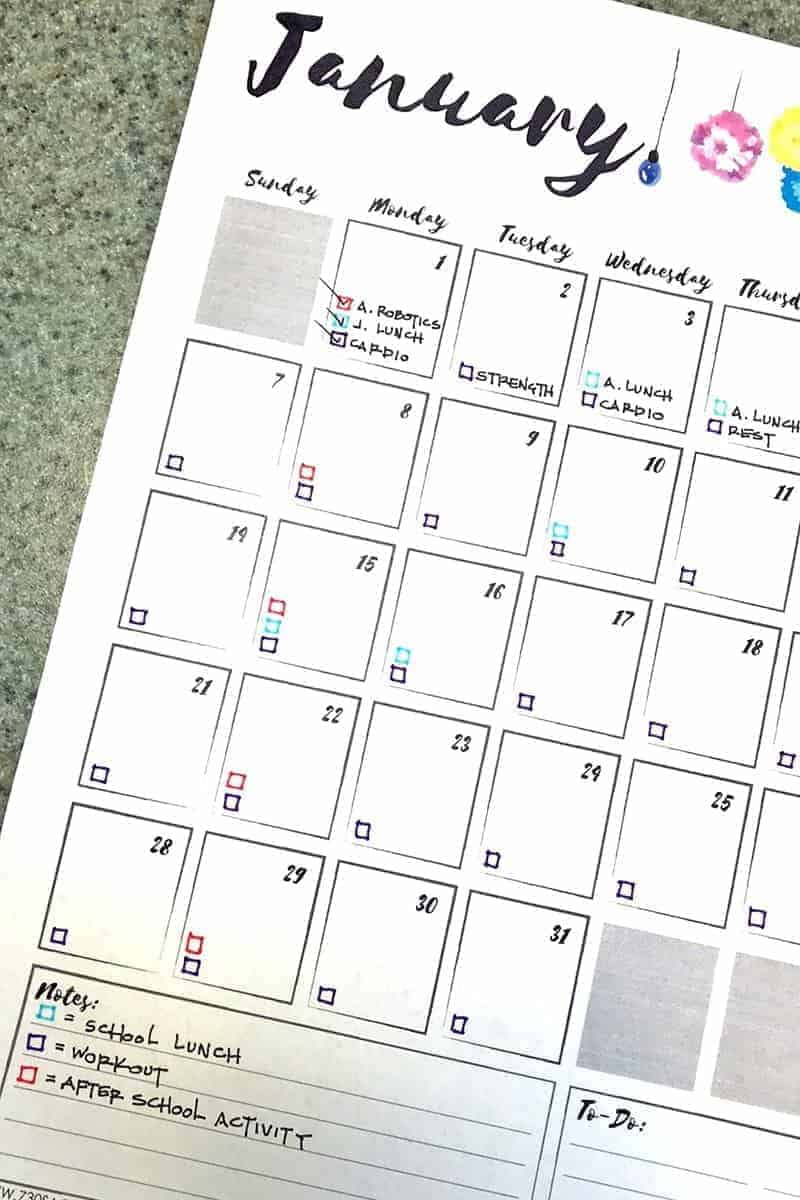 As you can see, I used abbreviations with a color coded key in the notes to describe it further with small check boxes for marking off things as I do them. You can easily fit 5-6 things per day on there doing it this way or if you don't want to use check boxes, you can use symbols to designate the different to-do categories. Just do a search for bullet journal key or bullet journal legend for ideas.
Individual Months
If you don't want the entire 12 page PDF for some reason, you can go download each month individually. If you are like me, you might just want to do them one at a time so you don't lose them or have them taking up room when they aren't being used.
You could print out August through June to make a school-year calendar for your kids and then mark holidays and let them keep track of homework or anything related to their schoolwork. It's a great way to track their time spent reading, because many schools encourage independent reading for a set amount of time each day.
Printing Tips
The PDF should print easily to your default print size without having to change anything. It prints to an 8-1/2 x 11 size sheet which is standard paper size.
Printable Use Terms
730 Sage Street has provided this printable free of charge for personal use. You may NOT link directly to the PDF file, redistribute, sell, resell, or use commercially. This is a violation of the terms of the graphics and the copyright. Personal use includes printing the document for parties, classrooms, homeschool, church, community activities, etc.
Check out our printables category for more great printables and activities.
Free Printable Calendar 2018 Download
To grab the 2018 monthly calendar pdf click here: free printable 2018 monthly calendar.