Four Monks Cleaning Vinegar is a safer way to clean your home.
Have you ever walked down the aisle in the store with the cleaning products? It's a sea of bottles, each with it's own purpose. Glass cleaner, stainless steel cleaner, surface cleaner, bathroom cleaner, tile cleaner, kitchen cleaner, floor cleaner…the list goes on and on. The one thing in common for many, if not most, of these is that they may contain ingredients that are potentially dangerous to your family.
Why would you want to clean with something that isn't safe?
And why the heck would you want 14 different bottles of cleaner under your sink anyway?
With Four Monks Cleaning Vinegar you only need 1 bottle to clean all of your interior surfaces and it's non-toxic so it's safe for your entire family.
Four Monks invited me to participate in their #FourMonksClean Challenge for a week so that I could experience their products for myself. They sent me a cleaning kit filled with everything I need to clean almost everything in my house (note: some things should NOT be cleaned with vinegar, find the list here: Vinegar Don'ts).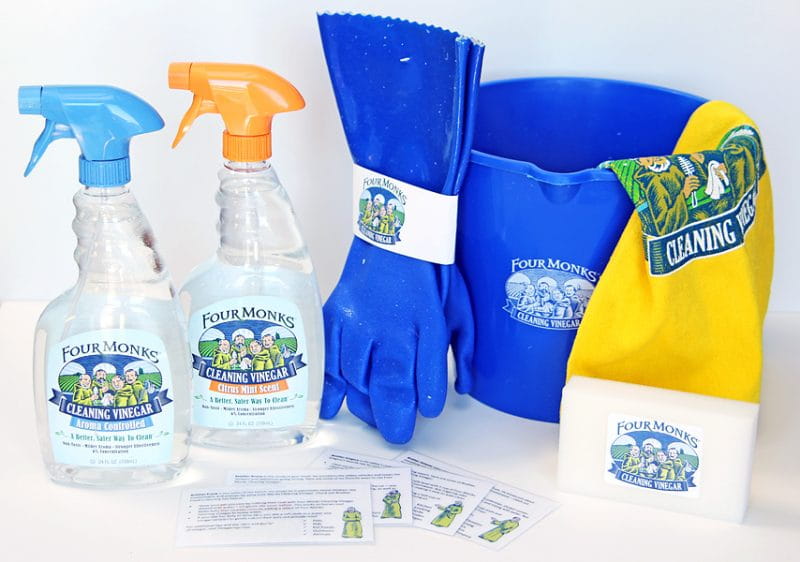 As part of the cleaning kit, they sent cleaning tips from the Four Monks so that I could make the most of my cleaning using the products.
I started in my kitchen, cleaning counters and appliances. I decided to tackle one of the toughest jobs in my entire house – the stove top. Burnt on, caked on grease. Yuck.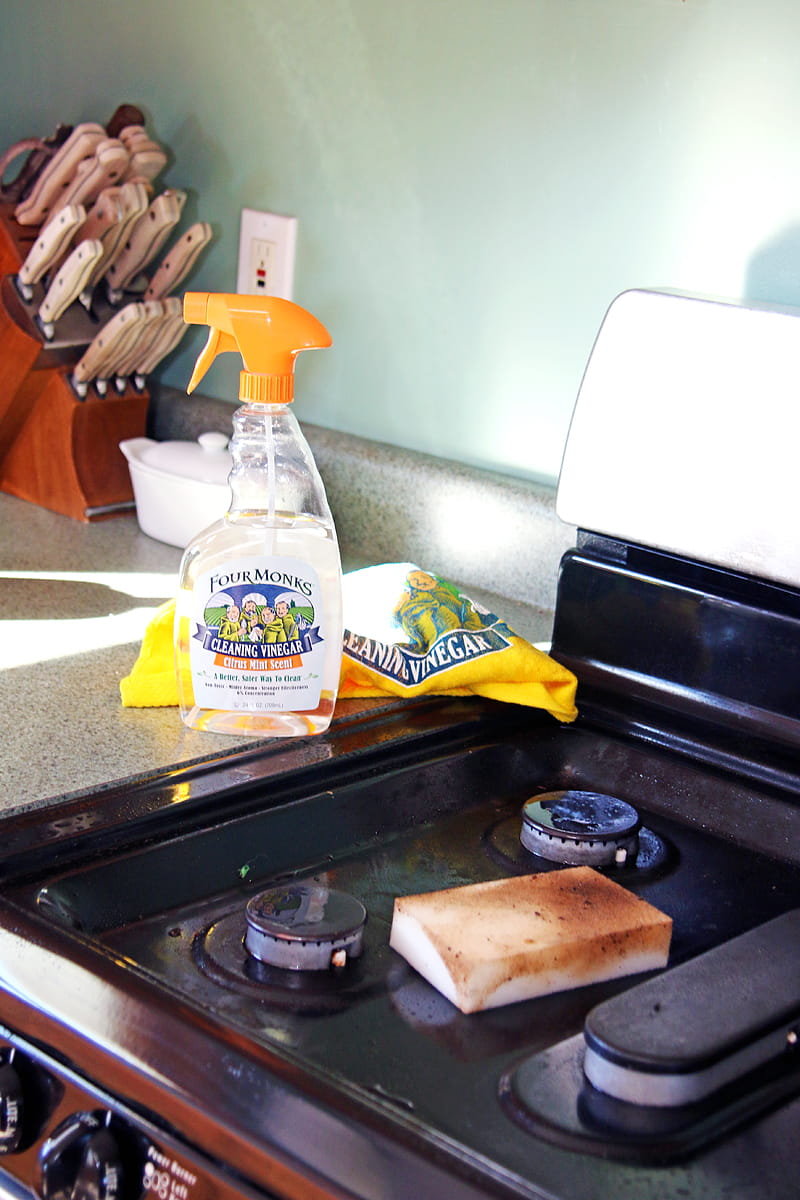 I have to admit that I was surprised at how well the Four Monks Cleaning Vinegar worked on my stove. It normally takes a ton of elbow grease to get it clean, and the gunk came off easier than ever.
I moved on to my bathrooms. I have 3 of them and I have no idea what kids do in there, but it's definitely not human. Four Monks made quick work in there too, I even used it on the toilets.
The rest of the week I used Four Monks Cleaning Vinegar for my routine cleaning on countertops and in sinks and it worked great! I love knowing that no matter what I use Four Monks on, that it's safe for my family.
For more information about Four Monks Cleaning Vinegar you can visit their website here: www.fourmonksclean.com.
Note: I received the products shown and a promotional item in exchange for sharing my experience with Four Monks Cleaning Vinegar.