Disclosure: This post was sponsored by FoodSaver through their partnership with POPSUGAR Select. While I was compensated to write a post about the FoodSaver Vacuum Sealer System, all opinions are my own.
How much food have you thrown away this week? This month? This year?
As a busy mom, it can be a struggle to remember to reheat leftovers (just what the heck is that now furry, brown lumpy stuff in the back of the fridge?), and sometimes you just don't want the same meal the next day. It's easy to toss a brand new package of chicken in the freezer only to discover it is freezer-burned even a few weeks later. Have you ever tried to eat freezer-burned meat? May as well just cut out the middle man and lick the frost off the inside of your freezer.
Or what about that half-finished bottle of wine? I have heard that some people actually only have 1 glass of wine at a time. Those people would probably like their wine to taste fresh every time.
And that package of (hello, expensive) gluten-free bread flour you bought but haven't had time to try? Plus the umpteen other things you bought because you had delusions of one day actually baking something. Or what about that time you stocked up on liver because of a great sale?
How long will all of this food last until you have a chance to use it?
With the FoodSaver® V4865 2-In-1 Vacuum Sealing System your food can stay fresh up to 5 times longer. Which gives you 5 times more time to procrastinate, yay!
The FoodSaver® V4865 2-In-1 Vacuum Sealing System gives you "More Ways to Seal. More Ways to Save™". It is a fully-automatic unit that helps you create the perfect air-tight seal for whatever food you want to keep fresh. The FoodSaver® system can seal bags, rolls, zipper bags, jars, bottles and more combining heat seal and handheld vacuuming in a single unit.
FoodSaver® V4865 Features
Easy to clean drip tray
Fully-automatic
Extra-wide sealing strip for an air-tight seal
Built-in bag cutter and roll storage
Moist/Dry setting to achieve the perfect seal no matter what type of food
Built-in retractable handheld sealer for sealing zipper bags, canisters & containers
Handheld sealer also allows you to easily marinate foods with a single touch
PulseVac™ button to seal soft/delicate foods without crushing them
The FoodSaver® sealer is so easy to use, no matter whether you are using the heat-seal option with a bag or the air-vacuum handheld sealer for a jar or canister. It is a super versatile part of my kitchen – with this single unit there are no limits to the types of food I can keep fresh.
I was especially impressed with its ability to sense the bag and food type for the perfect seal. Sucking too much air out too quickly can destroy the food you are trying to preserve. I've used other sealers and have experienced the "pucker phenomenon" where the machine sucks way too much air out and it seems like it turns your food inside out. The handheld sealer has been super handy to help keep the things that I store in mason jars fresh like coffee, flour and sugar.
The FoodSaver® V4865 Sealer System comes with a variety of bags to help you get started on your fresher food journey. It includes heat-seal bags, zipper bags and rolls. It also includes a regular jar sealer (wide mouth can be purchased separately) and a bottle stopper.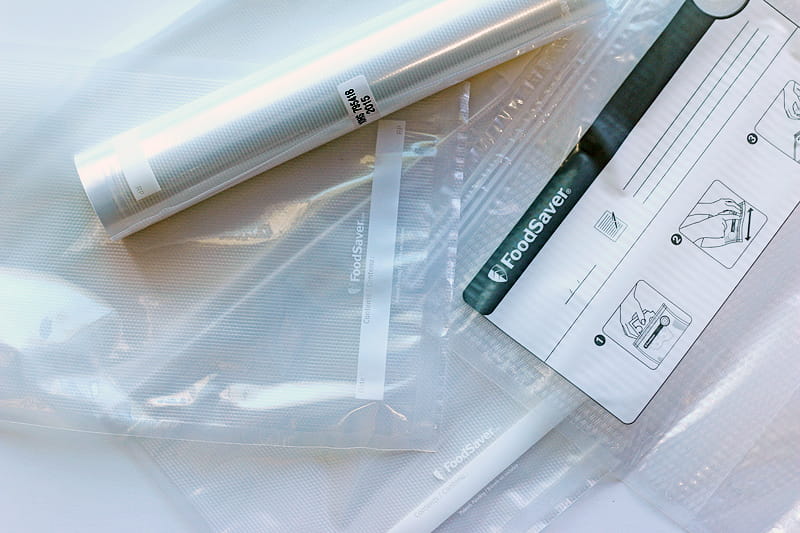 As I mentioned, the FoodSaver® V4865 system is simple to use. To vacuum/heat seal bags, you simply place the bag into the slot, and the unit automatically vacuums the air out of the bag and seals it perfectly. The video below shows exactly how simple it is.
Sealing a wine bottle is just as easy using the retractable handheld sealer. This pretty much changes everything! Storing opened bottles of cooking oils and wine will never be the same in my house.
The jar sealing accessory is by far the most used part of the FoodSaver® V4865 sealer in my house. We store so many things in jars that we access semi-regularly, it's such a relief to know that the contents can be kept fresh in between uses. I've even taken to keeping the FoodSaver® machine on my counter, which anyone who knows me knows is a big deal. I like my counters to have the bare minimum on them.
Keeping food fresher up to 5 times longer, the FoodSaver® V4865 Sealer System can save the average family around $2,700 per year because it helps prevent waste and allows you to buy in bulk and take advantage of great sales. If you are so inclined, it also allows you the ability to buy like 10 bottles of your favorite types of wine, sample them all and keep them fresh and finish them the 
next day
.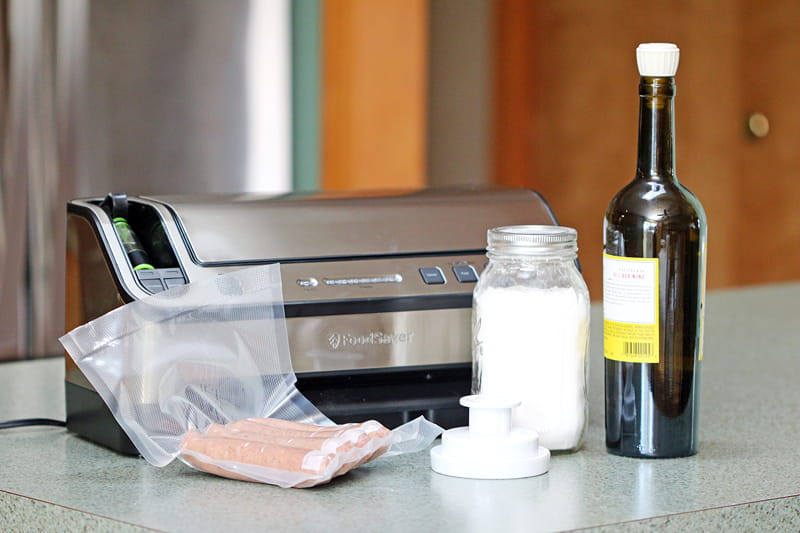 FoodSaver® V4865 2-In-1 Vacuum Sealing System really has redefined fresh for my family. It means less wasted food and less guilt over wasted food. It means saving money and it means better tasting food as well. It doesn't matter what kind of food, from meats and vegetables to sauces and gravies, you can heat-seal pretty much any type of food in FoodSaver® bag for freezing. Combined with the ability to keep bottles and jars fresh as well, it's less of a 2-in-1 system and more of an all-in-one!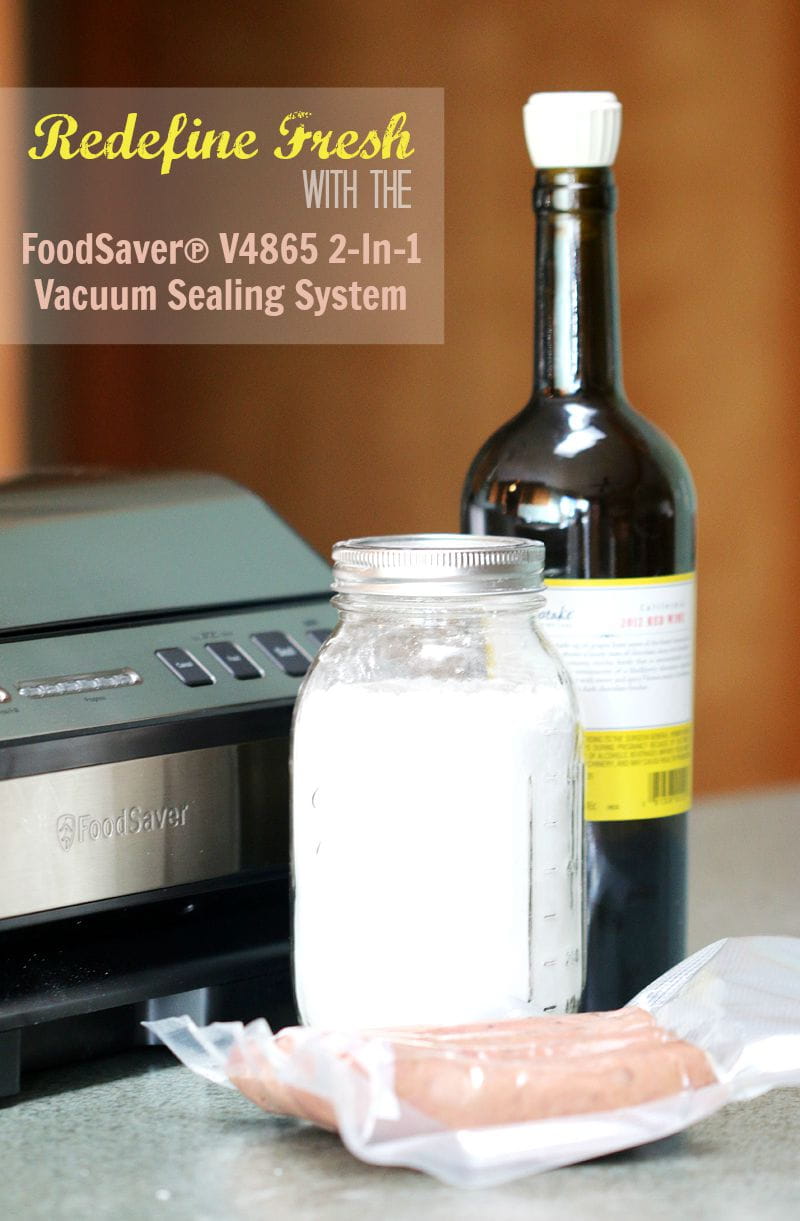 How much food do you think you waste?