I hate liquid hand soap.
HATE.
I always feel like it is still in between my fingers after washing my hands, it feels all sticky and I have to re-rinse a few times.
I may be a bit compulsive but it is what it is.
Combine that with my recent coconut allergy and I was left with a difficult situation.
But with a little perseverance there is always a solution.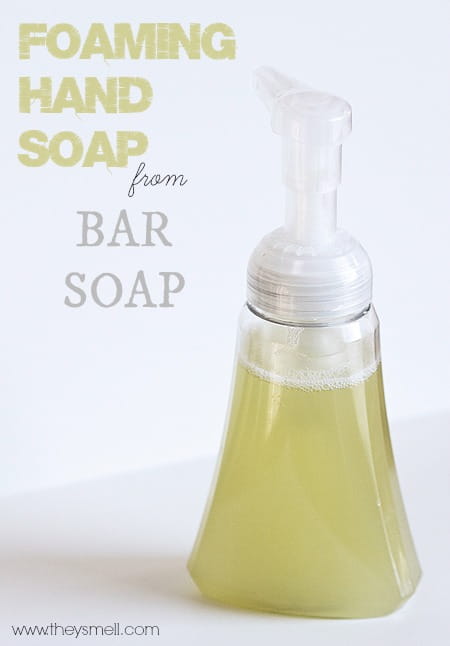 I used to make foaming hand soap with Dr. Bronner's castile soap but my recent coconut allergy has unfortunately removed that as an option for me. I essentially have found only a few bar soaps that I can use that I can buy commercially. There are alternatives online but with those come a hefty price tag.
This pretty little bar soap can be found at many retailers near me and is affordable even online.
Kiss My Face Pure Olive Oil Soap.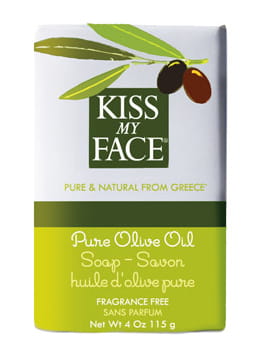 I love this stuff.
I use it for everything now from shampoo to making my own homemade laundry detergent.
And now I use it for foaming hand soap too!
Ideally you need a blender and a box grater to make this but you can certainly improvise if you don't have them. You will also need foaming soap dispensers. I bought cheap foaming hand soap from Target and poured the soap out and washed the containers until I can do something fancy with glass jars.
Print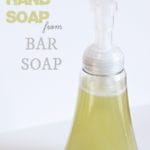 Foaming Hand Soap from Bar Soap Recipe
---
Ingredients
1/4 cup grated bar soap
2 cups boiling hot water
---
Instructions
Grate soap with a box grater or other tool.
Place grated soap in blender and pour in boiling water.
Pulse slowly until all pieces of soap are dissolved. Do not blend too fast, it foams up very quickly. SHORT PULSES.
Let foam settle and pulse again to ensure the soap is all dissolved & blended.
Repeat once or twice more.
Allow to cool a bit.
Pour into foaming soap containers.
---
Notes
I would make this in small batches as indicated in the recipe – don't try and double it. If you need more, just repeat. Because it foams some when blending you want extra room in the top of the blender.
Now, I must warn you that this does not dispense like whipped cream out of a can like some foaming soaps do. It's a bit looser and more liquidy (my word but you can use it) but still foams and does not, I repeat – DOES NOT leave sticky soap between my fingers.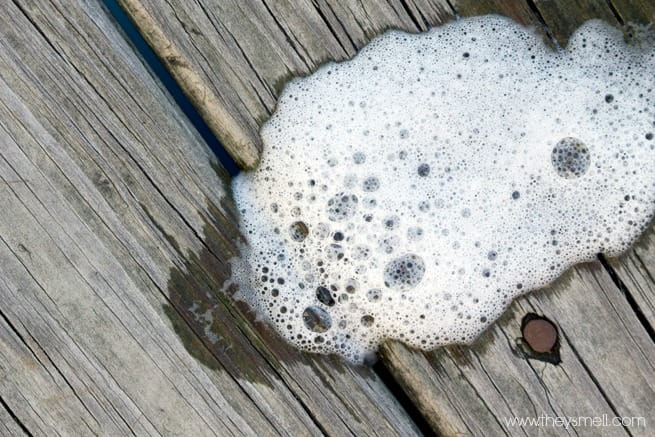 I'm so happy this worked because I have to admit that the first time I tried it, it didn't work. I had tried adding some honey and lemon for scent the first time and something weird happened and it would not foam and smelled weird.
What's that smell?
This has a faint scent of the original bar soap but it isn't very strong at all.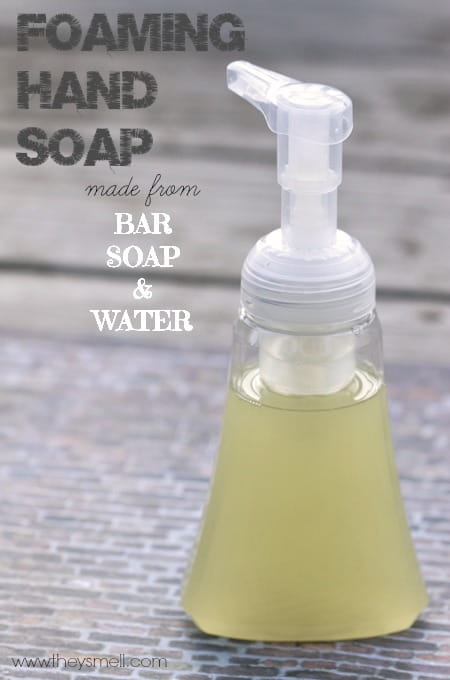 Join our newsletter!
Subscribe to get updates and great stuff via email including subscriber-only goodies like free printables and giveaways.

Hey links in this post may be affiliate links. They help me buy soap.