Have you ever looked at the ingredients in store-bought hand soap? I bet if you have, you have no idea what they are, let along how safe they really are (or aren't) for you. And finding a foaming hand soap that isn't made with questionable chemicals isn't easy or affordable.
Even the popular "safer' brand Method includes sodium laurel sulfate as an ingredient which is classified as a toxin in some countries. We had resorted to non-foaming hand soap but I really prefer the foaming. It seems to wash off better.
I have come across "recipes" on the web to make soap, but frankly some things I just don't have time to do, so the other day I tried an experiment. I took some of my Dr. Bronner's castile soap, poured it into an old foaming hand soap dispenser, topped it off with water and voila!
It worked!
It foams, smells great and has ingredients that don't scare me.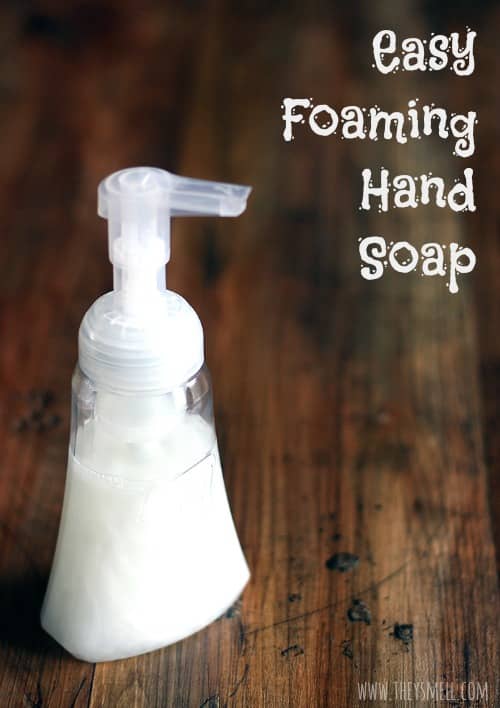 How to Make Foaming Hand Soap
What you need:

Empty foaming hand soap bottle. I bought one for $1.50, pouring the soap out, rinsed it until the water ran clear, then let it dry.
Dr. Bronner's Castile soap. You can buy this online at Amazon.com, at Target stores, Meijer, and numerous other places online. It seems pricey but it's concentrated. A little bit goes a long way. My 32oz bottle lasts a few months and I use it for everything. I even refill kitchen sprays and shampoo with it.
How to make:
Fill bottle a little less than 1/4 full of Dr. Bronner's soap. Fill the remainder with water. It takes a few pumps to build up the pressure, but it works great! I do find the soap settles a bit so I do shake it up every once in awhile. Not sure I need to, but I do it anyway.
Compare ingredients:
Below are the ingredients of the Method Green Tea & Aloe foaming hand soap:
 Aqua (Water), Sodium Lauryl Sulfate, Cocamide Dea, Cocamidopropyl Betaine, Glycerin, Aloe Barbadensis Gel,Tocopheryl Acetate (Vitamin E), Citric Acid, Sodium Chloride, Sodium Citrate, Benzophenone-4, Methychloroisothiazolinone, Methylisothiazolinone, Parfum (Fragrance), Yellow 10, Green 5.
Below are the ingredients of the Dr. Bronner's Peppermint Soap:
INGREDIENTS:
Water, Organic Coconut Oil*, Potassium Hydroxide**, Organic Olive Oil*, Mentha Arvensis*, Organic Hemp Oil, Organic Jojoba Oil, Organic Peppermint Oil*, Citric Acid, Tocopherol

* CERTIFIED FAIR TRADE INGREDIENTS
** None remains after saponifying oils into soap and glycerin
Which do you prefer your kids wash their hands with?