This fitness challenge is a 30 day fitness workout plan for January and is designed for intermediate and advanced levels. The plan has a specific workout for each day of the month laid out on an attractive printable calendar. Print out this free workout calendar to get in shape and achieve your New Year's resolutions.
If you can't get to a gym, can't afford it, or just prefer to workout at home, body weight exercises are the perfect option for you to combine cardio and strength training which is key for a well-rounded fitness program. I have a gym membership but sometimes I just can't get there (like in this -15 degree weather) so I like to have a good fitness challenge printed out to take advantage of so I don't miss my workout altogether.
I put together this simple 30 day fitness calendar for just those days.
Fitness Challenge – 30 Day Fitness Advanced Workout January 2018
This workout calendar is designed for intermediate and advanced fitness levels, so if you are a beginner, you may want to check out our much easier beginner workout calendar. Or you can try and challenge yourself and give it a shot and see how you do. Every time you do it, you can track how much closer to the listed reps you get. This way it gives you something to strive for.
If this isn't enough for you and you want more body weight exercises, check out the following resources: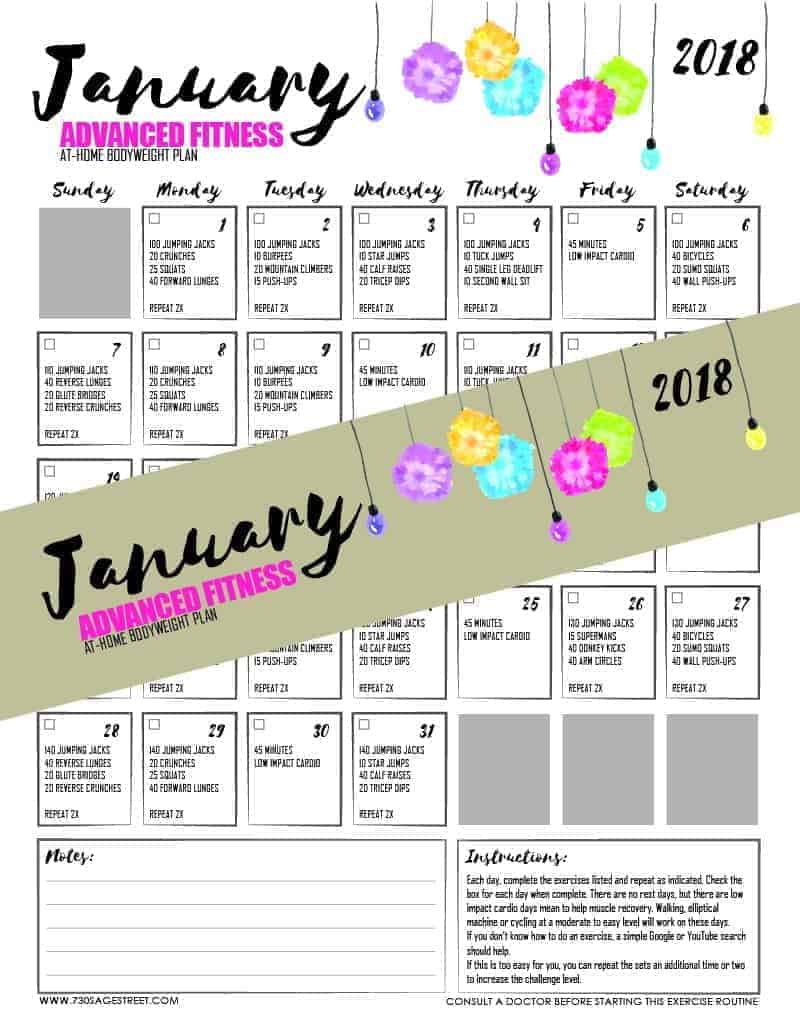 Check out our other workout plans too!
Looking for a blank calendar to fill out your own workouts? Check out our Free Printable Calendar 2018.
Grab the FREE printable