This post, Fire Safety Bingo – October is Fire Prevention Month, is a sponsored post written by me for First Alert for National Fire Prevention Month as part of the #SuperPreparedFamily campaign. Opinions are my own.
When I was a kid, maybe 11-years-old or so, the house across the street from us exploded. Literally. I remember feeling the heat of the fire while standing on our front stoop, mesmerized by the flames. Thankfully, no one was at home when it happened, but the devastation was still heartbreaking. Walking through the wreckage in the days after, the piles of burnt household items and building materials is something I will never forget.
Fire safety is something many people take for granted. As a kid, the only time fire safety was mentioned was during a fire drill at school. I don't remember talking about it at home, even after the big fire across the street.
Things are different now though, awareness is on the rise, and there are a lot of great safety products available that can help keep your family prepared. October is National Fire Prevention Month which makes it the perfect time to ensure that your family is super prepared in the event of a fire. But fire isn't the only concern in our homes. Carbon monoxide is called "the silent killer" because it is a colorless, odorless gas that cannot be detected without an alarm.

MY LATEST VIDEOS
How to be a super prepared family
Nearly 3,000 Americans die each year from fires that happen in homes. Many of these deaths could have possibly been avoided with education, planning, and working alarms. Below are some steps you can take to help your family learn what to do in an emergency so that you can be super prepared should danger strike.
Have a safety checklist
National Fire Prevention Month is an ideal time to put together a safety checklist for your home. Get the whole family involved! You will want to include items like testing alarm functionality, replacing batteries, checking alarm expiration dates (and replacing if need be), establishing and practicing your family escape route, and reinforcing your meeting place location. You can also include checking for potential fire hazards by cleaning dryer vents and having the furnace serviced.
Plan a fire escape route
Planning a fire escape route with your family is critical for safety. You can't always prevent a fire, but a well-practiced plan can mean the difference between getting out safely and tragedy. The plan should include two ways out of each room (doors and windows), and each family member needs to be aware of where they are. You can literally practice your plan just like a fire drill. Assign an older child to be responsible for creating the plan, it's a great way to get them involved.
Have a meeting place
A lot of families forget this step, but it's important to have a meeting place outside the home. This makes it easy to know quickly that everyone made it out safely. It should be easily accessible but far enough away from the house to ensure it's a safe place.
Replace and test alarms
Smoke and CO detectors don't last forever. Newer devices last around 10 years and should be replaced. If you have older devices that use a regular battery, consider replacing your older units with new units that contain 10-year sealed batteries (lithium power cell). All devices should be tested weekly to make sure they are functioning.
I just realized that many of our devices are original to our home, which was built in 2005. I am replacing all of them right now with First Alert products with a 10-year alarm life.
Devices to consider
Every room in your home should have some sort of fire safety device in it. First Alert recommends smoke and fire alarms and co alarms in bedrooms, living areas, kitchen, and in the basement. They recommend smoke and fire alarms in hallways. Fire extinguishers should be placed in hallways, living areas, kitchen, basement and in the garage.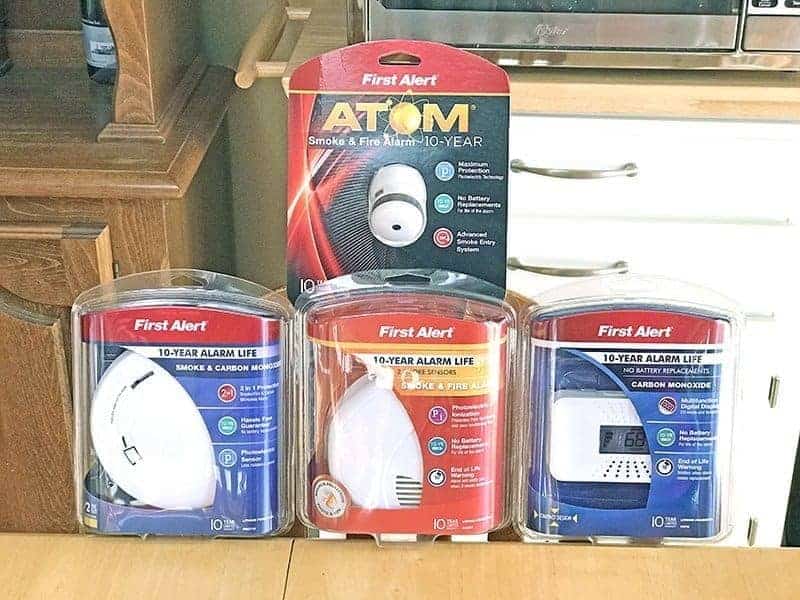 Fire Safety Bingo
It's no secret that it's much easier to engage kids and educate them when you make something fun, so I put together this fire safety bingo printable that you can use to help kids learn important vocabulary and reinforce and concepts you have talked to them about such as the escape route, and the importance of the different safety devices. The fire safety bingo printable includes 4 unique bingo cards and two sheets of bingo callers that you cut out and use as the bingo balls.
Scroll down to snag your fire safety bingo printable.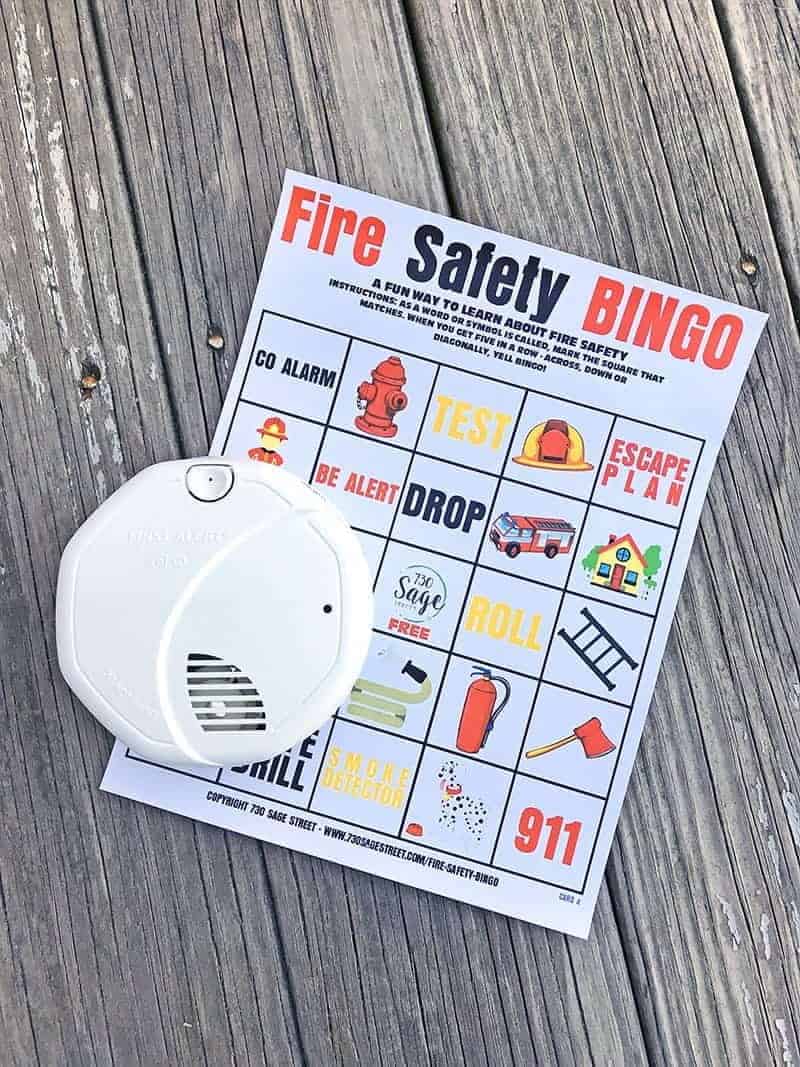 PRINTING TIPS
The PDF should print easily to your default print size without having to change anything. It prints to an 8-1/2 x 11 size sheet which is standard paper size.
Use cardstock so it holds up!
Consider getting a laser printer for your printables for a high-quality print.
PRINTABLE USE TERMS
730 Sage Street has provided this printable free of charge for personal use. You may NOT link directly to the PDF file, redistribute, sell, resell, or use commercially. This is a violation of the terms of the graphics and the copyright. Personal use includes printing the document for parties, classrooms, homeschool, church, community activities, etc.
Check out our printables category for more great printables and activities.
GRAB THE PRINTABLE
Fire Safety Bingo free printable.
If you are hoping to use this printable in a classroom situation, I put together a package of 30 unique bingo cards for classroom use. To snag that one, use the form below to subscribe to our email newsletters. The printable will be emailed to you.