When it comes to fire safety at home, the first step in protection is DETECTION.
Smoke alarms and Carbon Monoxide alarms are a critical tools to help protect your family in case of a fire. They alert you to a problem immediately to allow you to get to safety.
But there are other tools you can keep in your home that will take your fire safety to the next level, because nothing is more important than the safety of your family.
Kidde Fire Extinguisher 
Having a Kidde Fire Extinguisher in the house helps me feel a bit more in control. Should a fire break out that blocks an exit, the fire extinguisher will give us a better chance at getting out. We keep ours under the kitchen sink because having a gas stove there is certainly more opportunity for a fire to start in the kitchen. Plus we have 2 ways to exit out of our kitchen, it's sort of a central area so there is a better chance someone can get to it, especially if we only have one. I do plan on getting a couple more extinguishers. I want to put on in the garage and one downstairs as well. They don't take up too much room, and are affordable so you don't have to compromise on your family's safety.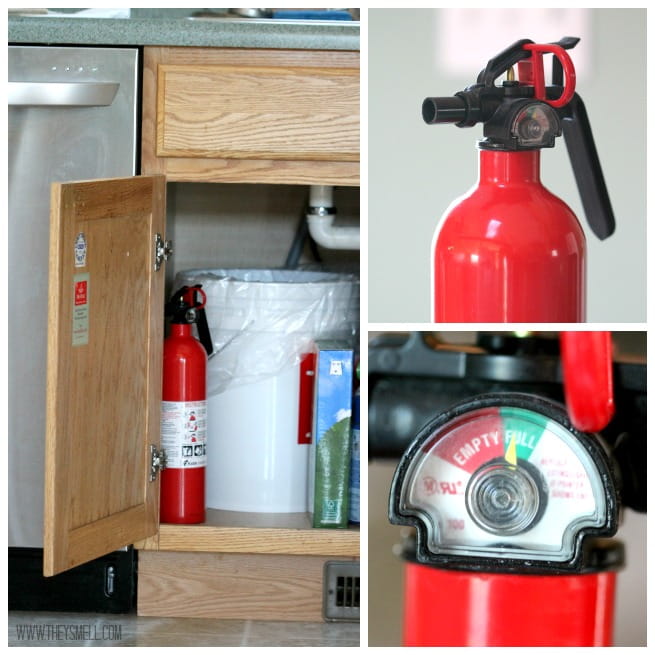 Life+Gear Fire Safety Night Light 
Practicing an exit strategy from your home in case of a fire is important to help your children understand how to get out of the house safely in case of a fire. The Life+Gear Fire Safety Night Light helps make it a bit easier to follow the exit plan and make it to safety.

Nothing is more important than getting out of the house in case of a fire.
The Home Depot knows this and they put together the fire safety escape plan graphic below to help you and your family plan to stay safe.
In my previous post about fire prevention, I ran a giveaway sponsored by The Home Depot that gave one lucky winner a head-start on their fire safety planning. Everyone provided great tips for fire safety and one winner was selected at random.
And the winner is:
a Rafflecopter giveaway
As October comes to a close, your focus on fire safety shouldn't end. Cold weather brings with it many different safety challenges and there are a number of things you can do to help keep your family safe. Considering printing the checklist below and placing it somewhere you will always see it so that fire safety is always a priority in your home.
The Home Depot Disclosure Statement
The Home Depot partnered with bloggers such as me to help promote Fire Safety Month. As part of this promotion, I received compensation for my time. They did not tell me what to purchase or what to say about the products used. The Home Depot believes that consumers and bloggers are free to form their own opinions and share them in their own words. The Home Depot's policies align with WOMMA Ethics Code, FTC guidelines and social media engagement recommendations. The giveaway winner will be chosen at random and prize fulfillment will be handled by a third party.
Join our newsletter!
Subscribe to get updates and great stuff via email including subscriber-only goodies like free printables and giveaways.

Disclosure: Post and giveaway sponsored by The Home Depot, but all opinions are my own. Please see below for additional disclosure.