Once upon a time I wanted to be a volunteer firefighter.
Wait.
That was just last month.
I actually still want to be a firefighter but only time will tell if that dream comes true. Hopefully they offer another agility test.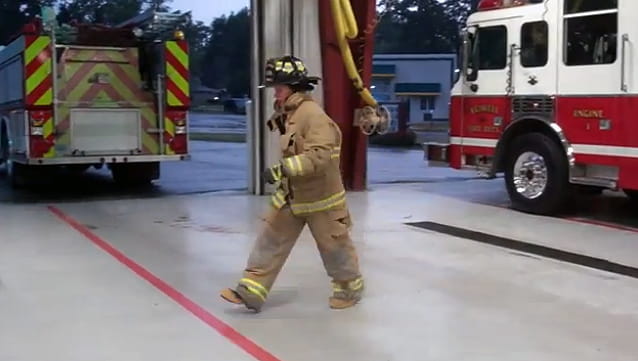 In the meantime I believe it is critical to teach my kids about fire safety and make sure that we have the tools necessary to protect ourselves should the need arise.
And October is the perfect time since it is Fire Safety Month!
Last week during Fire Safety Week, the local fire department visited my kid's school and my daughter was quite taken with the entire thing. She was ECSTATIC to have made the local paper as well. Not that anyone would know it was her besides us, but I'm certainly not going to take the wind out of her sails.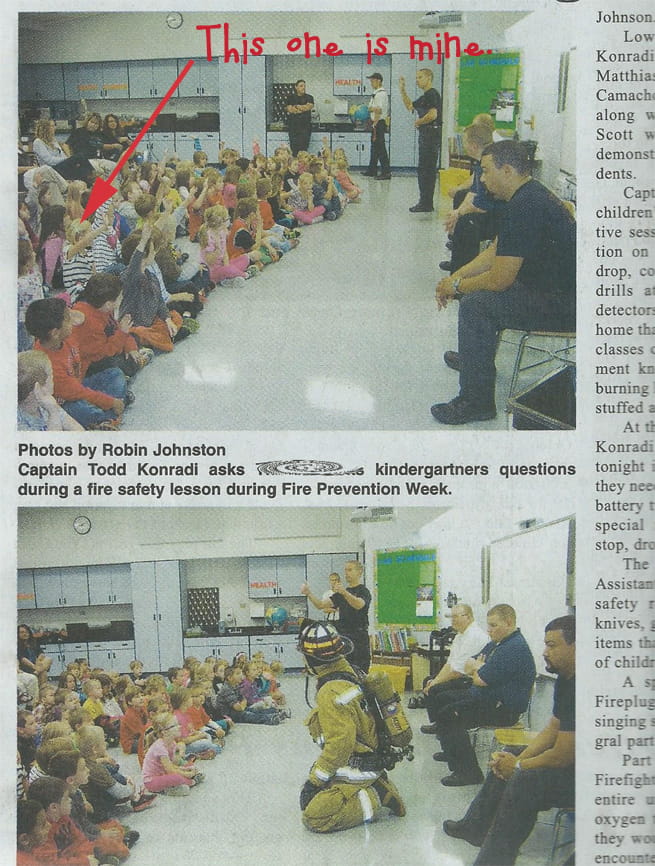 Fire safety is such an important topic but also one that is easy to overlook. None of us want to think about something happening, but it can and with fire it can create an extreme amount of damage in such a short time.
Five Ways to Help Protect Your Family and Your Home
Obviously when it comes to fire, prevention is the first line of defense. But tragedy is rarely something we have control over so the next crucial element is making sure your home and family is equipped to handle it if it does happen.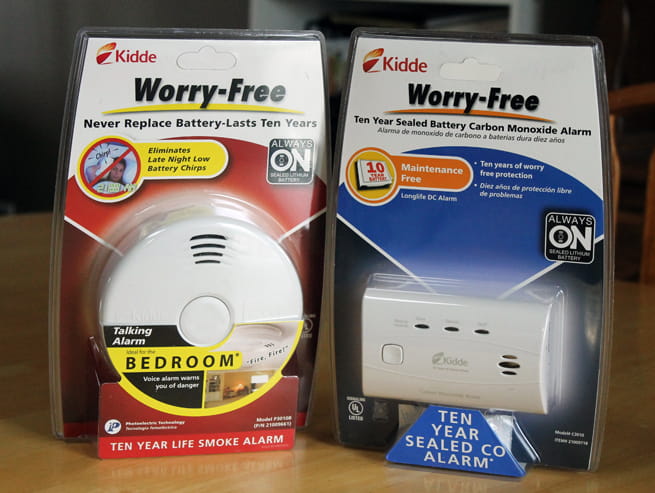 #1 – Smoke Alarms
Installing smoke alarms in every room of your home will ensure that you are alerted immediately should a fire break out in your home. You should install a smoke alarm on every level of your home and inside EACH bedroom.
The Kidde 10-Year Bedroom Sealed Lithium Battery Operated Smoke Alarm with Voice Alert is a great option for bedrooms because the voice alarm improves wakening from sleep. What is great about this alarm is that the 10-year battery never needs replacing! After 10 years you replace the alarm. No more climbing up to change the battery, no more chirping and big money savings not having to replace the batteries every 6 months or more.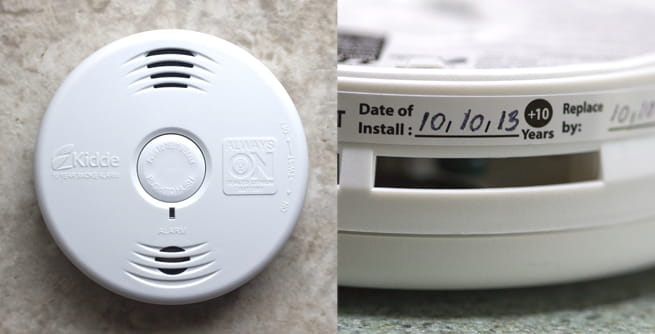 It's also super easy to install with a simple mounting plate. Twist the alarm into place to activate it and you can add some peace of mind to your family. This alarm is exclusive to The Home Depot.
#2 – Carbon Monoxide Alarms
Carbon Monoxide is known as the silent killer. It may or may not have a fire source associated with it so it is very important to have a CO detector in your home. It can cause illness or even be fatal if left undetected. You should install a CO alarm on every level of your home.
The Kidde 10 Year Lithium Ion Battery Operated CO Alarm is a worry-free way to protect your family from the dangers of carbon monoxide. The battery lasts 10 years, and then you replace the entire unit. This maintenance free alarm will save you money and give you peace of mind. You can save up to $40 over the life of the alarm.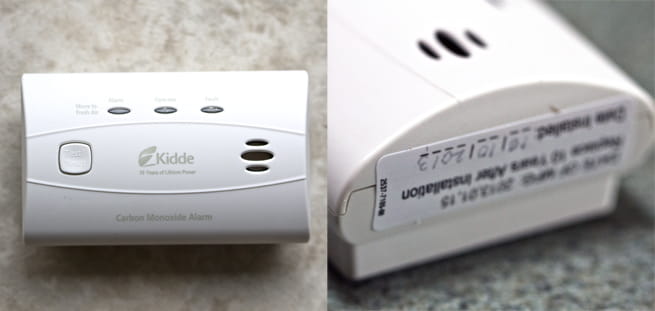 This unit is very easy to mount. It has a backing plate that you attach to the wall and slide the unit onto and you are ready to go. This alarm is exclusive to The Home Depot.
#3 – Practice Exit Drills
Having alarms is critical but without teaching your kids a plan for getting out of the house, they may not be enough. Talk to your children about how to maneuver through a smoke-filled room and how to test for fire behind a door. Also teach them to stay low and have definite plans for the best ways out of the house (including 2 exits from each room) should a fire occur. Select a central meeting place outside, like the tree at the end of the driveway. And PRACTICE your exit plans.
#4 – Test Alarms
Make sure you test your alarms regularly to ensure they are working properly. It's no good to you if it doesn't work. Testing is easy, it usually just involves holding the button on the front of the alarm down for a certain number of seconds. It takes mere seconds and can mean a great difference in whether or not your family gets out in time.
#5 – Additional Equipment
In addition to smoke alarms and carbon monoxide alarms, fire extinguishers and fire safety night lights can help keep your family safe.
Kidde at The Home Depot
The Home Depot believes that fire safety is such an important topic that they are hosting workshops to help people learn how to install smoke alarms, create escape plans and test their homes electrical wiring for safety.
The Home Depot is hosting its own Do-It-Yourself Electrical Updates workshop on October 19th in stores around the country! Learn how to install a smoke alarm, create an escape plan and learn to test your home's electrical safety. Register online here: DIY Workshop.
In order to help you practice fire safety at home, The Home Depot and Kidde have teamed up to help raise awareness about fire safety. In order to do that they are offering a fire safety prize pack that includes a Kidde Smoke Alarm and a Life+Gear safety night light.
For more information visit:
Giveaway: What is your family's favorite fire safety tip?
a Rafflecopter giveaway
Giveaway terms & conditions:
Giveaway is open to the 48 U.S. contiguous states and ends on October 24, 2013 at 12:00 am CST. Winner will be selected at random from all eligible entries and will be contacted by email. Winner will have 48 hrs to respond. Please add kim@theysmell.com to your trusted email filter. If original winner does not claim their prize within 48 hrs, it is forfeit and a new winner will be selected promptly.
The Home Depot Disclosure Statement
The Home Depot partnered with bloggers such as me to help promote Fire Safety Month. As part of this promotion, I received compensation for my time. They did not tell me what to purchase or what to say about the products used. The Home Depot believes that consumers and bloggers are free to form their own opinions and share them in their own words. The Home Depot's policies align with WOMMA Ethics Code, FTC guidelines and social media engagement recommendations. The giveaway winner will be chosen at random and prize fulfillment will be handled by a third party.
Join our newsletter!
Subscribe to get updates and great stuff via email including subscriber-only goodies like free printables and giveaways.

Disclosure: Post and giveaway sponsored by The Home Depot, but all opinions are my own. Please see below for additional disclosure.