Discover the rich and flavorful cuisine of the Philippines with these 15 mouth-watering beef recipes. From savory stews to spicy stir-fries, each dish showcases the unique blend of Spanish, Chinese, and indigenous flavors that make Filipino food so delicious.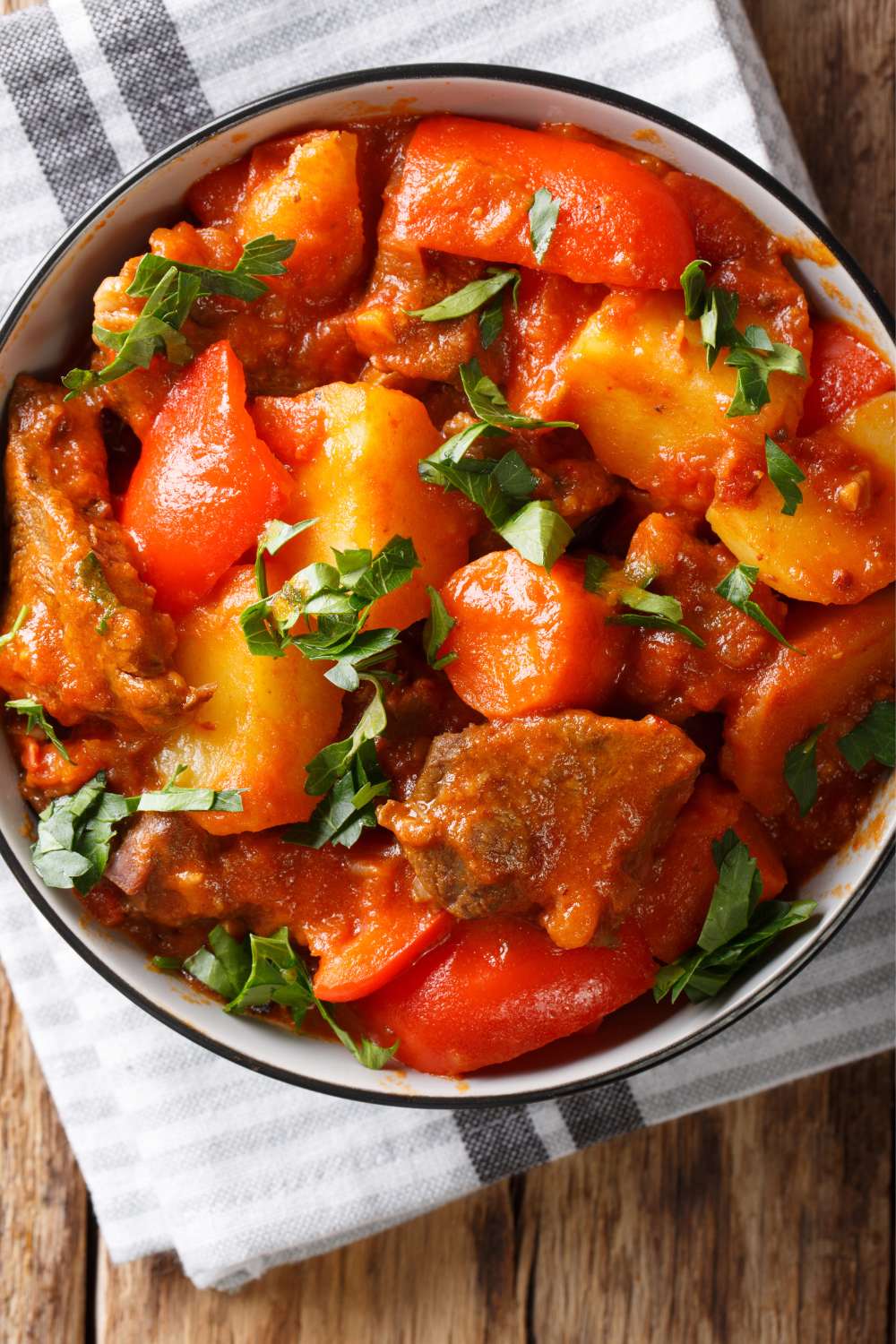 Take a culinary journey to the Philippines with these 15 delicious beef recipes, featuring savory stews, spicy stir-fries, and more:
Experience the flavors of the Philippines with Beef Caldereta, a meaty and spicy beef stew ideal for celebrations. Spicy tomato sauce seasoned with fish sauce, bay leaves, chile, and liver spread is simmered with beef brisket or ribs until the meat is fork-tender.
A colorful array of vegetables including potatoes, carrots, bell peppers, and green peas are combined with a cheesy topping. Served over steamed rice, this dish will make any day seem a little bit cozier.
Filipino Picadillo is a savory dish made with ground beef and pork, diced vegetables, and a combination of sweet and savory seasonings. The dish is typically served with steamed white rice and a fried egg on top.
To make it, yellow potatoes and carrots are sautéed until tender and then set aside. Ground beef and pork are browned in the same pan, and then tomato paste, diced tomatoes, raisins, fish sauce, soy sauce, and chili garlic paste are added to the mixture. The vegetables are added back in, and the dish simmers until the liquid has mostly evaporated. This hearty and flavorful dish is perfect for a family dinner or a casual weekend brunch.
Beef Mechado is a classic Filipino dish that features tender chunks of beef braised in a savory tomato sauce with a blend of flavorful seasonings. The dish is made by browning the beef in a heavy-bottomed pot and then sautéing garlic and onion until fragrant. The beef is then returned to the pot along with a mixture of beef broth, soy sauce, tomato sauce, and various spices. The mixture is simmered in the oven for several hours until the beef is fall-apart tender.
For an extra kick of flavor, some variations include diced potatoes and olives or a mix of vegetables such as carrots and bell peppers. Beef Mechado is a comforting and satisfying meal that is perfect for sharing with family and friends. Serve it with a side of steaming hot rice or some crusty bread to soak up all the delicious sauce.
Beef Adobo, or Adobong Baka, is a delicious Filipino dish that features tender slices of beef marinated in a flavorful mixture of soy sauce, vinegar, garlic, and brown sugar.
The dish is typically cooked slowly in a pot with bay leaves and peppercorns until the beef is tender and the sauce is thick and flavorful. The addition of vinegar gives the dish a tangy and slightly sour taste that complements the richness of the beef. Beef Adobo is a classic and versatile dish that can be served with rice, potatoes, or vegetables, and is perfect for a comforting and hearty meal.
This easy Beef Steak Tagalog recipe is a classic Filipino dish that's perfect for any occasion. Thinly sliced sirloin steak is marinated in a flavorful mixture of dark soy, Kikkoman, calamansi, garlic, and olive oil, resulting in tender and juicy meat.
The caramelized onions add a sweet and savory depth of flavor, and the freshly cracked black pepper gives it a little kick. The marinade is transformed into a delicious sauce that's perfect for drizzling over rice. This dish is quick and easy to make, yet packs a flavor punch that's sure to impress.
Filipino Beef Salpicao is a savory dish that is a perfect match for plain white rice. This dish is made with tender cubes of beef that have been marinated in a blend of Maggi seasoning, Worcestershire sauce, paprika powder, and garlic for at least two hours.
After searing the beef cubes until they are well-browned, they are combined with butter and cooked until tender. Sliced garlic chips are then fried until lightly browned and served on top of the beef for an added kick of flavor. This dish is a perfect choice for anyone looking for a hearty and satisfying meal.
Bring the bustling streets of the Philippines right into your home with this easy Beef Pares recipe! Tender chunks of beef brisket, shank, or cubes, slowly braised in a flavorful broth of onion, peppercorn, and fish sauce served with a hearty and aromatic beef stew.
Sautéed onions, ginger, and garlic add an extra depth of flavor, while soy sauce, star anise, bay leaves, brown sugar, and five-spice seasoning work their magic to create the perfect savory and sweet balance. Garnish with spring onions and serve with a bowl of steaming beef soup and fried garlic rice for a complete and satisfying meal that will surely warm your soul.
Beef Pochero Tagalog is a classic Filipino dish that is hearty and full of flavor. This dish is made with tender beef short ribs, and a variety of vegetables such as cabbage, bok choy, green beans, potatoes, and garbanzos.
The addition of sagging na saba, or ripe plantains, gives the dish a subtle sweetness that balances out the flavors of the stew. The tomato sauce and whole peppercorns add a rich depth of flavor, while a pinch of sugar provides a touch of sweetness. This dish is perfect for a comforting family meal and is best served with steamed rice.
Kare Kare, or Filipino Beef and Peanut Stew, is a rich and soothing dish best made in a slow cooker. Tender beef, eggplant, and green beans are cooked till falling apart and tossed in a thick and creamy peanut sauce in this hearty stew. This recipe is great for leftovers since the flavors improve with time in the fridge.
The annatto seeds give the dish a gorgeous marigold hue, making it visually appealing as well as flavorful. This stew would taste perfect on a bed of steaming rice.
Beef Tapa is a classic Filipino breakfast that you can now easily recreate at home. This savory and slightly sweet beef dish is perfect for breakfast, lunch, or dinner. The marinade of soy sauce, vinegar, sugar, and garlic gives the beef a distinct and flavorful taste. Cooked with some water and oil, this dish is easy to prepare and takes only a few minutes to cook.
Serve with fried rice, fried egg, and fresh tomato or cucumber slices, and don't forget the dipping sauce made of vinegar, fish sauce, and chilis for added flavor!
Philippine corned beef, also known as ginisang corned beef or corned beef guisado, is a home-style dish that's popularly eaten for breakfast. This quick-to-make dish consists of canned corned beef, onions, and potatoes, and can be pan-fried or simmered.
You can choose between the fried or stewed version of the dish, depending on your preference. The dish is served with freshly chopped cilantro, banana ketchup, and sambal olek, a fruity, fiery condiment made with red chili pepper sauce, fish sauce, and garlic. You can add extra Thai peppers or cayenne pepper powder to make it hotter, and use waxy potatoes to ensure that they remain firm and whole after cooking.
Soy-Marinated Filipino Short Ribs are an explosion of flavor in every bite! The short ribs are soaked overnight in a sweet soy marinade with hints of garlic, pepper, and calamansi juice, giving them a savory and tangy taste that's irresistible.
Grilled or pan-fried to perfection, they're tender and juicy, making them a perfect dish for any occasion. Top it off with some fresh green onions for added texture and flavor. This Southeast Asian-style dish is proof that the simplest ingredients can create an unforgettable meal.
Get ready to indulge in the bold and flavorful Filipino Pork Belly Sisig! With a thinly sliced pork belly and diced red onions cooked to perfection, this dish packs a punch of savory goodness. The Omsom Filipino Sisig Starter takes this recipe to the next level with its deliciously authentic flavor.
Top it off with a fried egg and a dollop of mayo for some extra creaminess, and serve it sizzling hot with a side of garlic rice or sautéed greens. This recipe is sure to satisfy your cravings for a hearty and delicious meal.
Tortang Giniling is a mouth-watering Filipino dish that's perfect for breakfast or a light meal. This ground beef omelet is unique, as it's made more like a fritter and filled with lots of veggies and beef.
You'll love the combination of sauteed onion, garlic, diced tomatoes, and peas mixed with ground beef. The mixture is then combined with lightly beaten eggs and fried to perfection, forming a crispy golden-brown omelet fritter. Each bite is savory, slightly sweet, and bursting with flavor. This recipe is perfect for anyone looking to try something new and delicious!
This Beef Ampalaya recipe is a classic Filipino dish that is a perfect balance of savory and bitter flavors. The thinly sliced beef strips are marinated in soy sauce, cornstarch, salt, and pepper, making them tender and flavorful.
The ampalaya, or bitter gourd, is sautéed with garlic and onions and then simmered in oyster sauce, sugar, and a touch of water until it's just cooked through. The beef is then added back into the pan and the sauce is thickened with cornstarch, creating a rich and tasty dish that's perfect served over steamed rice. To reduce the bitterness of the ampalaya, soak it in salted water and rinse it before cooking.
What Are The Most Cut Of Beefs Used In Filipino Recipes?
Filipino recipes commonly use various cuts of beef, including sirloin, flank, brisket, chuck, and short ribs. These cuts are typically braised, stewed, or slow-cooked to achieve a tender and flavorful texture. The type of beef cut used in a particular dish can vary depending on the recipe's regional or cultural origins, as well as personal preferences.
What Are Some Common Spices And Herbs Used In Filipino Beef Dishes?
Filipino beef dishes feature a variety of spices and herbs that add depth and complexity to the flavors. Some commonly used spices include garlic, onions, bay leaves, peppercorns, and ginger. Popular herbs include cilantro, parsley, and scallions.
These ingredients are often used to create aromatic marinades, savory broths, and flavorful seasonings that complement the rich, meaty taste of the beef. Some dishes also incorporate unique Filipino ingredients such as calamansi, annatto, and fish sauce to enhance the flavors further.