One of the easiest ways to spend quality time together as a family is to establish a family movie night. Ours usually also included a board game with it as well. It doesn't cost anything and we really cherish the time just hanging out with our kids. They seem to enjoy it as well and I swear they are better behaved when we do take this time together.
But it's always a challenge to find movies that we can all agree on, and movies that are appropriate for both of our children.
Thankfully Netflix makes this super easy!
Netflix is our go-to when it comes to picking a movie for family movie night and my kids actually have the net 4 movie nights planned out. Actually one of their selections isn't a movie, it's a classic TV series that their grandmother got them interested in.

We have already watched Chitty Chitty Bang Bang and they loved it. It was actually one of my most favorite movies as a kid so I got a real charge out of experiencing it again with them. I also am looking forward to Escape to Witch Mountain. I must have watched that one 200 times as a kid. I also remember watching the older version of Pippi Longstocking and I watched The Munsters in rerun all of the time. It's sort of like a flashback family movie night month!
Whether you like the classics you enjoyed when you were a kid, or whether you prefer newer family-friendly movies, Netflix has you covered! They have so many great movies to choose from, I can't imagine ever running out of movies or TV shows to watch with my kids.
But in addition to the great classics and newer movies and shows, Netflix actually has their very own original series from DreamWorks for kids called Turbo: Fast.

Turbo: Fast is a continuation of Turbo, DreamWorks' popular movie about an 'underdog' snail who kicks into overdrive with his miraculous power of super-speed, Turbo: FAST follows Turbo and his pals on their pursuit of big dreams, as they continue to amp up everything to the extreme.
If this is something your kids will enjoy, Netflix has also provided some fun printables to make your movie night complete.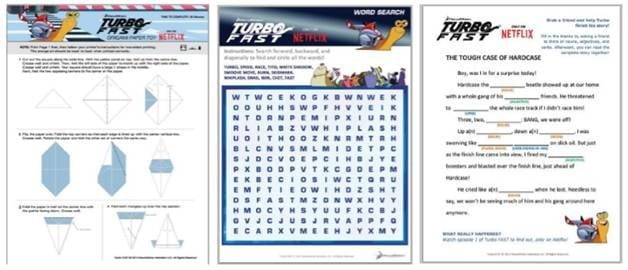 Download Turbo: Fast Printables
Do you have family movie nights with your kids? What are some of your favorite things to watch?
Note: I am a member of the Netflix Steam Team and will be sharing our family time experiences, ideas and inspiration with you each month. I received a Netflix subscription and a Roku 3 in order to facilitate my participation in this program. Opinions are my own.