This is a sponsored post written by me on behalf of Sonoma-Cutrer Vineyards. All opinions are 100% mine.
See what I did there?
Entertainingly challenged.
First, I totally made that up and second it's what they call a "double entendre" – a phrase that can be understood in more than one way. Trust me. It can. Since I made it up, I get to decide what it means. Plus, I had to look up how to spell entendre so I get bonus points.
Please don't make me explain the two different meanings. It totally defeats the point and makes me question my own level of cleverness.
So back to the whole entertaining thing.
I'm not good at it. I don't make fancy appetizers and creative meals. I can never seem to coordinate everything so it's done at the right time. I've served dessert before the appetizers and the appetizers the next day. True story. It was nice that I didn't have to share the appetizer because it really was good (it came from a box, I can't take credit), but it certainly made me feel like my gathering wasn't as successful as it could have been.
So I lowered the bar.
Which, the bar was pretty low anyway but, I'd much rather end a party feeling like it was successful than spend the next three weeks avoiding eye contact with everyone who attended because the dinner party actually didn't end up serving any dinner.
Maybe lowered the bar is the wrong phrase. I lowered my expectations of myself. And magic happened.
Are you Entertainingly Challenged?
Simple Touches to Make Your Holiday Gathering, Exceptional.
Don't overdo it. Trying to do too much beyond your skills or abilities can backfire and leave you frazzled and frustrated. A few small things done well leaves a much better impression than something ambitious that fails.
Prepackaged is ok. Your local grocery store has plenty of fresh options in the deli or bakery that you can repackage on your own platters to make it look like you worked really hard even when you spent the day catching up on your favorite shows or taking a nap.
Pick up some themed plates and napkins. They can add that little bit of festive your gathering needs without having to invest in expensive decorations. Just make sure you recycle them!
Variety is the spice of life. Your guests may have different dietary restrictions so having a variety of smaller, yet simple dishes can help make sure no one goes home disappointed and hungry.
Finger food is fun. Nuts, cheese, crackers, dips, and any number of bite-sized foods make it easier for people to mingle and enjoy the evening.
You don't have to serve a single large meal. It's ok to rely on smaller, appetizer sized dishes for your gathering. Don't bring them all out at once, however, serve them as courses and have some fun with it.
Don't run out of wine.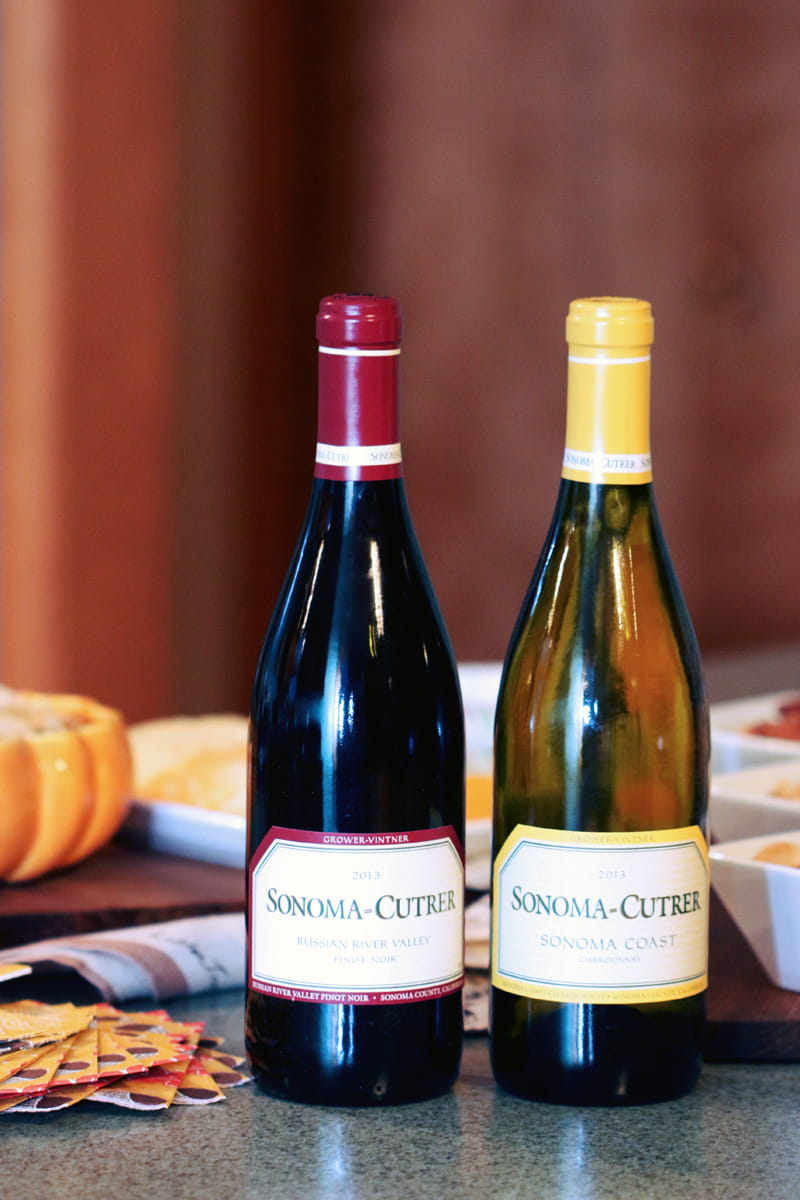 Sonoma-Cutrer Wines are a great compliment to any gathering. Sonoma-Cutrer is a California Vineyard that has been producing quality wines since 1973. Their wines are fruit-forward making them the ideal choice to pair with a wide variety of foods.
I don't know a whole lot about wine, which is ok. The only thing I really need to know is that it tastes good. Oh, and how to open it. That's important! Thankfully, Sonoma-Cutrer has resources on their website for perfect food pairings.
Sonoma-Cutrer's Russian River Valley Pinot Noir is a red wine with a first impression of dark fruit aromas including blackberry, dark raspberry, and black cherry. This is followed up by an earthy, forest floor complexity with hints of cola, tobacco and licorice. It is round, silky and elegant and pairs well with many fall foods including chili, cornbread, soup and more.
Sonoma-Cutrer's Sonoma Coast Chardonnay is a white wine with fruit aromas of Golden Delicious apples, Bosch pears and white peach. These fruits are accented by hints of vanilla, toasted nuts and butterscotch. It has a creamy richness and pairs well with turkey and mushrooms but will pair well with many other holiday foods as well because of its lightness and natural fruitiness.
Because they pair with a wide variety of foods, Sonoma-Cutrer's Pinot and Chardonnay fit in well with my entertainingly challenged holiday gathering.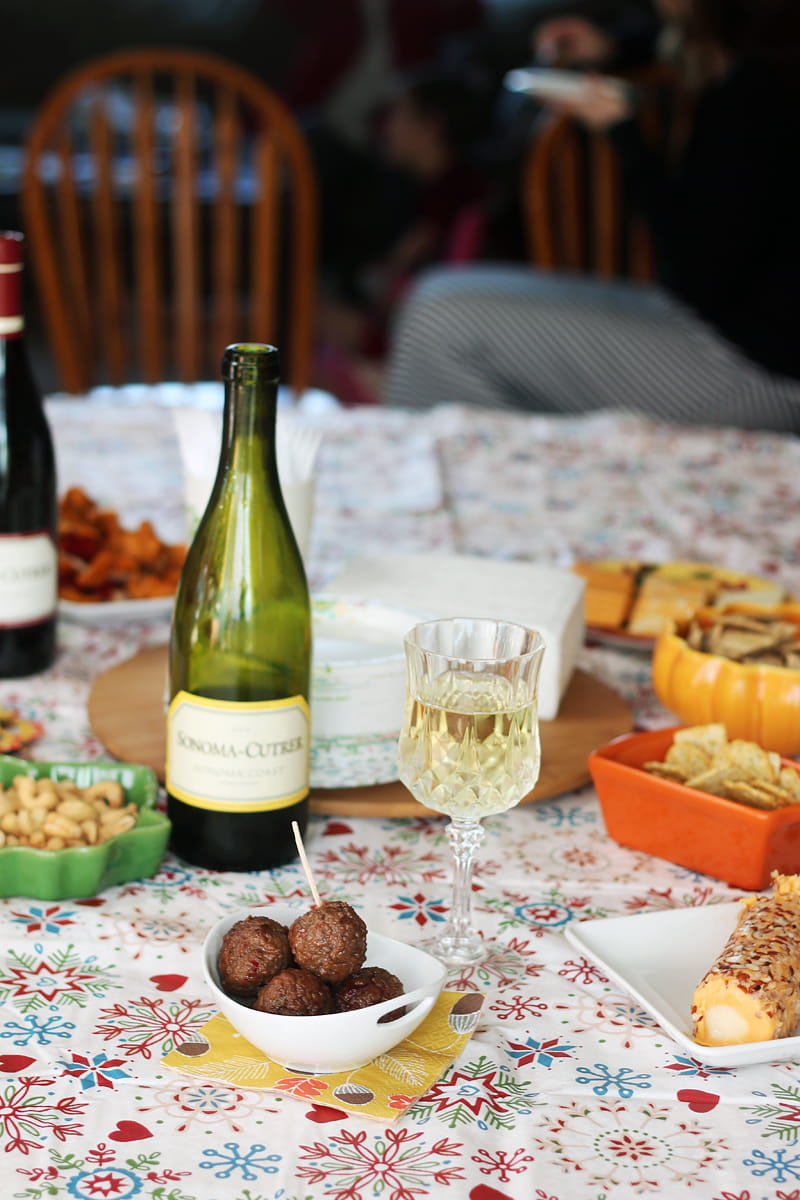 I served the wine with plenty of easy appetizers and a special treat – grape jelly meatballs!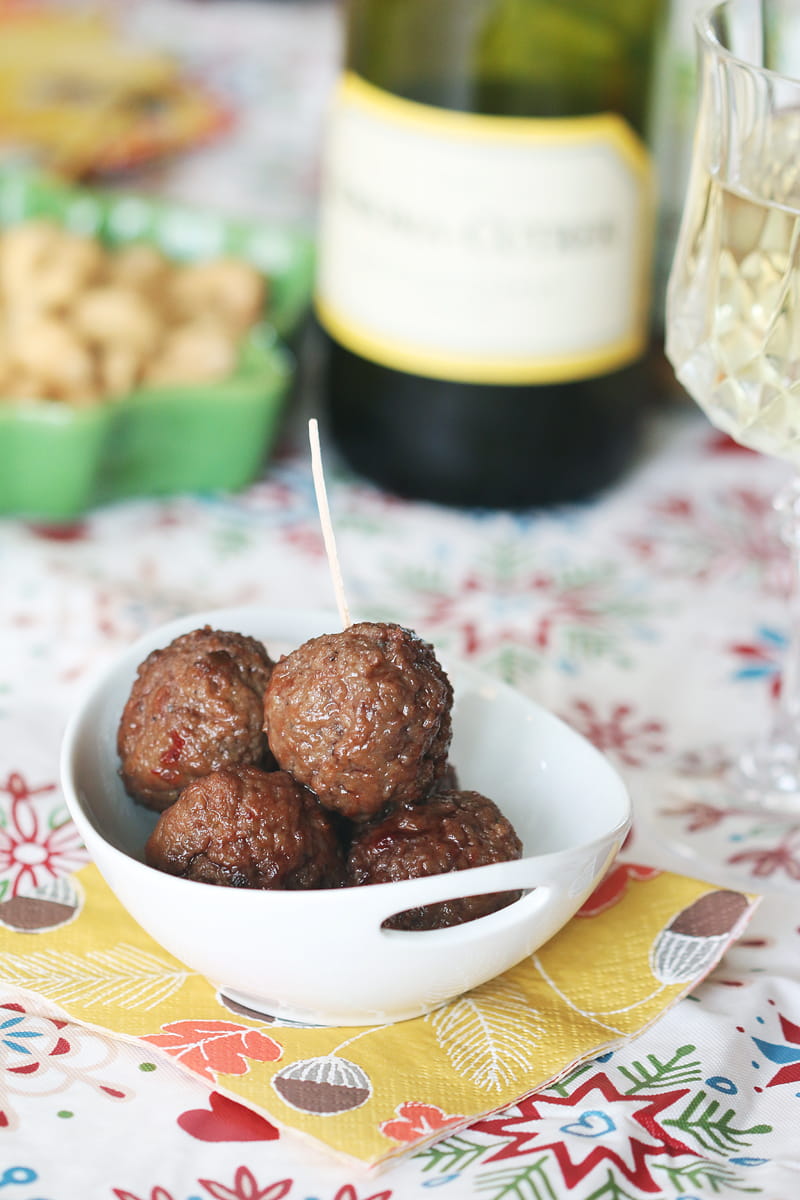 Print
Grape Jelly BBQ Meatballs
---
Ingredients
2 lbs frozen meatballs
1 jar grape jelly (approx. 18 oz)
1 bottle chili sauce (approx. 12 oz)
---
Instructions
Place all of the ingredients into a slow cooker and mix with a spoon.
Set slow cooker on low for 4 hours.
Serve!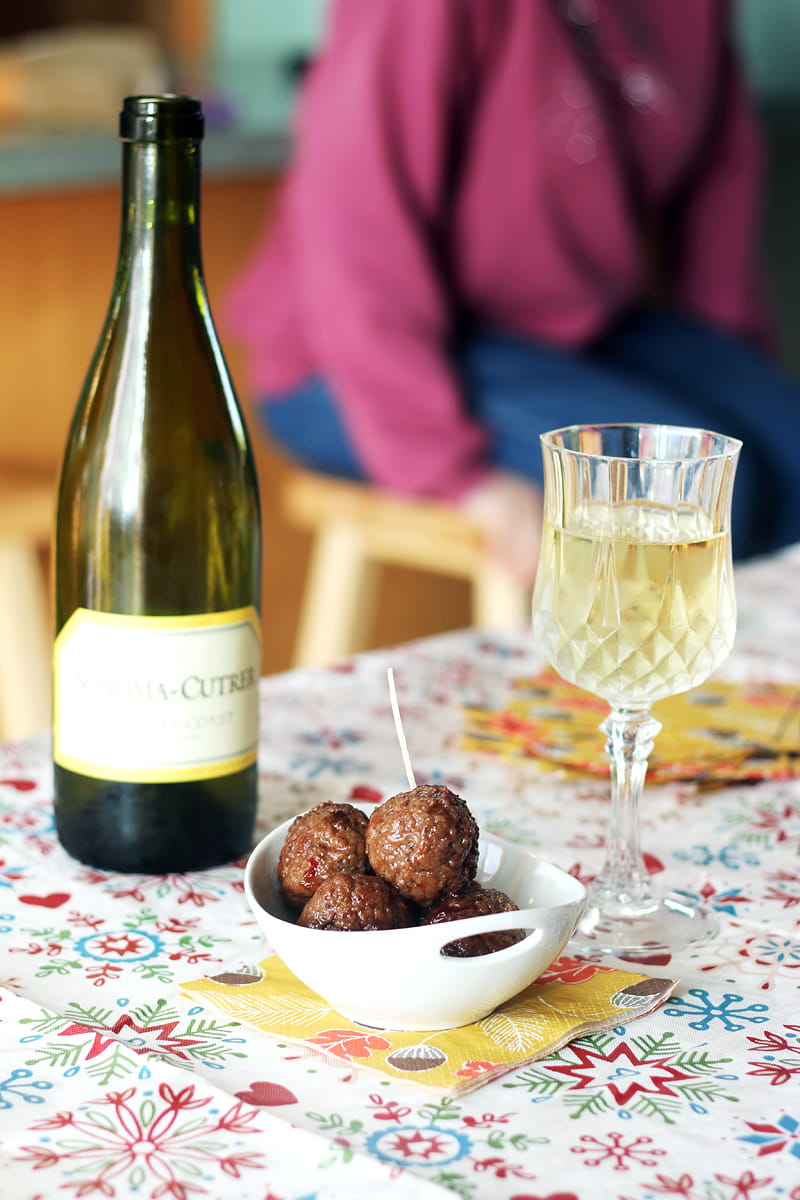 I found that both wines went equally well with the meatballs, though the Pinot was a bit better of a fit because the meatballs were quite sweet. I enjoyed the chardonnay more with the cheese log and crackers and with the turkey we served later in the day.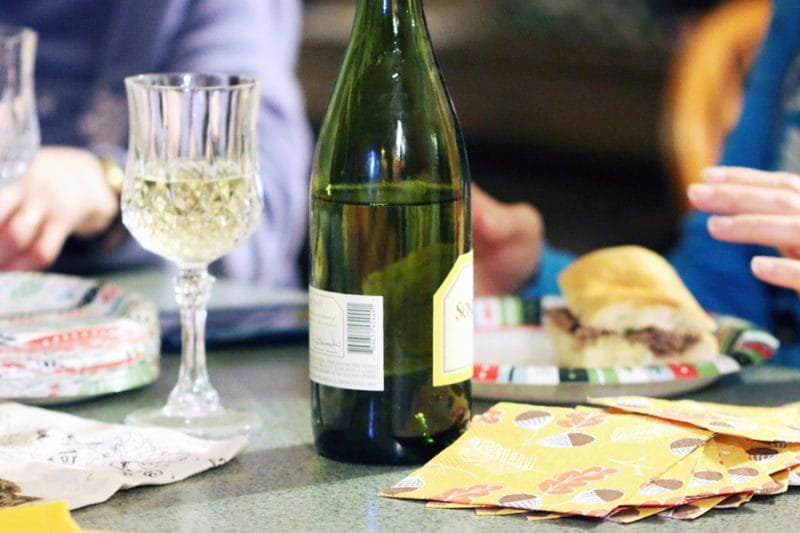 When you are entertainingly challenged, it's nice to know that Sonoma-Cutrer makes it easy to serve a wine that will pair well with whatever it is you are serving.
Shop Online for Sonoma-Cutrer Wines
Join our newsletter!
Subscribe to get updates and great stuff via email including subscriber-only goodies like free printables and giveaways.