Bathroom hygiene is something we don't too often discuss around others. Unless you are a pre-teen boy. Then apparently no topic is too gross to mention. Even in public.
But despite living with a pre-teen boy, I still prefer to keep my discussion of the topic to a minimum. But one thing that I will say when it comes to bathroom hygiene is that you will always find Cottonelle in my bathroom. It is my toilet paper of choice.
Because it works. And it works the best! Because the bottom line is that it gets you clean, which is what you need and expect from it.
Who has time for anything less?
Cottonelle has 2 stand-out products when it comes to getting you clean.
Cottonelle® Clean Care Toilet Paper
Cottonelle® Fresh Care Flushable Cleansing Cloths
Cottonelle's toilet paper is strong, has more sheets per roll than the other brand and has ultra-absorbent ripples. Cottonelles's flushable cloths help you experience a confident clean because they do more than wipe, they wash! And they are flushable as well and break down immediately after flushing.
The kit contains:
Cottonelle® Clean Care* Toilet Paper Roll – ARV $1.08
Cottonelle® Fresh Care* Flushable Cleansing Cloths – ARV $2.49
REACH Whitening Mouthwash – ARV $4.99
Dr. Fresh Pro Dazzling White, Instant Whitening Pen – ARV $2.99
Body Benefits Bath Sponge – ARV $1.99
Swissco Deluxe Scalp Massage Shampoo Brush – ARV $2.29
Dove go fresh Beauty Bar Cool Moisture – ARV $3.39
Walgreens Gift Card – ARV $10.00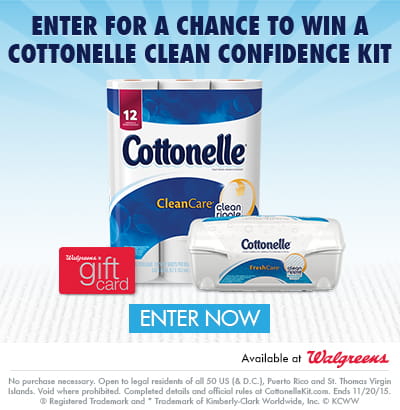 Also take advantage of ibotta rebates on both products:
If you are looking for some clean confidence in your bathroom hygiene routine, enter to win one of these kits. You can enter every day and there are 120 total prizes.
Sponsored post by Lunchbox.
Join our newsletter!
Subscribe to get updates and great stuff via email including subscriber-only goodies like free printables and giveaways.