Are you prepared for an emergency?
What would you do if faced with a natural disaster?
A personal emergency in your home?
September is national Preparedness Month and GE Generator Systems encourages you to be ready for emergency situations. It is hurricane season, winter is coming, and there are so many things that can happen than many people are just not prepared for.
We don't have an emergency kit in our home. We did, but "people" kept stealing things out of it until the only thing left was a rain poncho. The backpack the stuff was in was even taken. Certainly not a good example of emergency preparedness.
According to FEMA, a basic emergency supply kit should include the following recommended items:
Water, one gallon of water per person per day for at least three days, for drinking and sanitation
Food, at least a three-day supply of non-perishable food
Battery-powered or hand crank radio and a NOAA Weather Radio with tone alert and extra batteries for both
Flashlight and extra batteries
First aid kit
Whistle to signal for help
Dust mask to help filter contaminated air and plastic sheeting and duct tape to shelter-in-place
Moist towelettes, garbage bags and plastic ties for personal sanitation
Wrench or pliers to turn off utilities
Manual can opener for food
Local maps
Cell phone with chargers, inverter or solar charger
The CDC has 4 steps that they recommend to help you and your community prepare for a disaster:
Get a Kit
Make a Plan
Be Informed
Get Involved
You can learn more about these steps and find resources for achieving them on the Be Ready section of the CDC website.
It's so easy to create an emergency kit and it could literally save your life! But as I mentioned, many people do not have a kit or a plan. According to a survey done by GE Generator Systems shows that 55% of American families are not prepared.
Take a look at just some of the results of the survey:
GE Generator Systems 2012 Family Preparedness Survey Results

The survey reached 1,312 parents between Aug. 29 and Sept. 4 living in the United States with children in the household under the age of 18.

If the lights went out tonight, would you be able to navigate in the dark to your flashlight?

Yes 95%
No 5%

Have you talked to your children about what to do in a power outage?

Yes 75%
No 25%

Do you have an emergency preparedness kit?

Yes 45%
No 55%

(If yes) Which of the following emergency preparedness items do you always have on hand in your home?

Flashlight and extra batteries 96%
First aid kit 95%
Manual can opener 86%
Three-day supply of non-perishable food 82%
Water, one gallon per person per day for at least three days 75%
Cell phone with chargers, inverter or solar charger 74%
Battery-powered or hand crank radio 67%

Do you leave your children with babysitters?

Yes 25%
No 75%

(If yes) Have you told them what to do in a power outage?

Yes 43%
No 57%
In order to help you get started, GE Generator Systems is giving one lucky winner their very own Ready-To-Go Emergency Preparedness Kit ($40 value) from the American Red Cross.
ENTER TO WIN A $40 EMERGENCY PREPAREDNESS KIT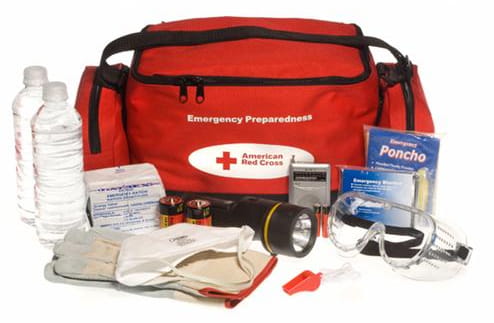 To enter, leave a comment telling me why you think having this kit is important for your family, then complete the Rafflecopter form below.
Giveaway is open to the 48 U.S. contiguous states and ends on September 28, 2012 at 12:01 am EST. Winner will be selected at random from all eligible entries and will be contacted by email. Winner will have 48 hrs to respond.  Please add kim@theysmell.com to your trusted email filter.  If original winner does not claim their prize within 48 hrs, it is forfeit and a new winner will be selected promptly.
Join our newsletter!
Subscribe to get updates and great stuff via email including subscriber-only goodies like free printables and giveaways.