Our blog is participating in a sponsored blog ambassador program from cwist. As a part of this program we have received paid compensation for placement of digital advertisements and specific postings related to cwist.
"Can I watch TV?"
"Go outside."
"Can I play Wii?"
"Go play outside."
"Can I have a snack?"
"Go find someone to play with outside."
Does this conversation sound vaguely familiar?
I bet with summer around the corner, it will very soon.
When it comes to getting kids to be active, it's often a challenge when they are surrounded by television, video games and all sorts of other stationary activities. As a parent it's our job to ensure our kids don't get caught up in things that keep them from being active and providing some structured motivation is a great solution to bribe motivate them to get moving, thinking and learning.
ENTER CWIST.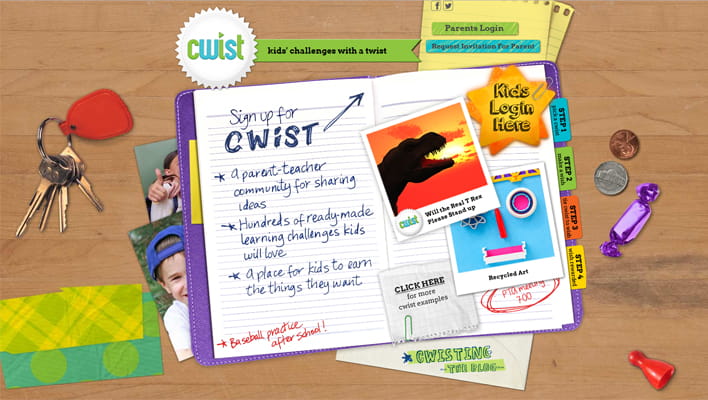 About CWIST:
cwist – kids' challenges with a twist – is a parent-educator collaboration that provides an interactive library of educational, community service and outdoor challenges that help kids make a healthy connection between the things they want and the effort it takes to get them.

Our interactive library includes thousands of educational, community service and outdoor challenges for kids, contributed by parents and educators.
As adults we often set goals and promise ourselves rewards for those goals. Lose weight, go shopping. Get that promotion, buy a new car. The possibilities are endless. When it comes to our kids, when they want something it can be hard for them to grasp the "if, then" scenario. When they see something they like, they want it now. And as a parent in the store, you can come up with any number of ways to try and get them to understand but they still bother. They still nag.
With cwist you can eliminate the nag!
My Kids
Cwist allows you to add each of your kids to your account and add information about them (which is private) which allows you personalize each child's individual goals and activities.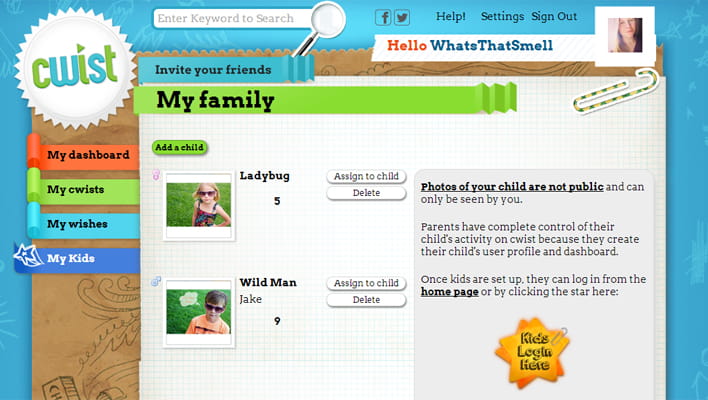 My Wishes
The concept behind cwist is simple. Your child chooses a "wish" which is something that they want such as a toy, electronics or a bike. But a wish can also be something more sentimental like a movie with Dad or time spent at a grandparent's house. Whatever it is your child wants, they can "wish" for. You can use one of the 2,680 wishes already in cwist or you can create your own.
My cwists
After your child chooses their wish, they must choose one or more cwists with which to EARN their wish. A cwist is an activity or a challenge that helps your child learn, use their imagination or stay active. You can choose one of the 561 cwists or create your own.
Each cwist you or your child chooses gets assigned to a specific wish. You can have multiple cwists assigned to the same wish. Once the wishes and cwists are assigned, your kids can log into their individual cwist account and complete their cwists. They are taken step-by-step through the activity and once they are done, they receive a congratulations and you will receive notice that they completed the cwist.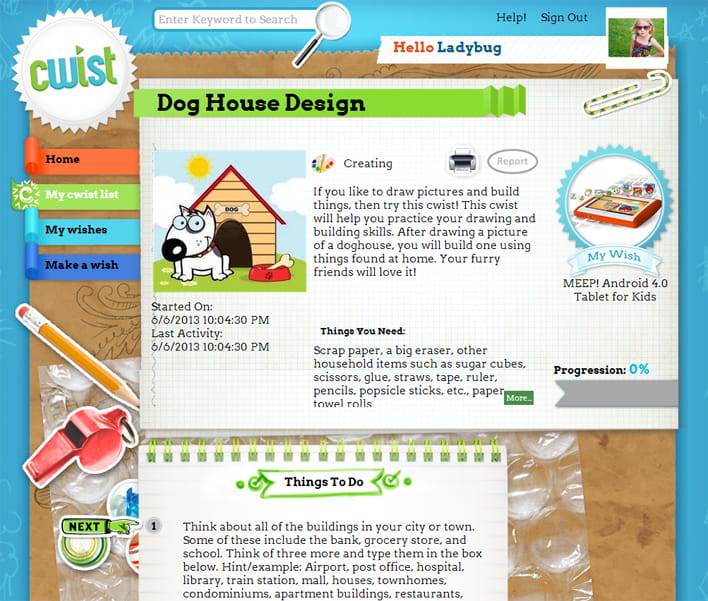 You will have the option of granting their wish after they complete a cwist, or if they have other cwists assigned to the wish, you can wait until they complete them all before granting the wish.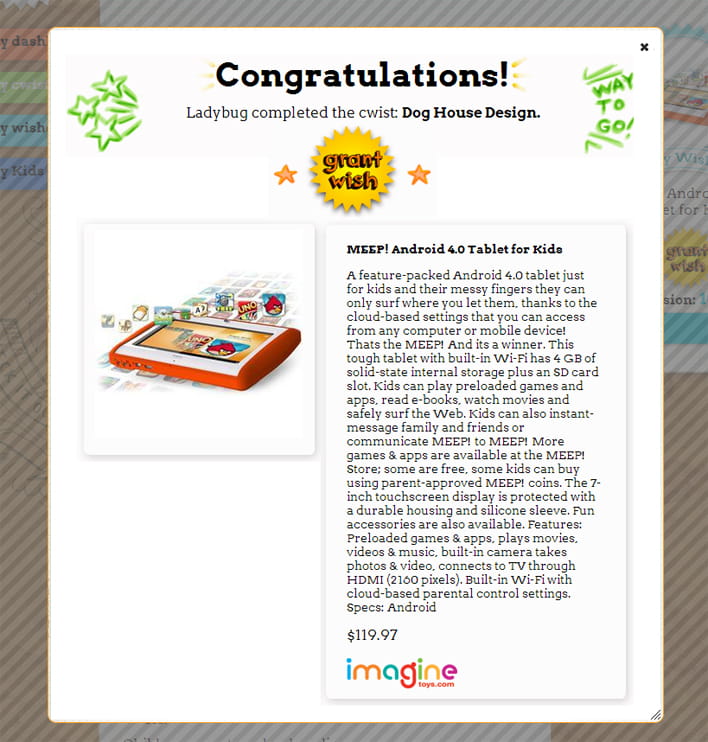 Eliminate the nag!
I love, love, love the cwist concept. The platform is adorable and the fact that you can fully customize it and add your own wishes and your own cwists makes it very versatile and adaptable. As a parent I absolutely think that cwist will be a permanent tool in my parenting arsenal. I think it will help my kids learn the "if, then" concept and hopefully eliminate the nag!
For more information about cwist:
What would your kids wish for?
Join our newsletter!
Subscribe to get updates and great stuff via email including subscriber-only goodies like free printables and giveaways.